Khalid Anam and EMI Bring Pakistani Music to the Forefront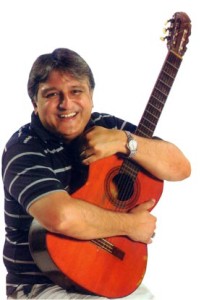 Khalid Anam and EMI (Pakistan) Ltd. joined forces to launch Anam's two latest educational music albums, Ray Se Rail Chali and Zarb al-Misl, as well as EMI's new music website at the Marriott Hotel on November 4.
Anam stated that educational entertainment is not given the importance it deserves and that, "at most TV channels, the least educated and least talented person is put in charge of the children's division." He pointed out that while most children these days know nursery rhymes in English by heart, the same could not be said of Urdu rhymes and poetry. Disconcerted by the lack of attention given to Urdu, Anam decided to create songs for children that would not only help them improve their language skills but also educate them about good manners and hygiene. Anam tested his music at various schools around Karachi, where both students and teachers responded favourably — which is to be expected considering Anam's involvement with the Grips Theatre whose plays have been delighting Pakistani children for years.
Guests in attendance included Geo President, Imran Aslam, and actor Sajeeruddin Khalifa, both of whom know Anam from Grips and showered him with praise. Khalifa — or Sajeer as he is often called — fondly recalled one of the songs Anam wrote for a play and as he began humming the tune, an impromptu music session broke out at the launch.
The music is distributed and marketed by EMI (Pakistan) Ltd. under their newly created children's division. The launch of EMI's new website allows music aficionados to legally download everything from Khalid's educational songs to classics by Iqbal Bano. Both Anam and EMI deserve praise for their effort to encourage audiences to patronise Pakistani music legally and not resort to buying pirated ware that undermines the future of the music industry in Pakistan.
This article was originally published in the December 2011 issue of Newsline under the headline "Tune In To Urdu."
Zehra Nabi is a graduate student in The Writing Seminars at the Johns Hopkins University. She previously worked at Newsline and The Express Tribune.
Next