National Foods Launches Cookbook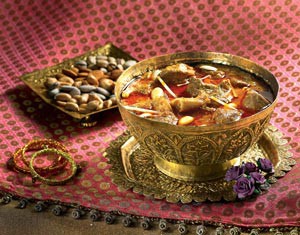 Rivayaton Ke Rang has been expressly created to portray the rich traditional heritage of Pakistani food as it links up with seven important occasions that are celebrated in the country — the spring festival of Basant, a bride's maayun, the aqiqa and bismillah ceremonies for children, a birthday, an anniversary and Eid.
Keeping the traditional theme in mind, the masters of ceremony, a sherwani-clad Sajid Rizvi and the attractive Savera Nadeem, presented a show-reel which depicted a fusion of festivities and the cuisine of Pakistan. The MCs unveiled the attractively bound Urdu cookbook, and guests were regaled with dances by a talented troupe choreographed by Hasan Rizvi celebrating each event, as well as a seven-course sampling of foods from the recipe book, presented like nouvelle cuisine, each from a separate chapter and occasion, and served by waiters directly at their tables.
National Food's CEO, Mr Abrar Hasan, spoke of prioritising tradition in current times of rush and flux and hailed the cookbook as the company's tribute to love and bonding. So often now, a quick-fix is the easier option rather than cooking a truly traditional meal, prepared with the right masalas in correct quantities. The compendium of recipes in Rivayaton Ke Rang is, therefore, a great source of information and inspiration to cook good food.
This article was originally published in the December 2011 issue of Newsline under the headline "Ode to Gastronomy."
The writer is a former assistant editor at Newsline
Next