Cricket: More Shame Than Glory?
Almost 15 months after a British tabloid's sting operation exposed a sensational spot-fixing scandal during Pakistan's tour of England, the issue of corruption in cricket remains a burning issue for everybody connected to the sport that is battling hard to save its credibility.
Three leading Pakistani cricketers — Salman Butt, Mohammad Asif and Mohammad Amir — were nabbed by an under-cover reporter of the now defunct News of the World. The trio was initially suspended before being found guilty of spot-fixing, after which they were banned and eventually sent to jail in Britain.
The case against them revolved around deliberate no-balls bowled by Asif and Amir during Pakistan's fourth Test against England at Lord's in August 2011. On the surface, it do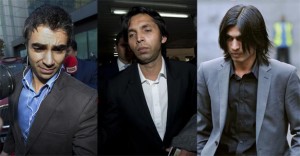 esn't seem like a huge crime — no-balls are routinely bowled by pacers in international cricket and at Lord's the deliberate ones bowled by the Pakistani duo hardly had any impact on the outcome of the game. But dig deeper and you will know why the International Cricket Council (ICC) and Britain's Crown Prosecution Service made such a big deal of it.
But the million-dollar question is whether the prison terms for the trio is the end of the story? Maybe for them but, unfortunately for cricket, it's not. In fact, some critics believe that this may just be the beginning of what could be a long-drawn-out battle against corruption in the sport.
"The spot-fixing scandal is just the tip of the iceberg," says former Pakistan captain Aamer Sohail. "This menace has deep roots and mere punishment for a few players won't make it go away," Sohail tells Newsline.
Rashid Latif, another ex-Pakistan captain, agrees with Sohail. "Corruption has spread like cancer in cricket at all levels and it will need a major surgery to contain it. Unfortunately, I don't think that the relevant authorities have the will to do it," laments Latif.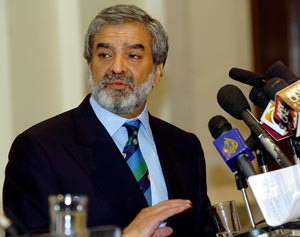 But ask Ehsan Mani, ex-president of the International Cricket Council (ICC), and he will tell you that the game's governing body has been taking all possible steps to curb this menace. "I believe that wholesale match-fixing is very unlikely given the controls, surveillance and monitoring that the ICC has put in place," Mani tells Newsline.
"Spot-fixing is exceedingly difficult to pick up especially if only one individual is involved. The cricket boards and the ICC must continually ensure that the players and officials understand how they can be corrupted and immediately report any inappropriate requests, and understand the consequences of being caught." He adds, "Should any player be caught, there should be no compromise; he should be thrown out of the game and criminal proceedings should be initiated against him by the relevant authorities."
Mani is of the view that illegal betting is the root cause behind fixing and believes that governments in cricket-playing nations in Asia like India will have to be engaged to control it. "The biggest challenge that the ICC faces is that betting is completely un-regulated in India, Pakistan and the UAE. The epicentre of cricket betting is India; hundreds of millions of dollars are bet on each match, possibly as much as $400 million is bet if India is playing against Pakistan," he says.
"The ICC must engage with the governments of these countries to regulate betting so that the betting odds can be monitored and unusual bets can be picked up. Without this and with the amount of money at stake, it is virtually impossible to eradicate corruption from cricket."
It's an open secret that match-fixing and spot-fixing are not just confined to Pakistan cricket. The revelations of Paul Condon, ICC's former anti-corruption chief, that corruption in cricket was rife during the 1990s and that almost all leading teams were engaged in it only adds weight to the notion that the menace has spread like cancerthroughout the cricketing world.
Just last month, former Indian cricketer Vinod Kambli dropped a bombshell when he alleged in an interview that India's 1996 World Cup semi-final was fixed. India, then considered hands down favourites, flopped miserably in that match. However, Kambli's remarks were rubbished by most stakeholders in the world of cricket.
"Things would have been different had such allegations been levelled against Pakistan. Everybody would have believed them," laments a national team player, requesting anonymity. "Pakistan cricket has lost its credibility," he adds.
Many contend the situation would have been different had the Pakistani authorities taken the issue much more seriously when allegations of match-fixing were first levelled against some leading Pakistani players in the '90s. "Back then, there were strong suspicions that many of our cricketers were corrupt," says Senator Enver Baig, a former chief of the Senate's Standing Committee on Sports. "Justice Qayyum even conducted an enquiry but unfortunately his recommendations fell on deaf ears," adds Baig, who crusaded against the menace of match-fixing for several years. "The scenario would have been different if the authorities had taken due action on the recommendations made in the Qayyum Report," says Baig. However, Mani disagrees.
"The Qayyum enquiry did not drill down far enough into corruption in Pakistan cricket. The report made a number of recommendations, not all of these were implemented. A number of players did not fully cooperate with the Qayyum Enquiry but continued to play for Pakistan," Mani maintains.
The current Pakistan cricket chief is now planning to take appropriate steps to prevent players from being tempted into illegal betting practices. Zaka Ashraf, who took over as chairman of the Pakistan Cricket Board (PCB) in October this year, is planning to establish a 'vigilance division.' "My immediate plans are to set up a vigilance division within the PCB through which we are going to keep a watchful eye on the players and introduce very strict discipline so that my players, wherever they are, don't get in touch with people who try to drag them into such dirty business," he remarked in a recent interview (with Dubai Sports City).
But Aamir Sohail believes that unless long-term and global measures are adopted by the ICC and its member boards, the menace of match-fixing will continue to raise its ugly head every now and then. "The mere setting up of vigilance units won't really serve any purpose," he says. "Corruption in cricket is a global plague and will have to be dealt with really seriously, especially in Pakistan."
Speaking of Pakistan, experts including Sohail are of the view that, for starters, the country's cricket chiefs will have to better the pay-scale of cricketers playing at the domestic level. Most experts are convinced that cricketers in Pakistan receive peanuts at the domestic level and are more susceptible to the lure of making big bucks when they make it to international cricket. "Our authorities will have to bring Pakistan's domestic circuit at par with countries like India where first-class players make millions without getting involved in any illegal practices," says Sohail.
It was in 2000 when Pakistan banned its former captain Salim Malik for life because of match-fixing suspicions before burying its head in the sand like an ostrich, hoping that the problem will just go away. Unfortunately, 11 years on, the monster has only grown bigger, threatening cricket not just here but all over the globe. It's time to slay the dragon. Whether the knights of world cricket succeed in doing this remains to be seen.
This article originally appeared in the December 2011 issue of Newsline under the headline "It's All About the Money."

Related Articles:
The writer is ranked among the battle-hardened journalists covering sports. As sports editor for The News, he covers sporting action extensively in Pakistan and abroad.
Next