All That Glitters: Art and Fashion Come Together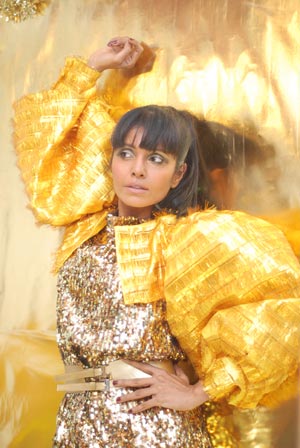 Glitter and razzle-dazzle sequins happen to be an important style staple of European fashion this season, and it was a brilliant move on Mahin Hussain's part to bring it to Pakistan. A fashion graduate who launched Mahin Hussain Accessories four years ago, Hussain exhibited her new accessories line called I See Gold on November 1 at Ensemble, Karachi, which included a collection of clutch and tote bags in bright shades and gold pallettes. The 42-piece collection on display was particularly appealing due to its affordable price range between Rs 5,000 -9,000, and would certainly come in handy during the wedding season.
The launch also featured a performance by model, Iraj Manzoor. Swathed in gold, Manzoor performed a pantomime that portrayed the emotions of a woman when she first lays eyes on gold.
Hussain's line of bags is available at Ensemble in Karachi, FP lounge and Uth Oye in Lahore, and L'atelier and Ayzel in Islamabad.
This article first appeared in the December 2011 issue of Newsline under the headline "All That Glitters."
Next