Shazia Zuberi Brings Clay to Life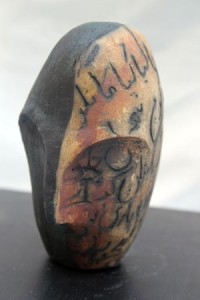 met Shazia Zuberi a day before her solo exhibition at the Chawkandi art gallery last month, while she arranged her artwork in the gallery space. Her new body of work titled Attrition was placed at several heights in the room on stands and even on the floor, on rounded grey stone, and in clusters and clumps. The purpose, said the artist, was to recreate a primal setting and natural configurations for her clay creations, a sort of native environment to illustrate their representation of the age-old proof of civilisation. "I believe that these pieces comprising geological forms, heads and pebbles, should be outside in their natural environment," says Shazia.
The standing stone-like edifices from her repertoire though immensely small, less than a foot in height, are reminiscent of the ranges of mountains in North Pakistan, as if extracted from them directly. Her stone-like clay constructions are embellished in places with markings and script and are in hues of mountain stone that conjure up the colours of those immense edifices — grey, slate and rust.
Shazia employs several techniques to give the appearance of natural stone to her pieces, adding flux to slip glazes, basically lowering the temperature of the clay bodies or glaze, allowing it to gloss, giving the impression of being unearthed from the ground.
Shazia says this particular collection is born out of her love for geology. She enjoys the use of muted, slate-like strong, natural colours in her standing edifices, as well as the various shades of blue that symbolise water, employed in her glazed bowls, pebbles and stones. Each piece has a tactile reality symbolising its habitation in a natural environment.
"I feel I can't relate to bright colours like deep red," says Shazia as she shows me a small, highly glazed bowl from a past series, and then compares it to her current stones and pebbles, some created with natural holes with a glazed finish to give the impression that water has flown through them since time immemorial, and some in pumice form, as if having reached that particular appearance after centuries of lying in water and earth, or some with the feel of larva stone, evolved over millennia.
"This is a personal and internalised show," says Shazia. "Conceptually the pieces portray our ethical and moral decay. The work is a comment on the corruption and political decay that we see now and, through my work, this is being documented in history through stone. "Attrition, which means erosion, relates directly to what nature does to stone, and what man does to himself," she explains.
As each period in time is measured by the progression of behavioural and cultural characteristics, pottery and ceramics are vessels of communication, as are stones and rocks that compress time and events via geology and man-made imprints; markings, art and script.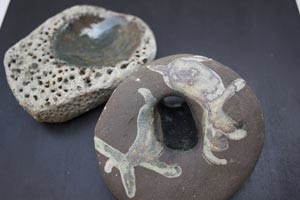 Shazia's conceptual format dwells on the coming together of man and nature. The work speaks profoundly about the age-old proof of civilisation etched in stone. The rock-carvings in Pakistan along the Karakoram Highway, and specifically the large body located in the Gilgit-Baltistan area, can be seen as a template for the markings that inhabit Shazia's body of ceramics.
For example, Shazia employs the Markhor, Pakistan's national animal, as a regular symbol on her rock-like structures and ceramic forms — she uses it as a metaphor for the people of Pakistan. Shazia's primal heads all have ritualistic markings — used differently in each piece — to mark the individuality of every human being. On some heads Shazia inscribes her thoughts in the Urdu script, which though not decipherable, depict the artist in contemplation.
"These human figures and etchings on stone are a proof of us and our civilisation," says Shazia. "The purpose is 'us' being documented in time."
The artist employs Arabic script on her clay works and inscribes Ya Allah, Ya Wahab, Ya Rahman, Ya Rahim on her clay pieces; she believes that when things go wrong — as they have gone so terribly wrong in current times — human beings rely on prayers, and derive the strength to move forward. Shazia uses a repetitive internal chant to God, invoking several names of Allah, very much like the Sufi practice of Zikr.
Shazia started working tenaciously for this exhibit in May earlier this year, but was beset with several issues not of her making, mainly electricity load-shedding in Karachi, whereby her electric kiln could not function properly, even after being sustained by a small generator. Temperature changes in the kiln ruined the firing of several pieces and they had to be abandoned halfway to completion. "There are several pieces lying in my garden, I've embedded them in the flowerbeds, there is so much lost work I have to contend with," she says. She believes a gas-fired kiln could be an alternative but with the expected gas load-shedding in the coming winter months, the situation would be quite similar. With these impediments, the cost of production of each piece doubled and trebled and the prices are higher than they used to be.
Shazia's work is a thoughtful contribution to the body of modern ceramics in the country; its conceptual breadth is an important analysis of the condition of modern Pakistan.
This article originally appeared in the December 2011 issue of Newsline under the headline "The Art of Clay."

More Articles on Art:
The writer is a former assistant editor at Newsline
Next