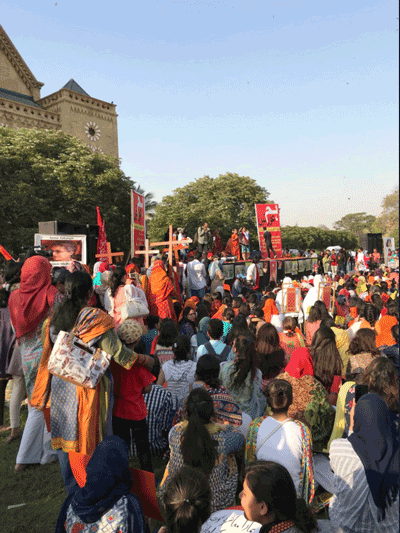 Garbed in effervescent colours and chanting punchy slogans, a huge mixed crowd   from all walks of life attended the first ever Aurat March 2018 with a zeal so tangible, the atmosphere hummed with energy. Held at Frere Hall on March 8, to commemorate International Women's Day, the march was meant to highlight the following demands: workers' rights, reproductive health and environmental justice, as well as an end to state-backed, patriarchal and institutional violence against all women and gender minorities.
Organised by 'Hum Aurtein,' a team of women from different communities and occupations, it was not an NGO or political party-led march. Refreshingly, it was a collaboration between a new group of activists — such as the feminist group 'Girls at Dhabas' — and established women from assorted sectors (education, health etc) and corporations, who are actively working to make a difference in the acquisition of gender rights and to provide a platform for women's voices.
The presence of activists Sheema Kermani and Qurat Mirza, professors Dr Arfana Mallah and Dr Navin G Haider, and author Amar Sindhu, who spoke alongside women representing Pakhtoon, Baloch, Dalit, Kohli and Christian communities, forged a strong, united front. Representatives for women's health workers, labour rights and home-based workers also spoke on the lack of security, systemic abuse and harassment of women at the workplace. As the evening progressed, the crowd grew to nearly a thousand plus attendees, who enjoyed the spirited performance of the qawwals and skits enacted by Sindhiani Tehreek and Tehrik-e-Niswan.
Girl boxers from the Pak Shaheen Boxing Club in Lyari gave a rousing demonstration of their skills, bobbing and weaving to the cheers of the crowd. By the time classical folk singer, Mai Dhai, came on stage, nearly all the women were on their feet, fully geared to dance.
Volunteers in red dupattas, wearing masks of Qandeel Baloch, the murdered social media star, helped steer the rally out of Frere Hall, holding a chaarpai covered with a white cloth, to symbolise 'patriarchy's janaza' (the funeral of patriachy). Women, men, children and  transgenders marched onwards from the corner of Fatima Jinnah Road, chanting slogans of women's strength and freedom from oppression.
The procession came full circle as they marched around back to the front of Frere Hall, and kept the spirit of the demonstration alive as Ganda Anda, a contemporary women's band,  sang songs that reinforced the message of the march – that women are stronger together than apart.
Next