Editor's Note: April 2018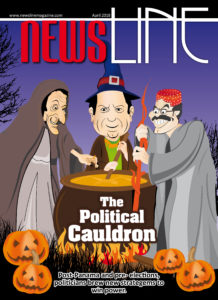 The man who would be king seems to have lost the plot. In his desperation to make it to the throne, first he chose a spiritual mentor as his life partner. Next, he welcomed into the PTI fold the controversial televangelist who, only a week earlier, had been bad-mouthing him and questioning his credentials as a leader. Consequently, his 'junooni' friend of many years walked out on a bitter note. No more paeans to the man who promised a 'Naya Pakistan.'
As the general elections draw closer, PTI leader Imran Khan's mantra of "tabdeeli" seems to have been all but forgotten as he zeroes in on the electables — never mind if they are not 'Sadiq' or 'Ameen.' Paradoxically, a tabdeeli seems to coming over his arch nemesis. The man who played a leading role in stirring up the Memogate controversy, now deeply regrets the fact that he rocked the PPP boat. He is apologetic on another score: he did not move parliament to introduce any judicial or electoral reforms. Interesting, coming from a prime minister who attended only six National Assembly sessions in his entire four-year tenure. The only issue on which he has expressed no regrets, so far, is his belligerent tirade against the judiciary.
The judiciary, meanwhile, continues on its reformist mission — health, education, roads, metros, highrises, water — everything is on its radar for now, much to the discomfiture of those who are responsible for all of the above.
The Supreme Court Chief Justice's two-hour long meeting with the Prime Minister, at the latter's request, sent the rumour mills into overdrive. As did the Army Chief's meeting with senior journalists.
Was a National Reconciliation Ordinance on the cards? Was the Bajwa doctrine a prelude to a coup?
Two key questions. Both were denied by the respective quarters.
But conspiracy theorists are not convinced as the political cauldron heats up.
Stories of the crores of rupees that changed hands during the Senate Chairman's election continue to reverberate in the corridors of power. Interestingly, the two sworn enemies, PTI and PPP, joined hands to defeat the PML-N candidate. Political analysts are now examining the possibility of a PTI-PPP combine in the coming elections, despite PTI's vociferous denials.
'Tis the season to bury hatchets. Or is it?
The squabbling religious parties decided to make peace and resurrect the Muttahida Majlis-e-Amal (MMA) — to ensure a better showing in the next elections. Interestingly, posters of the other fast-rising religious outfit,  Tehreek-e-Labbaik Pakistan (TLP), dot the country's landscape, even though an anti-terrorism court in Islamabad has issued arrest warrants against its leader.
While some disconcerted women were mulling over the gloomy prospect of life under an MMA or TLP dispensation, there was a momentary note of cheer: the women of Upper Dir were allowed to cast their votes in a Local Bodies by-election — after a gap of 40 years. There was another silver lining to the political clouds — the arrival of Pakistan's young Nobel laureate, Malala Yousafzai, on a four-day trip to Pakistan. The Malala-haters had a field day on social media, but the lady remained undeterred. She announced her plans to return home — and become Prime Minister of Pakistan some day.
Certainly a prime minister to look forward to…
Rehana Hakim is one of the core team of journalists that helped start Newsline. She has been the editor-in-chief since 1996.