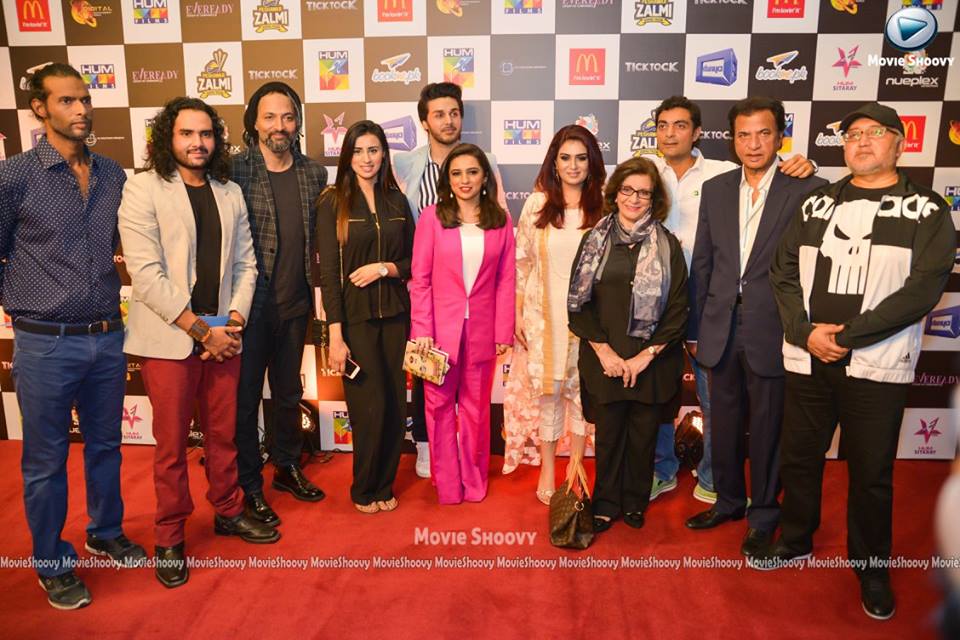 There seemed to be something of interest for people of all age groups at S4 Solutions and Hum Film's premiere of the animated adventure film, Tick Tock. Held at Neuplex Cinema on March 22, the time travel action movie's punchy and infectious theme song played in the background as children mimed action moves from the movie's fast-moving trailer and danced to its beat. Teens and adults alike,  meanwhile, fawned over, and took pictures of, the movie's all-star cast, as they were being interviewed on the red carpet.
Starring Ahsan Khan as Hassan, Maria Memon as Danya, Alyy Khan as Sir KK and Ghulam Mohiuddin as the antagonist, Gobo, the presence of Tick Tock's cast at the premiere attracted a huge turnout. The movie's director, Omar Hassan, the screenplay writer, Omair Alavi, the producer Sana Tauseef, the band Fuzön and its lead singer, and the music director of the movie, Imran Momina (Emu) also attended the premiere alongside HUM Network's president, Sultana Siddiqui.
Those not taking selfies with the celebrities queued up for refreshments — mostly parents, who stocked up on nachos, popcorn and the run-of-the mill theatre goodies, while their children sped around them saying, "Jaldi karein, movie shuru hojayi gi! (Hurry up, the movie will start!)"
It is the first time that a film based on the concept of  time travel has been made in Pakistan cinema. It is a story of two teenagers, Hassan and Danya, and their teacher KK, who travel through different pivotal moments in Pakistan's history, to try and save their homeland from the villain Gobo, who is bent upon changing the events in Pakistan's history for the worse. "Though animation is not new to Pakistan, as this will be the country's fourth animated film, but content-wise, it is especially pertinent because it talks about Pakistan's history," said Alyy Khan.
While the movie's animation varied in its consistency, and discrepancies in voice-overs made for a few confusing moments, the fresh storyline with interesting historical facts, suspenseful mystery and surprising plot-twists, made Tick Tock an enjoyable viewing experience. When leaving the theatre, one heard someone remark on the catchy theme song: "It will be in my head for days now! Tick Tock kahani, yeh hai Tick Tock kahani!"
Next