Classic Movie Review: Sunset Boulevard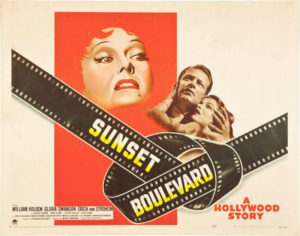 Director David Lynch has described Billy Wilder's 1950 production, Sunset Boulevard, as one of his favourite films. The classic may not have been a direct source of inspiration for Mulholland Drive, but Lynch, in an interview with Chris Rodley, published as a book titled Lynch on Lynch, maintains, "I'm sure there are things that are swimming in us that we love. I love Hollywood and the whole thing of the Golden Age and Sunset Boulevard captured that so well."
Yet every golden age has a darker underbelly. Joe Gillis, a broke young scriptwriter, learns that even on Sunset Boulevard, it is best to be cautious about the turns one takes. In a desperate attempt to flee his creditors in a car chase, he pulls into the driveway of a desolate old mansion. This sprawling, unkempt throwback to the "wild twenties" is the home of Norma Desmond, a silent-film goddess of yore.
Gillis, the protagonist, is the lens through which the audience is introduced to the cocooned world of a naïve Miss Desmond — a tragic figure who lies at the centre of the film — and her delusions of grandeur. Desmond, a once-legendary-but-long-forgotten Hollywood star, is unwilling to accept that her days of gracing the silver screen are behind her. She makes the financially compromised Gillis an offer he cannot refuse.
The audience's initial impression, that Gillis has walked into a spider's web of intrigue soon wears thin when it becomes apparent that it is Desmond who is the victim of a Machiavellian system perpetuated by the filmmaking business in Hollywood. Of all the characters in the film, Desmond is the most genuine and compassionate, yet also the most pitiful.
The fact that the narrator, Gillis, is opportunistic and impatient is a reflection of the film's cynical expectations of the nature of the audience. Gillis serves as a benchmark for the 'norm' in the rat-race of Hollywood, a newcomer who takes things for granted. And like him, a part of us feels contempt for Desmond; we feel a guilty pleasure in watching her suffering and being snubbed.
It is no coincidence that Wilder chose as the title of the film, a street-name that conjures melodramatic images of a setting sun — the twilight of a career — an inevitable end. The fact that the entire plot is the recollection of a dead Gillis, narrated by him after he has been killed, only adds to the nihilist vibe that repeatedly surfaces during the course of the film. Despite Gillis' efforts throughout the film, we know that his boulevard culminates in a dead-end.
Wilder's portrayal of the persecuted Desmond is largely psychological and draws parallels with director Roman Polanski's depictions of victimisation in films such as The Tenant (1976). Like Polanski, members of Wilder's family too had been consumed by Auschwitz during the Holocaust. And like Polanski, Wilder, a persecuted Polish Jew, found refuge in the United States — in Hollywood. Both directors have a penchant for black comedies, which is what Sunset Boulevard has often been labelled.
The writer is a staffer at Newsline Magazine. His website is at: www.alibhutto.com
Next