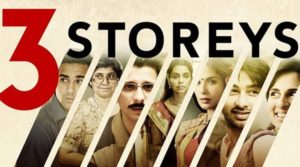 In spite of living side-by-side for years, even decades, in multi-storied apartments, how well do we know our neighbours? Are their lives really as humdrum as they seem to be? Or do some of the residents harbour skeletons lurking deep in their proverbial cupboards? That forms the intriguing plot of debutant director Arjun Mukerjee's film, 3 Storeys.
The voiceover of a young woman — with a fascination for studying faces — introduces us to a tightly packed, three-storeyed apartment block in downtown Mumbai. There reside an assortment of characters from lower middle-class families in a mixed community of Christians, Hindus and Muslims. Seeming to live harmoniously, three dramas unfold within the families that expose the undercurrents of nursed secrets.
In one of the matchbox-sized flats on the first floor, lives Flory Mendoca (Renuka Shahane) — a homely, eccentric Goan-Catholic, Indian widow – on her own. Her estate agent finally brings her a prospective buyer, a young businessman dealing in pearls, Vinay Naik (Pulkit Samrat), who is looking for lodgings near his place of work. Smartly dressed, wearing shiny polished shoes, he unflinchingly agrees to pay the exorbitant amount Mendoca demands for her flat. What is puzzling is why, when for that amount he can afford better accommodation in an upscale neighbourhood. The audiences are drawn in deeper after the deal is struck over a cup of coffee when the two get to know each other, and Mendoca narrates the story of her life sharing her darkest secrets.
The second story revolves around the unrequited love of a battered, but duty-bound housewife, Varsha, (Masumeh Makija). The more her unemployed, alcoholic husband abuses her with his boorish behaviour, the more she pines for her lost love, Shanker (Sharman Joshi). When a sympathetic neighbour befriends Varsha, her past unknowingly catches up with her in some heartbreaking scenes from the past and the present. Despite her situation, Varsha is quietly supportive of the blossoming romance between two teenaged lovers in her apartment block.
The love affair between Sohail (Ankit Rathi), a Muslim boy, and Malini (Aisha Ahmed), a Hindu girl, is central to the third story. With the odds stacked against them — not just because of their youth, but also because of their different faiths — they decide to take matters in their own hands. A week before Sohail's impending engagement, the couple decide to elope. However, it only leads to unfortunate consequences, when they learn the shocking truths about their lives.
Structured like a three-act play, 3 Storeys is an unconventional movie without Bollywood's hackneyed song-and-dance masala. Powerful in its simplicity, with new twists and turns at the end of each chronicle, 3 Storeys is a skilful piece of direction and storytelling that holds the attention of the audience till the end, when all three tales intertwine into a neat whole. The talented director and the cast leave the best surprise for last, when the identity of the lady behind the voiceover is revealed. She turns out to be one of the characters in the film — the one you would least expect.
The writer is working with the Newsline as Assistant Editor, she is a documentary filmmaker and activist.
Next