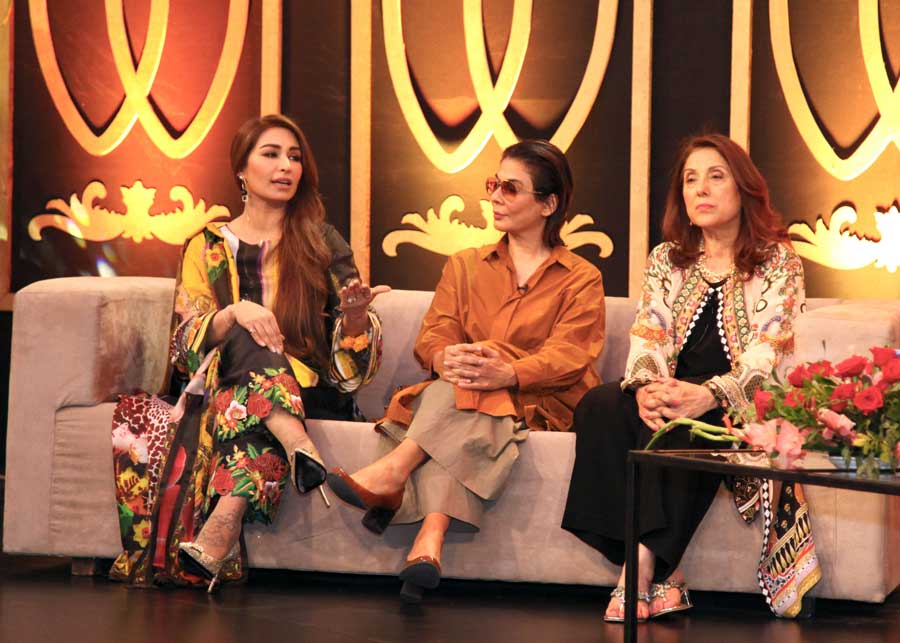 The revival of Pakistan's fledgling film industry in the past decade has seen significant contributions by women directors — reminiscent of times prior to the regressive era that descended on Pakistani cinema, post General Zia-ul-Haq. The history of female directors in the subcontinent began long before Partition with Fatima Begum, an actress and screenwriter, who directed the silent film Bulbul-e-Paristan in 1926. She made several others under her own banner, Fatma Films, and is considered undivided India's first female film director. In Pakistan the 'Golden Age' of Pakistani cinema, is said to be between 1959-1977, in which women figured prominently.
A seminar titled 'The Celebration of Women in Films' was held by the Pakistan International Film Festival  under the auspices of its parent body, Karachi Film Society (KFS), to honour women's accomplishments in Pakistani cinema. Timed to coincide with International Women's Day, the event featured prominent women directors, producers, actors and writers in two sets of panel discussions, where they discussed their successes and the obstacles they faced.
In her welcome address, Sultana Siddiqui, President of KFS, took the audience down memory lane, spotlighting the screen queens of yesteryears — Noor Jehan, Sabiha Khanum, Nayyar Sultana, Neelo, Rani, Barbra Sharif, Neeli, Rani and Reema. Sultana also dwelt on the accomplishments of the current crop of successful women in cinema who were invited to speak at the event.
The inimitable Madame Noor Jehan was the foremost silver screen actor and singer of her time in the subcontinent; she was also the first female director of the Pakistani film industry. Only four years after independence, she debuted as a director with a Punjabi film, Chanwayin 1951, which featured the timeless song,"Teri mukhray tay kaala, kaala til vey."
Following in Noor Jehan's footsteps were other notable actresses-turned-directors/producers, Shamim Ara and Sangeeta. A towering leading lady from the mid-1960s to the '70s, Shamim Ara produced her first film Saiqa(1968), based on Razia Butt's novel, which was a hit with female audiences. But she made her directorial debut with Jeo Aur Jeenay Do(1976), which was followed by several others including her diamond jubilee film Munda Bigra Jaye(1995). Another outstanding actress, Sangeeta, who emerged on the silver screen as a child star, and starred in dozens of films, turned to direction with Society Girl(1976). With over 120 films to her credit as an actress, producer and director, Sangeeta also directed Mian Biwi Razi(1982), a platinum jubilee hit, and Muthi Bhar Chawal, a critically acclaimed film based on Rajinder Singh Bedi's novel.
Sultana said it was also a woman who brought to Pakistan not just the first, but two Oscars — documentary film-maker, Sharmeen Obaid Chinoy. "We have no dearth of subjects and our women directors have come to the fore because of the subjects they pick from society," she said, referring to the contemporary women film-makers in the panel, including Samina Peerzada (Inteha), Reema Khan (Koi Tujh Sa Kahaan), Sabiha Sumar (Khamosh Pani), Fizza Ali Meerza (Na Maloom Afraad and Actor-in-Law), Momina Duraid (Bin Roye) and Hareem Farooq (Parchi).
A household name, television and cinema actor, Samina Peerzada recounted the difficulties, some of them traumatic, she faced after making her first film Inteha, on the taboo subject of marital rape. Despite winning nine national awards, Samina came very close to having a nervous breakdown because of the ensuing harassment. "I made the film when there was a lot of talk ofchaadar aur chaar diwari; it was a very difficult environment. A mindset of intolerance had developed within our community, even among journalists. A male journalist who found the film offensive, assaulted me, and said the only reason I had made it was because it must have happened to me. On the other hand, women came up to me and said Intehareflected what had happened to their daughters," recalled Samina.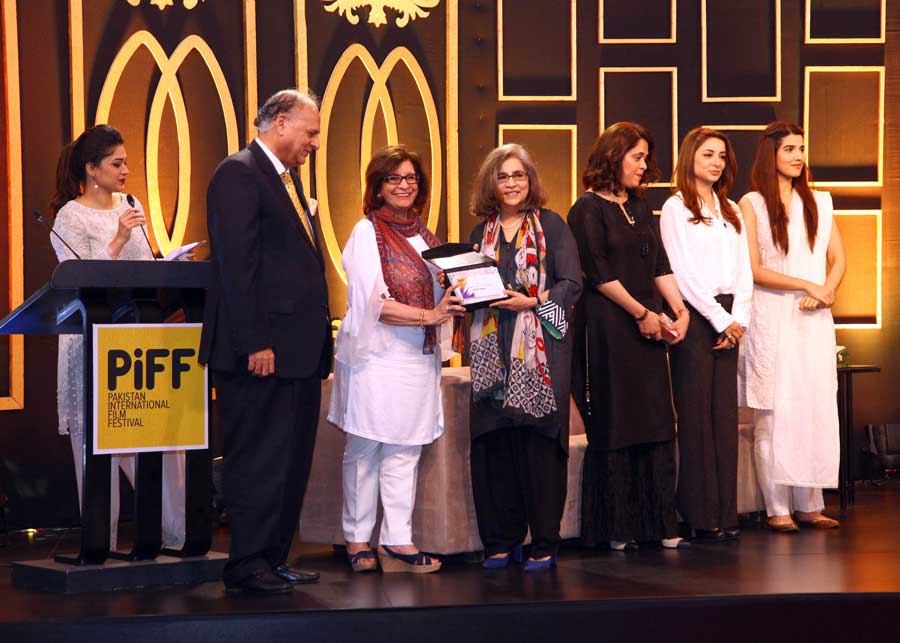 Veteran actress of over 200 movies-turned director/producer Reema Khan agreed: "Unfortunately Pakistani mainstream cinema went into a decline because of a particular era. I joined when the most senior and seasoned people in the industry were gradually leaving, and new ones were entering. I had an opportunity to work with both." She said it was her passion and enthusiasm for her craft that sustained her when she decided to produce, direct and act in her first film, Koi Tuhj Sa Kahaan (2005), which was a box office success.
Haseena Moin, television's favourite storyteller and scriptwriter, remarked that even now the current cinema is not focusing on content writing. Powerful scriptwriters of yesteryears gave strength to Pakistani cinema, and she recalled how Raj Kapoor had insisted she write a script for him for the Indian film Henna(1991) that he co-directed with son, Randhir Kapoor, and that it was on her recommendation that Zeba Bakhtiar was cast as the heroine of the film. She said that at a conference in India, the speakers lamented the lack of quality scriptwriters in Hindi cinema and someone suggested that Haseena settle in India. "Unfortunately for our industry," she remarked, "we started mimicking Indian movies."
On the subject of how women are projected in Pakistani films and on television today, Sabiha Sumar, director of the internationally acclaimed, award-winning, cross-border filmKhamosh Pani(2003), said the dramas of the 1970s were purposeful and had a vision. "We are at a juncture where we should not only depict women as they are in present-day society, but how they should be. Somehow educated women in trousers are visualised as negative characters." Actress Zeba Bakhtiar agreed saying, "The concept of characters these days is that of 'good girl' and 'bad girl.' There are no shades of grey." Sabiha advocated educating the public by portraying women as professionals. She said, "It was the need of the hour to give women's roles another push. A modern woman should be portrayed as having integrity, forging ahead, and taking others with her, instead of embarking on a solo flight."
Hameed Haroon, the keynote speaker and member of KFS's board of directors, one of two male speakers, (the other being Asif Raza Mir), gave an overview of the highs and lows of our film industry. He expressed his annoyance at its neglect, despite state promises of restoring cinema over the last 30 to 40 years. "Saving films on DVD does not save cinema for the quality screening that is needed in the future," he said. "If, as a society, we don't preserve our films, then we cannot preserve the projection of women and their contributions and achievements in early cinema," Haroon emphasised.
Erudite in the cinematic history of Pakistan, Haroon said the greatest songs of the 1950s were lost, as were the major classics of the early 1960s which were now only available in some kind of copied videos. "Anyone who wants to see Shamim Ara in two of her greatest roles would have to watch Aag Ka Darya(1966), in which she played a dancing girl-prostitute, and Lakhon Mai Aik(1967), in she was a Hindu girl named Shakuntala who falls for a Muslim boy. The latter was directed by one of Pakistani cinema's greatest film directors, Raza Mir, father of Asif Raza Mir, but the film was phased out from public viewing. Shaheed(1962) is another example, in which Musarrat Nazir played an Arab girl from the 1920s, who decides to fight foreign intruders who are taking over the country's oil reserves. These were the kind of movies that progressive film-makers like Raza Mir and Khalil Qaiser produced, in which women were central to the theme," Haroon emphasised. Asif Raza Mir said that while it was the state that broke down an established film industry, it was up to individuals to band together to put it back on its feet. He said one of his production house's mission was to archive and restore Pakistani film classics.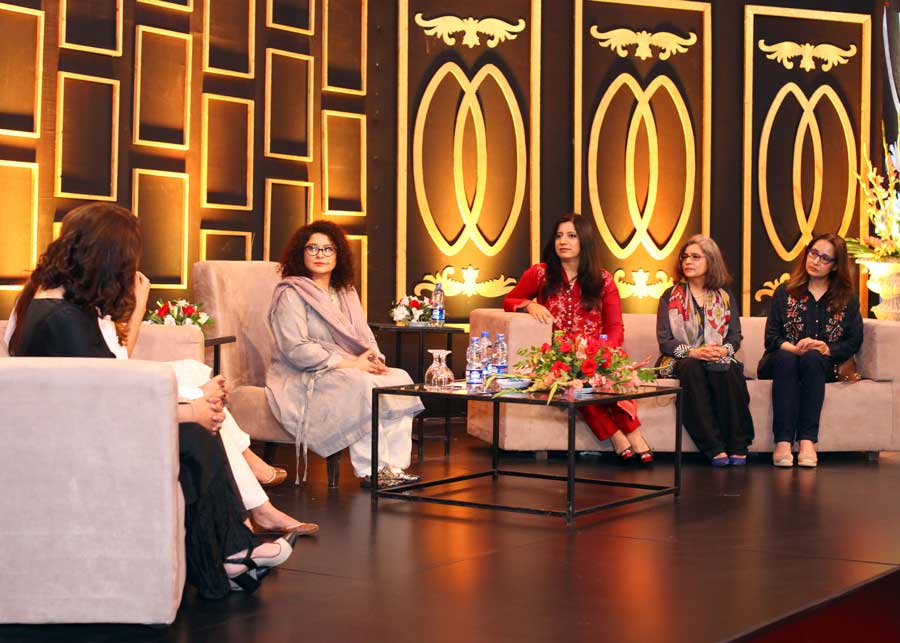 Haroon summarised the decline of the film industry in the 1980s, post-General Zia, and his moral edict that a woman's sphere was the chadar and char diwari. Also, film scripts curtailed women's roles in cinema and television, and women were forced to stop going to cinema houses because of sexual harassment. In the eventual analysis, Haroon said, "Instead of congratulating ourselves, we have to understand that we have a bigger task ahead. We need to  project women. But the fact remains that we don't have the scriptwriters today who can project them."
Celebrated make-up artist, Nabila, was the only one to claim that she had never faced any problems in her 32-year career because she didn't view them as such — she only looked forward. "I don't know why we are focusing on difficulties. Yes, there was a lull but I am looking at what's happening today — a revival. Not every film is going to be a hit but as more are made, the industry will streamline itself and we will have raised the bar. When I went into make-up, I realised it wasn't enough. Clothes and accessories also play a part so then I trained as an image consultant. We should invest in ourselves to equip ourselves with 'new' tools, which is probably the greater challenge," she said. To which Samina Peerzada added: "To become a good film producer, one must be well-read and knowledgeable enough to pick the right director, actor, content writer, music director, etc. — and only then will we automatically know how to make a relevant film."
While it is true that at one point women were strategically removed from film-making and from cinema houses, contemporary practitioners are reclaiming that space inch-by-inch. And the seminar 'The Celebration of Women in Films,' was a celebration of just that.
The writer is working with the Newsline as Assistant Editor, she is a documentary filmmaker and activist.
Next