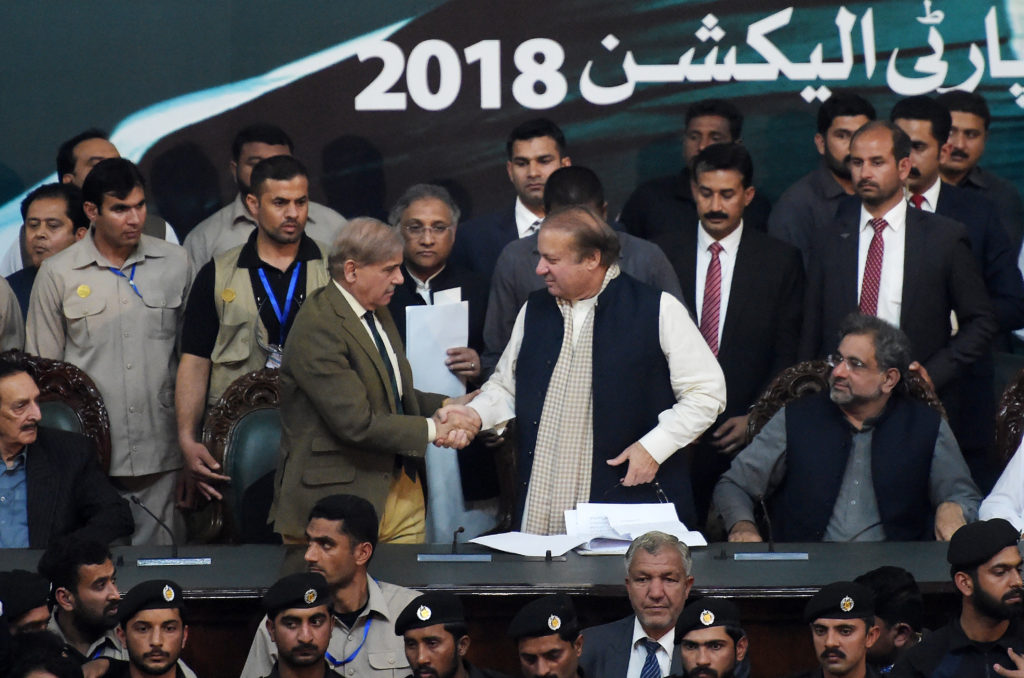 The Pakistan Muslim League-Nawaz (PML-N)'s run for the Senate elections was upended when the Election Commission of Pakistan (ECP) declared the candidates holding PML-N tickets Independents, in the aftermath of a Supreme Court verdict rejecting Nawaz Sharif's eligibility as party head.
In another disturbing development, the PML-N led coalition government in Balochistan had to step down after a no-confidence motion against Chief Minister Nawab Sanaullah Zehri, signed by his own party members, and allies from the Pakistan Muslim League-Quaid (PML-Q), the opposition parties Jamiat Ulema-e-Islam-Fazlur Rehman (JUI-F) and the Balochistan National Party-Mengal (BNP-M). The development resulted in none of the PML-N backed candidates getting elected from Balochistan.
Just 10 days before the Senate elections, the ECP stated that all the candidates whose nomination papers for the March 3 Senate polls had been signed by former prime minister, Nawaz Sharif, as PML-N president, would be considered  Independents. A day earlier, the Supreme Court of Pakistan had declared Sharif ineligible to head a political party and directed the ECP to remove Sharif's name as head of the PML-N. The decision noted that all the steps taken by Sharif as party president, after his disqualification on July 28, were rendered null and void.
Nawaz Sharif then nominated Shahbaz Sharif as party interim president and became the party's "Quaid for life".
Presiding over a meeting of party lawmakers, on the very next day of being elevated to interim president, Shahbaz Sharif took an oath of loyalty, in order to ensure that they would support the party's candidates in the Senate polls, who were now compelled to run as Independents.
The PML-N awarded tickets to Asif Kirmani, Rana Maqbool, Rana Mahmoodul Hassan, Shaheen Khalid Butt, Zubair Gul, Haroon Akhtar Khan, Musaddaq Malik, and Naseer Ahmad Bhutta on the general seats; Ishaq Dar and Hafiz Abdul Karim on the seats reserved for technocrats/Ulema; Nuzhat Sadiq and Sadia Abbasi on the seats reserved for women; and Kamran Michael on a seat reserved for religious minorities.
Pakistan Tehreek-e-Insaf (PTI) awarded tickets to Chaudhry Muhammad Sarwar on a general seat; Malik Asif
Javed on a technocrats' seat; Andleeb Abbas on the women's seat; and Victor Azariah on the seat reserved for religious minorities.
Pakistan People's Party (PPP) awarded tickets to Shahzad Ali Khan on a general seat, and Muhammad Nawazish Ali on the technocrats' seat.  The Pakistan Muslim League-Quaid (PML-Q) endorsed Kamil Ali Agha as its candidate.
When the results were announced, six of the seven general seats, two seats each of technocrats and women, and a seat reserved for religious minorities were won by PML-N candidates. Just one candidate, Zubair Gul, failed to get the required numbers, on a general seat. Chaudhry Sarwar was the PTI's only successful candidate on a general seat, which was surprising as the PTI had only 30 votes, and Sarwar topped the category by acquiring 44 votes.
Both the PML-N and PTI had reasons to rejoice and declare victory; as 11 of the PML-N candidates had won, while the PTI was jubilant over Sarwar's surprise win.
The PML-N leaders alleged that Sarwar had won through horse-trading. They maintain that 20 of their members were lured by PTI and PPP candidates to vote for them.
A defiant Maryam Nawaz tweeted, "Rok sako tau rok lo(stop us, if you can)." She said that although their candidates were deprived of the party name and election symbol in the Senate elections, they had returned victorious.
PML-N leader and provincial law minister, Rana Sanaullah, termed the results of the Senate elections a verdict against efforts to force Nawaz Sharif out and a victory for democratic forces.
Ali Arqam main domain is Karachi: Its politics, security and law and order
Next