The real estate sector in Pakistan is booming, but while speculators cash in on rising demand and limited supply, a shortage of affordable units puts home ownership beyond the reach of many city dwellers. It is estimated that around 10 million new housing units are needed every year but only 300,000 new units are added on. Demand is likely to grow exponentially as, according to some estimates, half the population will live in urban centres by 2030.
The housing sector is considered an engine of growth as it has several ancillary industries. Being labour intensive, a vibrant real estate sector is a key to employment generation. Around 250 industries such as cement, steel, bricks, marble and building material feed off the construction sector. Housing is considered to be the second largest employment generating sector after agriculture.
In Pakistan, real estate is controlled by the private sector. The planning and development authorities in the big cities are in shambles, like other other state-owned organisations. The authorities occasionally launch new housing schemes but legitimate buyers rarely benefit while well-connected investors acquire plots to sell later at a hefty profit.
Regulations for the development of housing are outdated and ineffective. The regulators are corrupt, inefficient and too weak to check the profiteering by powerful cartels. Laws governing the real estate sector for governmentdeveloped housing schemes and property transfer date back to the 19th century, such as the Land Acquisition Act, 1894; the Rent Control Act, 1959; and The Stamps Act, 1899.
Increasing urbanisation and demographic changes have led to a housing crisis in the absence of a dynamic housing and building sector. The state, on its part, has shown no interest in the planning and development of new cities. Increasing migration to urban centres with better education, health and employment facilities has put great pressure on the property market in big cities. Due to a high demand for housing units in urban centres, real estate prices have skyrocketed.
Government borrowing has left the banking sector with little funds available to lend customers for real estate purchase and development. Due to non-availability of finance and sky-rocketing prices, owning a decent home has become next to impossible for the white collar class.
Government-owned housing authorities such as KDA, LDA and MDA (Karachi, Lahore, Multan Development Authority) once played an important role in the provision of low-cost housing in the major urban centres. However, the state has failed to provide adequate funding for these agencies. Due to financial constraints, lengthy litigation, corruption and lack of state patronage, they have failed to provide affordable housing on a no-profit, no-loss basis.
The failure of the state to plan and develop affordable housing has opened up massive investment opportunities for private developers. The housing sector is highly regulated around the world but in Pakistan it is merely a lucrative cash machine for cartels and monopolies, a casino of sorts where speculators rule the roost. There is big money to be made by the ruling elite, private developers and investors with black money. A major portion of remittances, which should have gone to the development sector, finds its way into real estate, further pushing up property prices.
The so called 'cooperative societies' for housing development are actually privately owned enterprises of the ruling elite that behave like cartels. They hoard massive urban land units and restrict development and sale of real estate to keep prices high. There are no checks and balances on these powerful monopolies. The Ministry of Housing, which is supposed to plan, regulate and provide guidelines for urban development, is just a silent spectator.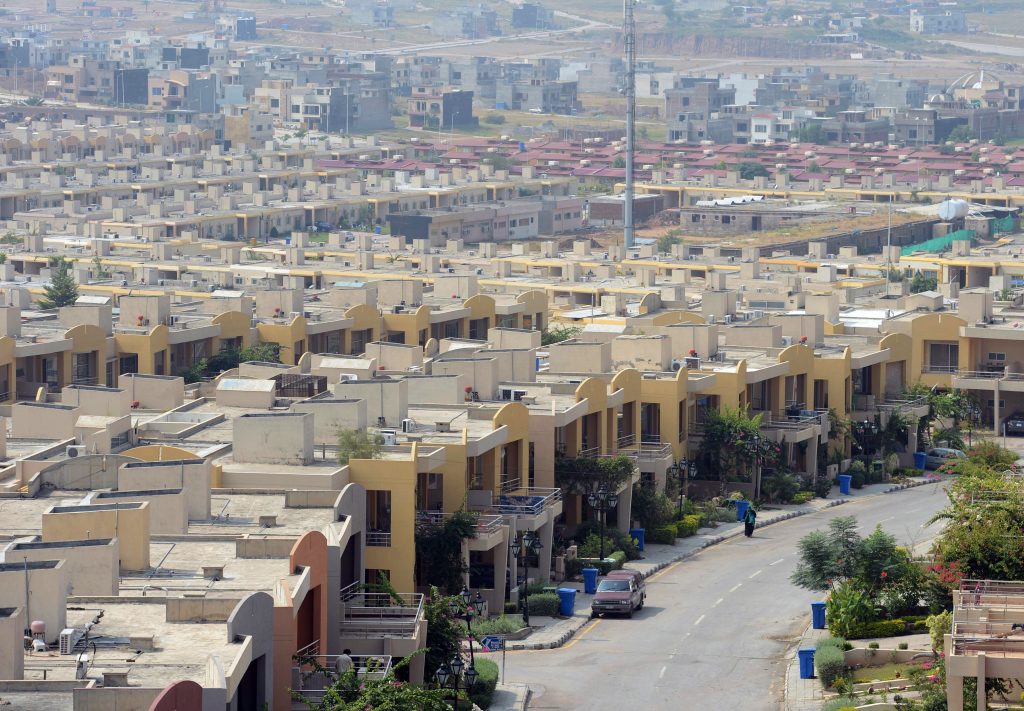 There is no mechanism for the pricing of housing schemes developed by private developers. Prices are simply driven by the principle of demand and supply. This provides profiteering opportunities for hoarders, and inflated profits to developers. Allotment papers provided by developers are unregistered promissory instruments. Investors with black money hoard a large number of these papers known in the black market as 'files.' These 'files' have become a major source of quick profit at the cost of those yearning to own a decent home.
Limited supplies and rising costs of housing units have resulted in skyrocketing rental values. Even educated youth migrating to urban centres for employment are forced to live in slums. The rising cost of home ownership has forced the homeless and the migrants to encroach on state land. As a result, organised land-grabbing syndicates backed by the ruling elite have emerged. These syndicates encroach upon state land and private property, selling at cheaper prices to the public, without ownership rights.
The wealth created through the unregulated real estate business contributes to economic inequality. The super rich, who run the scams of buying and selling 'files,' profit from the artifically created demand or supply which does not involve real economic activity. A tightly regulated housing business would generate employment and support associated industries. The rich and powerful hoard urban lands and sell at inflated profits, thus depriving the poor of their right to shelter.
The major players in the real estate business in Pakistan are widely accused of grabbing land; bullying small scale owners; extorting money from buyers through the levy of additional charges; and engaging in the outright fraud of selling non-existent properties. Most of these enterprises are associated with the ruling elite and powerful state institutions.
Recently, the Supreme Court of Pakistan granted a stay order against the illegal land grab of 490 acres of mangrove marshes in the Malir River Delta by the Defence Housing Authority (DHA) — a real estate developer associated with a powerful state institution. In another case, one of the developers accused of taking money without delivering land to buyers is a close relative of a former Chief Justice of Pakistan. Likewise, the National Accountability Bureau (NAB) has issued arrest warrants for Kamran Kiyani, brother of a former army chief, involved in a multi-billion rupee land scam. An Islamabad-based billionaire is consistently accused of grabbing lands from poor farmers without compensation.
The failure of the state to regulate the real estate sector symbolises the worst form of crony capitalism. Those involved in this dirty business have a close relationship with the ruling elite.Favouritism is exhibited at every level, right from registration of such 'cooperative societies' and acquisition of land, to the enforcement of regulations and pricing of developed plots. The nexus between the ruling elite and investors has given birth to unregulated exploitation and widespread deprivation.
In a recently introduced finance bill, the government decided to collect taxes on the market value of property rather than the lower scheduled value assessed by the district collector's office. This may increase tax receipts, but housing will remain unaffordable for the legitimate buyer. The shady business of buying and selling 'files' and hoarding property will remain untouched.
In the absence of a vibrant government-owned enterprise engaged in housing development, people are at the mercy of market forces. There is a need to restructure development authorities like the LDA, KDA and MDA into modern urban planning and housing development agencies. The district governments of rural areas need to establish their own housing development schemes and build new cities with modern infrastructure on a no-profit, no-loss basis. This will serve to reduce migration pressure on the existing metropolitan areas and bring down home prices. Without state intervention and a much stricter regulatory regime in place for the real estate sector, owning a home will remain a distant dream for the common man.
The author is a practicing lawyer at Lahore High Court, Multan, and Legal Advisor to the MDA.
Next