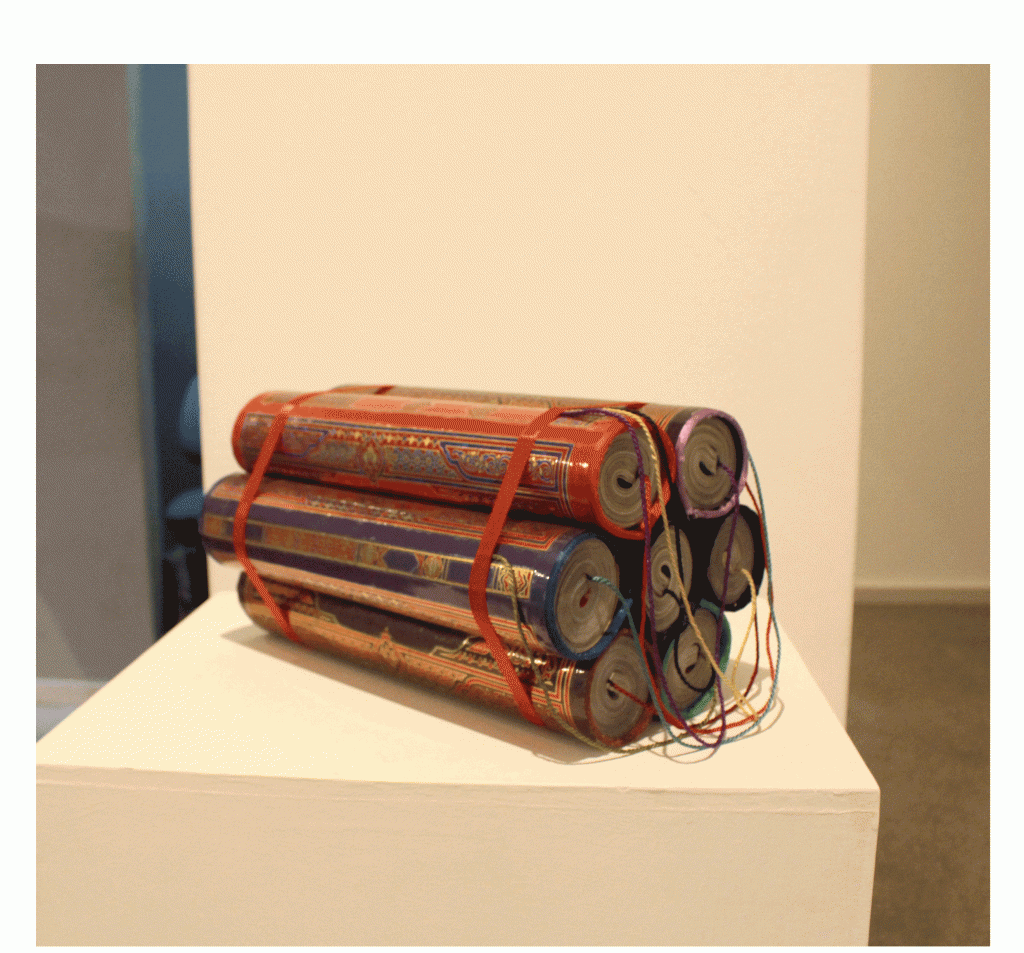 A game is afoot, at once playful and deadly serious. In the exhibition titled Utopia shown at Canvas Gallery in August, Safdar Ali has created 10 art displays that call into question some profound assumptions that weigh on Pakistani society and even beyond. His statement explains: "As a question mark or an exclamation mark on our social structure with symbols from our daily lives, I create a modern-day vision of our social world."
Safdar's vision is inflected with ironic humour. He presents encoded messages that are not difficult to decipher, but the clues are given through paradoxical innuendoes in the titles and amusingly absurd assemblages that make decoding the artwork a lot of fun as well as an act of sedition. The art is non-biographical and intellectual. The juxtaposition of constituent elements is object-based. The metaphorical dimension of this suggestive art lies in the extraction of meaning through interpretation of the visual puns that are embodied in the works.
Safdar uses a wide array of materials to create his sculptural assemblages, ranging from a mobile phone in the piece titled 'Your Grace' to life-sized sculptures. The larger sculptures are notable for their architectonic quality.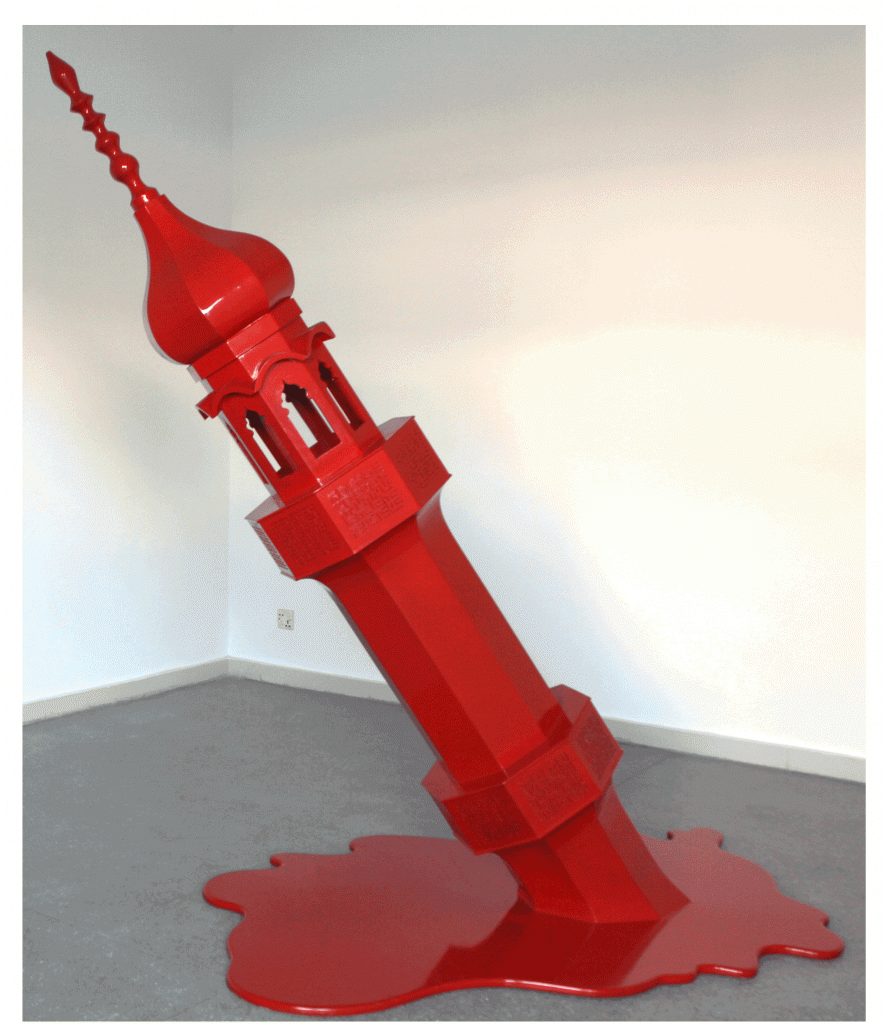 A bright vermillion-coloured tower leans at an unstable angle seemingly on its way to collapse. It is dissolving and its melted substance is pooled around the base. Created from Deco paint and MDF [medium-density fibreboard], the molten state of the tower portrayed in the sculpture is "fixed" in time. Intriguingly titled 'Message Failed', it is left to the viewer to interpret what is meant by "message" and indeed what the characteristics of the tower are.
The very provocative piece titled 'Some People Feel Rain, Others Just Get Wet' shows coils of fake dynamite created from paper. But all is not what it seems at first glance.
'In Between,' constructed with rope, metal and concrete, shows a concrete barrier block inverted and balanced atop a thick red rope which is coiled at the base. This riveting sculptural illusion is a gravity-defying construct, suggestive of an earlier subcontinental illusion: the Indian rope trick. The weight of the block improbably held aloft by the rope creates a visual pun. Perhaps the block is symbolic of the weight of ideology that hangs heavy on the individual in society. 'In Between' with its interpretative possibilities, is nothing less than the embodiment of an existential dilemma.
The upright sculpture titled 'Beauty of Innocence' is a rectangular prism with perforated sides. A close inspection reveals that it has been constructed from slivers of razor blades that have been meticulously cut and welded to precise lengths. These slivers are reshaped into square units that are building blocks for the prism. The exactitude is mind-boggling.
Safdar made a relatively late start in the world of art. Following his graduation in IT from Tando Jam University in 2009, the artistic muse spoke to him. Safdar was inspired by the fables of Watayo Faqir whose shrine exists near Tando Jam. The Faqir's stories, like the Mulla Naseeruddin tales, use humour to suggest deeper truths about the world. Safdar consolidated his inspiration by redirecting himself towards art. He proceeded to the National College of Arts (NCA), Lahore, where he secured a distinction in Fine Arts in 2014. He currently lectures in Sculpture at NCA.
Safdar's range of work in Utopia covers video, charcoal on paper, assemblage and digital print. Every piece attests to a precise hand and a thoughtful mind that has gone into its creation. In the plethora of materials that have been deployed in this exhibition, there is a subtle leitmotif that may be discerned.
The recurring use of the colour red in several works suggests blood with its myriad connotations. The mixed media assemblage called 'We Need You' shows a giant blood pack which is empty and is attached to a red fire hose. Blood, as a life-giving medium, is suggestive of passion, of blood-shed and — one may add — of sheer bloody-mindedness.
Safdar's unique juxtapositions of objects tease credulity. They create space for a radical redefinition of reality in the viewer's mind. His art is a call to look beyond the matrix of signs in order to recalibrate an ineffable truth which may be lost in the noise of false assumptions.His call is a timely one. In our country, the noise has become deafening.
Next