Movie Review: The Light Between Oceans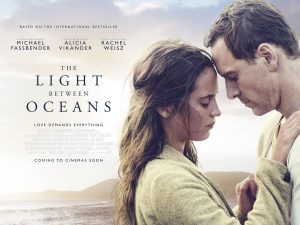 Dealing with themes of forgiveness, revenge, responsibility and self-interest, Derek Cianfrance's film is almost defiantly sentimental. It wears its sentimentality like a badge of honour and makes it work by telling its story in a forthright and serious manner, eliciting powerful performances from actors, and using apposite visuals to convey the sadness of the narrative. The Light Between Oceans is not a great film but it is engaging and moving.
Adapted from M. L. Stedman's 2012 bestselling novel, The Light Between Oceans, it begins as a story of love between two individuals and slowly moves into darker terrain that is filled with tragedy and heartbreak. Tom Sherbourne (Michael Fassbender) is a veteran of the First World War. Emotionally scarred and haunted by memories of the war, and wanting to get away from the madding crowd, he accepts the job of a lighthouse keeper on a beautiful, isolated island named Janus Rock. While preparing to leave for the island, he meets a spirited young lady, Isabel Graysmark (Alicia Vikander), who is recovering from the loss of her brothers in the war. The attraction between the two is immediate and fierce. Their courtship takes place through a series of letters written to each other. Soon, the two get married and start living happily on Janus Rock. But their happiness is threatened by their failed attempts at having a baby; a second miscarriage leaves Isabel deeply disturbed and depressed. However, life for the married couple changes drastically when a dinghy, carrying a dead man and an infant girl, washes ashore. They bury the dead man, rescue the baby and decide to raise her as their own, naming her Lucy (Florence Clery). Tom, Isabel and Lucy start living together as a happy family on the island, but their lives take a turn when Tom meets Lucy's biological mother, Hannah Roennfeldt (Rachel Weisz), during a visit to the mainland. The encounter triggers off a chain of emotionally devastating events that impact the lives of everyone involved as they are forced to deal with wrenching human dilemmas that none of them are equipped to handle.
Cinematographer Adam Arkapaw works like an artist in The Light Between Oceans, using perfect balance, light, colour, composition and mood to convert most, if not all, scenes of the film into works of art. He shoots the small, picturesque island off the Australian coast with the abandon of an artist and the skill of a technician.
Cianfrance is a capable director and The Light Between Oceans benefits from his areas of strength.
Additionally, strong performances by Fassbender, Vikander and Weisz anchor the film, giving it both gravitas and solemnity. Confident and imperious, Fassbender effectively communicates the deep emotional wounds wrought by war, an inviolable nobility of character, and the throes of an intense ethical struggle in the face of a Solomonic choice. Vikander depicts both the strengths and the weaknesses of Isabel with equal skill. She is strong, spirited and determined when wooing Tom and when convincing him to raise Lucy as their own child. She is weak and fragile as a passionate woman ready to crumble under the weight of agony and longing for a child. Weisz, whose character, Hannah, arrives late in the film and disrupts three lives, turns in a highly nuanced and heartfelt performance, steering clear of the territory of the villain, and making the parental triangle at the centre of the story fiercely believable.
Cianfrance handles pain and agony effortlessly, making viewers a part of the emotional havoc being wreaked on screen by drawing out passionate performances from actors, using very tight close-ups and liberally employing manipulative devices. His film tugs away at the viewers' heartstrings.
The story of The Light Between Oceans has many twists and turns. This is Cianfrance's area of expertise. His celebrated 2010 film Blue Valentine featured a number of turning points in the relationship of a couple in a highly effective manner. However, the overwhelming number of dramatic developments — betrayal, revelation, conspiracy, caprice, and a whole lot more — in The Light Between Oceans, are far too many to handle, even for him. A film that occasionally evokes memories of Shakespeare's The Winter's Tale, Daphne du Maurier's Rebecca, and Thomas Hardy's works is, at times, forced to look like Nicholas Sparks' Message in a Bottle by its numerous twists and turns. In the final analysis, the forced nature of the narrative prevents The Light Between Oceans from being the great movie it could, and should, have been.
Next