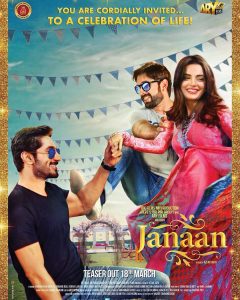 The opening shots of Janaan presenting panoramic aerial views of the Swat Valley are uplifting. In fact, the entire film is bathed in a beauteous glow. The three main leads are remarkably good-looking, the locales and sets are immaculate and aesthetically pleasing, the costumes are elegant and glamorous. Unfortunately, the film lacks a strong screenplay and seamless transitions that could have made this Pakistan's breakthrough rom-com movie.
The storyline is promising enough, if not very original. Armeena Rana Khan as Meena, returns to her native Swat from Vancouver after a hiatus of 11 years to attend a family wedding. Despite some initial reserve, she is completely won over by the warmth and love of her large family, ensconced in a grand haveli in the idyllic setting of Swat. She encounters her childhood playmates, two cousins who have grown into dashing young men. Asfandyar, played by Bilal Ashraf, is the strong, silent type and then there is the flirtatious, frivolous Daniyal, (Ali Rehman Khan), who hits on every eligible female he meets.
As both Asfandyar and Daniyal vie for Meena's affections, she is clearly drawn towards the intense, idealistic Asfandyar, who fits the mould of the romantic hero perfectly. Ashraf, as Asfandyar, besides being tall, dark and handsome, puts in a polished performance, hinting at unplumbed depths. Khan is also eminently believable as Daniyal, and makes audiences warm to his character despite his self-obsessed and somewhat shallow nature. In fact, the relationship between the two male leads is actually the more well-developed and heart-warming aspect of the film. Both of them have a promising future on the big screen.
Sadly, however, the ethereal Rana leaves little lasting impact. And it's not entirely her fault. Her character lacks depth, and indeed any extra dimension that would have made it memorable. She has no back-story, her relationship with her parents is given short shrift, and even the blossoming romance between the lead pair is rather lacklustre.
Then there is a smattering of quirky supporting characters; the incorrigible dadi who is too old to mince her words; Mishi Khan, the still-single, progressive aunt; Asfandyar's principled father Ajab Gul and the fresh-faced Hania Aamir, who makes a promising debut as the independent-minded cousin who has convinced her fiercely Pakhtun family to let her marry a Punjabi boy.
All the ingredients for a light-hearted, fun-filled romance are present, but the film lacks a certain deftness of touch and witty repartee that would have completed the package. While some exchanges elicit laughs and situations appear endearing, others are contrived and a trifle awkward. And while director Azfar Jafri has been able to coax some strong performances, the quality of acting is inconsistent across the cast. In addition, except for perhaps the title track, the film's music is eminently forgettable — not unpleasant, but unremarkable.
In the midst of all this gloss and levity, the film takes a sombre turn and a very serious and pertinent issue of child abuse is touched upon. But the subject is too big for this light-hearted venture. It is more of a tool in the development of the story rather than a serious effort to engage with the physical and psychological repercussions of this crime.
Even before its release, Janaan's other claim to fame was the involvement of Imran Khan's former wife, Reham Khan, in the film, as one of the producers. Actress Hareem Farooq is also listed as a producer and she puts in a cameo appearance as well.
Janaan is being billed as the first Pakistani film to have simultaneously premiered at home and abroad. The fact that it delivers generously on eye-candy from Pakistan may yet help make its fortune.
Zahra Chughtai has worked and written for Pakistan's leading publications including Newsline, the Herald and Dawn. She continues to write freelance.
Next