Interview: Roshaneh Zafar, MD Kashf Foundation
When Udaari began airing on HUM TV, innumerable strangers walked up to Roshaneh Zafar, Managing Director, Kashf Foundation, and said, "Do you know Udaari is my story too."

The truth is, Udaari, a TV serial on the theme of child rape, is drawn from the stories of thousands of women who are clients of the Kashf Foundation, one of the most successful microfinance non-profit organisations in the country, and a co-producer of the serial. In 2013 the foundation had sponsored Rehaai, a TV serial on the theme of child marriages.

Kashf Foundation was set up in 1996 by Roshaneh Zafar, a graduate of the Wharton Business School with a Masters degree in Development Economics from Yale University. An economist by profession, Roshaneh who has worked with the World Bank as a women-in-development associate, brought her expertise in the field of women's economic empowerment to the organisation. In the last 20 years, Kashf has given small loans to more than two million women, enabling them to start their own businesses as micro-entrepreneurs and helped change their lives for the better.

Belonging to a distinguished family of lawyers — father, S. M. Zafar, and brother, Ali Zafar, are brilliant constitutional lawyers — and musical legends — she is Malika Pukhraj's granddaughter and Tahira Syed's niece, Roshaneh is equally accomplished. She has represented Kashf at various local and international forums and is the recipient of several awards, including Pakistan's highest civilian award, the Tamgha-i-Imtiaz.

Roshaneh sees Kashf playing the role of a wealth management company in the future, providing low-income households a range of services to cater to their essential needs. She firmly believes that, "If you want to change the world, you need sustainable solutions."
Were you surprised at Udaari's popularity and how people connected with a sensitive issue that is usually brushed under the carpet?
I need to go back a bit into history. The drama serial Rehaai (2013) was our first attempt, and in it we took up the issue of child marriages because in 30 per cent of the marriages in Pakistan, the females are below the age of 15. This problem exists across the board, but in Sindh it's endemic. The story we wove was based on real-life stories. Since we work with women all over Pakistan, financing them to help set up their own businesses, we have a lot of data on their lives and the challenges they face.
TV audiences are not dumb. There is a desire for new content that goes beyond the typical saas-bahu or second-marriage themes that our channels tend to spew out. As we analysed our experience with Rehaai through all the responses, we realised that we need to keep a balance between the entertainment and the educational quotient when we design the content of the next drama.
With Rehaai we got an audience that was mostly from the lower-middle-income group and below. They were attracted to it because it was about them. It didn't really get a broad-based popularity. So we wanted to make the next one more attractive to all kinds of audiences. And that is when we came up with the idea of two tracks. Of course, child abuse was going to be the main social issue; it was definitely something we wanted to address, given how sensitive it was. But to make it more attractive, we decided to sugarcoat it by adding a music story which was linked to the lives of women. Udaari featured a woman with a musical talent from which she earns her income and yet society looks down at her. That's the story of most women who try to earn a living.
So we did position ourselves to make it popular, but we didn't expect it to have a cult following.
What does the title Udaari really mean?
Udaari means to take flight. It's the ability to transcend the obstacles and traumas you face in your life and move ahead. In a sense, it is a message of hope for a victim of child abuse. Society, and even our mainstream media, generally blames the victim and glamourises the perpetrator. In Udaari, it is completely the opposite. We are saying that the victim is a survivor and the abuser needs to be taken to task. The shame is the culprit's, and not the victim's.
Does Kashf Foundation have the actual figures on child abuse and incest cases?
There is an organisation called Sahil that works exclusively on cases of child sexual abuse and exploitation and they collect data from all over Pakistan. They bring out an annual report called Cruel Numbers, which compiles all cases of child abuse that are reported in the press or to the police from across the country. Last year, there were between 3,500 to 3,600 reported cases — which means 10 children are physically abused every single day.
Wasn't HUM TV issued a PEMRA show cause notice for showing so-called "objectionable" material in an episode of Udaari?
Anything that was written in the script was carefully vetted by all. We made sure it was sensitively done, not vulgar or obscene — rape was just implied so that people could understand through the dialogue and the characters played by the actors, the pain of the act.
But you have to call a spade, a spade. Had we tried to be more subtle, it would not have had the same impact. Child abuse is a horrific act — it can't be shown on screen, but at least one can talk about it. We were also very surprised that, despite all the counter-content that was being shown in other plays, why Udaari was picked on?
It goes back to our psyche which is so patriarchal at all levels that anything related to women or to sexuality is taken negatively in our society.
Conversely, a paedophile can be anyone and that is what we tried to show in the character of Imtiaz, who portrayed himself as a reputable, nice man. It came as a shock to the audience when this good guy — the ultimate man you would want in your life — turns out to be a child-rapist. What we were trying to communicate is that a paedophile can be within your circle of friends, relatives or acquaintances.
The statistics tell us that 60% of the child abuse cases take place usually inside the homes or neighbourhood.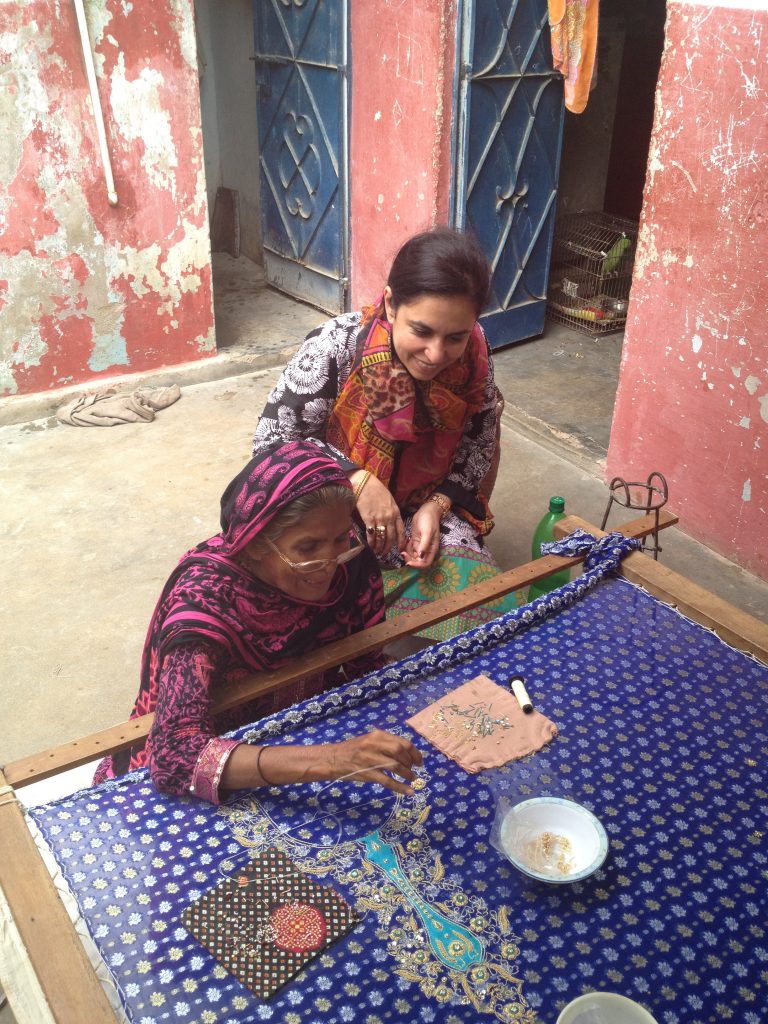 What was your source of funding?
The funding for this was actually part of a larger five-year project supported by the Canadian government. For the last 20 years, we have been doing theatre on social issues in local languages for one community at a time, and 100-150 people would gather to watch. But street theatre gives you a limited audience, so we really wanted to scale this up. We sought advice from Moneeza Hashmi — a former MD of PTV Lahore — and people in the media industry. Then I pitched the idea to a very receptive Sultana Siddiqi, who suggested I speak to Momina Duraid. It was a meeting of minds. For Rehaai we were the sponsors, but for Udaari we were the co-producers and were more involved to make sure that the end-product adhered to the essence of what we wanted to do.
Are there any more social issue-based productions in the pipeline?
We are definitely looking into a couple more ideas, but currently we don't have the funding. Socially driven content and campaigns are rarely commercial and we couldn't possibly afford the airtime on these channels. Basically we produce it, have an agreement with the channel to run it and they earn from the sponsors that they get. For us, the purpose is not the returns. We are hoping to establish a new model for the media, whereby they come out of the saas-bahu and second marriage syndrome.
Wasn't Kashf originally a bank before it became a foundation?
We are a not-for-profit foundation, but at one time we had set up a microfinance bank which was subsequently sold off. We work with low-income, female entrepreneurs. Among them are those who have opened a small kiryana store in their homes, or a beauty parlour, or have a small vending stall for gol-gappas, which the husband sells. There are many women who are innovative as well, like this woman in Korangi who buys old denim jeans, takes them apart and sells the material, the zips and the buttons separately. A lady in Jhang used to make boxes for sweetmeats and now she has a press that prints those boxes and has other women under her employ who paste and give the finishing touches to those boxes.
How many locations in Pakistan is Kashf working in, and what is the amount of loan a woman can take?
We work out of 200 locations across the country and next year, Inshallah, we will be opening 90 more offices. Our plan over the next three years is to reach out to 500,000 women/clients.
We start with a loan of Rs 30,000. The first loan gives them the confidence and the ability to understand how financial management works. For women especially, that is important because they are usually not building businesses. They do it mostly as a way of earning pocket money. So we bring them towards entrepreneurship. It is not just about the money — it's also about investing in their capacity. So we train them on how to manage their money, run their businesses and establish backward and forward linkages, as many of these women are not used to going to the markets. For example, they need to know which are the best places to buy raw materials and how they should negotiate with vendors. That's why we have business management and financial education training programmes. Additionally, we educate their men in gender sensitivity, because one of the biggest challenges for women are the men's attitudes.
How much is the mark-up for the loans you extend and what happens if they are unable to return it for some reason?
Our mark-up is 20%, which means that if they take Rs 30,000, they will be returning 36,000 in monthly instalments spread over 12 months. Ninety-nine per cent of our money comes back.
It's not about giving money and forgetting it. It's a continuous process of giving guidance and gradually transforming the ability of that woman, regardless of what kind of small business she's attempting to start. At this point, we have 1,200 Business Development Officers who go into the communities daily to empower these women through decision-making.
Since we work with families, we involve the men in the decision-making as well. You can't isolate the woman because women are extremely vulnerable. For a recent research we conducted on the incidence of domestic violence, we interviewed between 300 to 400 women and found that 21% of the low-income women belonged to families that earned between $2 to $3½ a day — that is the World Bank and the international poverty line; 21% had been physically abused by their husbands, 43% had been physically abused by more than two relatives, including the mothers-in-law, and 54% said that in the past 12 months their husbands or their mothers-in-law had deprived them of food and shelter because they were perceived as not meeting their responsibilities. And 7% said they were mortally scared for their lives.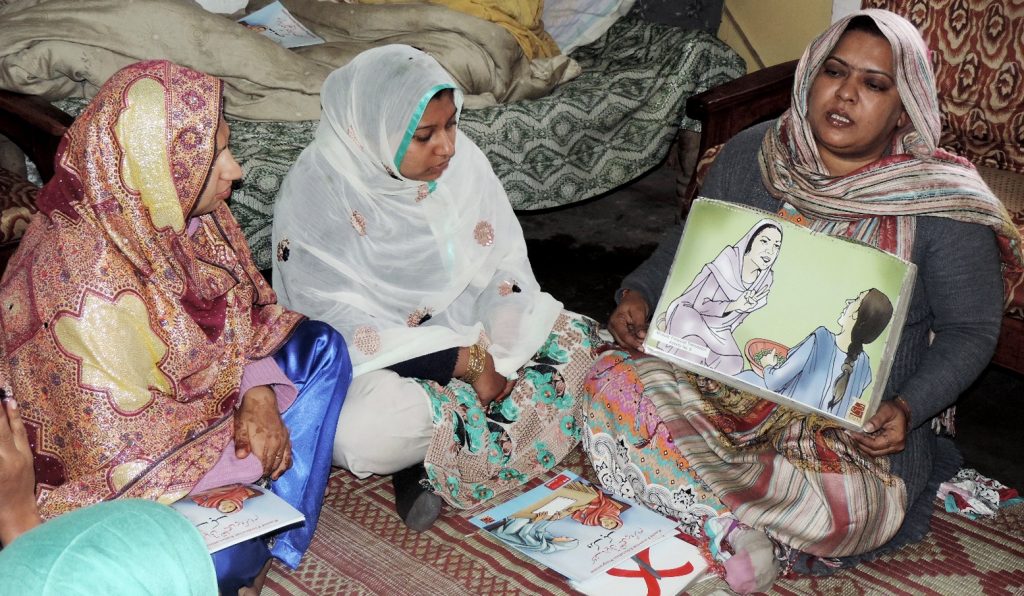 If women become financially self-sufficient, doesn't it bring a change in their lives?
Absolutely. Our impact assessment of last year showed us that the incidence of domestic violence had come down drastically in those families where women had become 50% contributors to the income.
Don't financially independent women make men insecure?
Even if the women are earning, a lot of times the decision of where the money will be spent still rests with the man. Moreover, the general opinion across Pakistan is, "aurat ki amdani may barkat nahi hai" but a man's earning has a lot more 'barkat.' Patriarchy is etched in our DNA. We had broken this myth in the drama serial, Rehaai. But it's going to take us years to change so this was an incremental step.
We have also developed a savings scheme for the women. If you talk to the men in any culture across Pakistan, they will say my wife does all the saving. Men are not inclined towards small savings. The other best way to empower women is through universal access to savings. It is very important to financially include women in the economy.
Are you following the Grameen Bank model?
Yes. Actually Kashf is based on a chance meeting I had with Dr. Muhammad Yunus in 1992 at a conference while working for the World Bank and he really inspired me. So when I left my job, I emailed him but didn't get a reply. I put it down to his busy schedule and thought why would he call me. Then the PIA office called saying there was a return ticket for me from Islamabad to Dhaka from Mr Mohammad Yunus. When I called him, he said he was inviting me to Dhaka to learn about microfinance. So in 1994, I spent 10 weeks in Bangladesh learning about microfinance, and it was phenomenal.
I went into the communities and the marginalisation and the poverty level that I saw in Bangladesh was nothing like I have seen before — not even in Balochistan nor Thar. I still remember the woman I first met and asked what poverty was like for her. She said it was like owning the one sari she had when she was poor. She would wash one side of the sari at a time by the river while keeping it still on, because she didn't have another. Then she took me to her place, which was very basic but it was a pucca house with a thatched roof. There was a rope across the room on which hung 15 saris and she said, "this is prosperity for me because now I have a sari for every occasion." So now when I think of poverty I measure it in terms of the one sari that woman had.
So your capital base comes from your clients?
Since we are a not-for-profit outfit, anything we save, which is a bare minimum, goes back into generating more loans for our clients. Most of our capital comes from borrowing from the Pakistan Poverty Alleviation Fund (PPAF) and the commercial banks. So it's a combination of both. Even the PPAF takes 1½ to 2 per cent interest, which we have to pay. We have to charge our clients to pay the salaries and for our operational costs.
The concept of microfinance is sustainable development. It is different from working with grants. Sustainable development means the programme needs to be sustainable and you would want to grow from the savings. So, for example if we are going to open 90 branches next year, it will all be from the equity that we build, although the capital that we need for the disbursement comes from commercial banks and the PPAF.
The amazing thing we have done is that we have made women from the low-income group credible in the eyes of the commercial banks. No other sector has been able to do that. We don't take any collateral, but we do interview the women. The concept of microfinance is to go to the client and work with her — so we know the entrepreneur, the enterprise, the family, the residence and all their issues. Also, our branches are located right there in the communities. You won't find our branches in the high-income areas. In Karachi, we have 28 branches in places like Landhi, Korangi, Malir and Orangi.
One school of thought believes that microfinance drives women into further poverty. What would you say?
We believe in responsible finance and make sure that the money we provide generates returns for the family and helps the women enhance their income.
But you can go the way of consumer lending — give the money and get it back without really looking at the client. There are instances where this had happened, as in India where there was a huge growth in access to finance through microfinance and all the MFIs (Micro Finance Institutions) were only looking at the numbers. When one MFI develops the market and another one opens up right next to it, what they fail to see is that they are targeting the same client — like a Burger King or a McDonald's. So the same client has more than one loan outstanding and that's what creates a problem, and that gives microfinance a bad name.
In Pakistan, we have set up a Credit Information Bureau (CIB), which means the data of all our clients is available at a central place. Each client has a CNIC — we get CNICs made of all the clients we work with — that is another service we provide. We are mainstreaming women into the National Database. Through the CIB we find out who the defaulters are, who has taken how much loan and from whom. Our organisation does not finance those who have taken loans from two other places and we don't extend loans to defaulters. This is so that the messages goes out that they have to pay back first.
Every two years, we conduct an impact assessment, and if we find that the impact is not effective, we do lots of other things. Lending is only a part of it. Our other major programme is health insurance. We have insured 1.5 million lives through microhealth insurance. It covers the entire family for only Rs 1,800 a year, which is Rs 120 rupees per month — making it very affordable. It gives the entire family hospitalisation coverage, pre-testing, ambulance service, up to Rs 30,000 rupees worth of hospital bills, and even for income loss. Now families are approaching us not for the loans, but for the microhealth insurance.
You need to build a moat around the contingencies and vulnerabilities that a low-income household faces. Savings give long-term options, lending enhances their income stream, training enhances their capacity and health insurance is meant for contingencies. So we have developed an entire value chain around the money.
What is the literacy rate of your clientele?
Sixty percent of our clients have studied till below Class V in school, so they are barely literate. That is why our training is adult literacy-based, in which we use role models, case studies, activities, pictures and visuals. We have a three-day financial education training programme, which teaches women debt management, household budgeting, negotiations and explains the concept of insurance to all low-income women.
We have business incubation and business management training as well. That is a four-month training programme — what I call the Harvard Business School for low-income women. We teach them the ABC of business: what it is, how to develop a business strategy, what's a product, how do you improve it, what's a market and what are market linkages. Then we take these women to the market and to the relevant vendors, who look at their product and suggest what kind of improvements they would like the women to make in order to secure a market for their products.
We first tested this in southern Punjab. In Multan we met with considerable resistance from the men, who absolutely forbade us to take their women to the market. We agreed but said we would like to train them as well as the women — and just to give us two days. So after training the men in marketing and taking them on market trips, we succeeded in making them realise that it was of great value and there was nothing that would damage the reputation of their women. That is how we made a breakthrough. Now, every year, between 12,000 to 15,000 women graduate from our 38 community-based management schools.
We also do gender training with men in groups of 15, comprising the husbands, brothers, fathers or fathers-in-law of the women we want to train.
We can't change everyone, of course, but we can change some.
The writer is working with the Newsline as Assistant Editor, she is a documentary filmmaker and activist.
Next