Artspeak: Brush with Tradition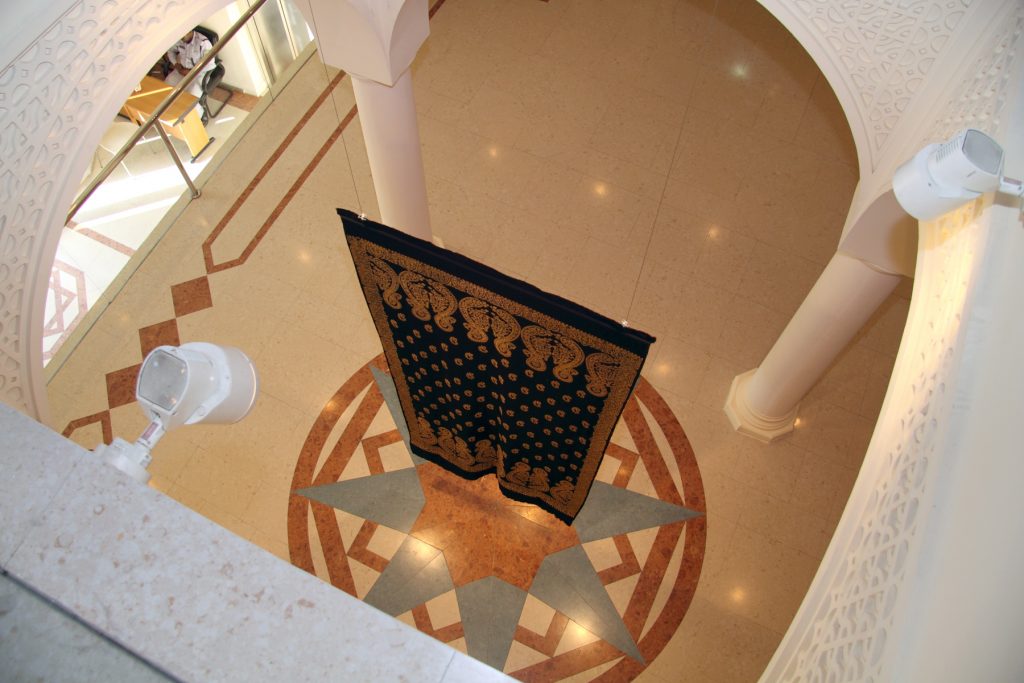 Driving down from Nathiagali to the lower valleys, one can see the mountainside draped in colour — yards and yards of embroidered shawls and dupattas on display in pop-up stalls. Occasionally, baskets are also to be seen dotting the landscape. Once a familiar craft of this area, visitors would make it a point to browse through the wicker shops on Murree's Mall. Today, the village women who weave these baskets are no longer to be seen in public spaces. And even if you were to spot a few of them, their heavily draped faces and bodies give them a strange anonymity, and it is only through their skilled embroideries and baskets that one is reminded of their existence and the significant role they have played in the continuity of the craft.
Leading authorities on South Asian textiles have rated traditional Pakistani embroideries among the world's finest. This should come as no surprise to us; the embellished cloth has dominated our physical space and is strongly embedded in our aesthetic consciousness. Unfortunately, we have a tendency to take this rich legacy and the people behind it for granted.
Interestingly, the women artists of Pakistan have pulled embroidery and textiles out of the space of anonymity with a multiplicity of engagements. Nahid Raza, as early as the 1970s, used the gaj from Sindh with its satrangi palette to vitalise her canvas. She collaged it in bits, a la Braque, to make a Modernist statement. Around the same time, Mehr Afroze once shared in an interview that she was so inspired by the fine embroidery of a dupatta that she could not resist tearing off a piece to fuse it with the texture of her painting. These formalist interactions turned to a critical gaze when embroidery and stitching were given a new meaning in the feminist context.
Aisha Khalid has used textiles invested with personal memory, like pieces from her wedding dress, to construct small collages that go beyond her early practice as a miniature artist. When she focused on embroidery, the red rose found in the popular needlecraft of the Punjab was turned into a metaphor of exploitation and pain. To communicate this, she filled the outline of the rose by sticking needles vertically into the stretched fabric to convey the hardship that outweighs the celebration of the makers. This idea expanded in concept and scale when Aisha replicated the timeless embroidery of the Kashmiri shawl. The visitor could see one side tracing the exquisite motifs on the vertically hung fabric only to be surprised by the dense array of long protruding pins at the back — an encounter that underlines the shadow of conflict under which the Kashmiri shawl is made for the oblivious consumer.
Textiles were embraced by Ruby Chishti in her work, following her personal experiences as the caregiver to her bedridden mother. When her mother passed away, she chose to give her bed linen a new life by turning them into life-sized soft sculptures that recall the tradition of doll-making. The most poignant work in her first collection was a life-size figure wrapped in a shroud.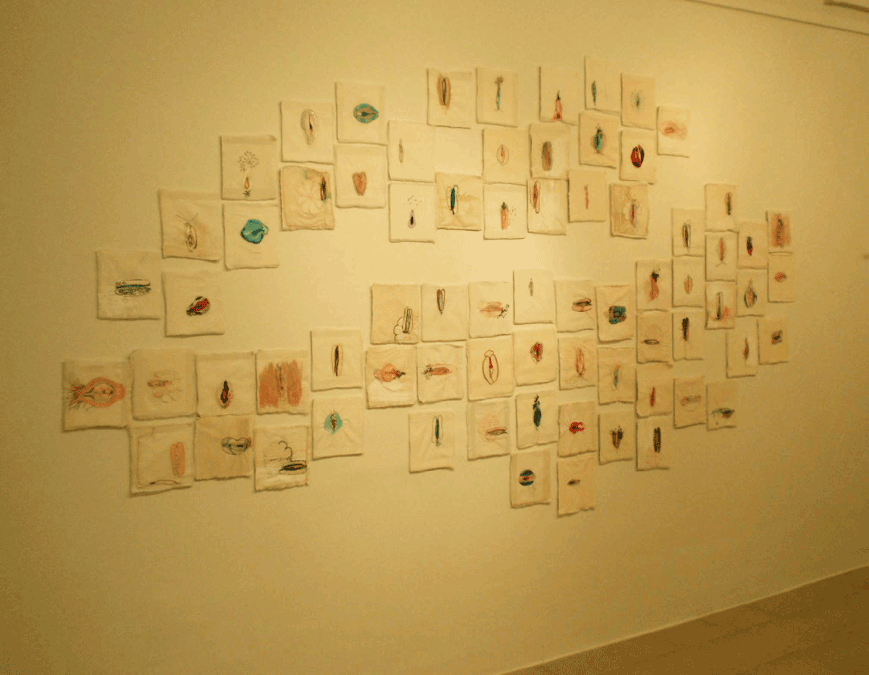 Mariam Agha moved away from domestic embroideries to its formal genre created by male craftsmen in workshops. Her montage titled '72 Virgins' was a juxtaposition of pieces of fabric that traced intimate female body parts with beads and sequins to evoke memories of a bridal dress. As the title suggests, the work references the exploitation of female sexuality to attract suicide bombers with the promise of virgins in heaven.
One interesting way of tracing the region's history is through textile-crafting techniques and materials. Risham Syed's work '7 Seas / 7 Quilts' interprets colonial trade routes via textiles. By transferring maps, found material and images on the textiles, she elevated the humble domestic quilt into a chronicle of history. Roohi Ahmed has always looked to cartography to document experiences. On her return from an extended stay in Australia, the artist began to transfer monochrome street maps of her home and her daily routine through machine embroidery on fabric. This has made the maps both her diary and a memoir. Usually installed in groups, the maps are stretched on embroidery rings with linking threads to indicate the seamless memory of experience where distance becomes irrelevant.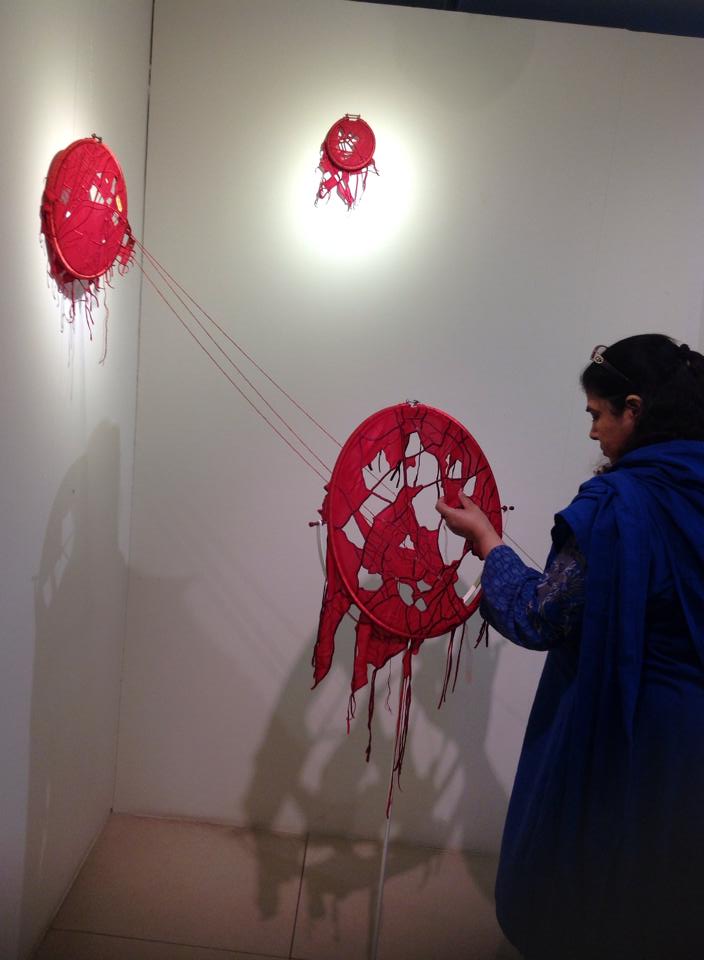 The range of emotion and innovation invested in these works gives us a critical insight into the personal and cultural narratives woven around embroideries and textiles. We begin to discover the legacy's references in our environs that has made this work possible, the aesthetic sensibility that has particularised our responses to certain colour palettes, motifs and textures. It's as much a part of us as the raags and rustic rhythms, the ghazals and the qawwalis. The Pahari craftswomen and women artists are connected through the invisible strands of a persisting tradition.
Next