Movie Review: Baar Baar Dekho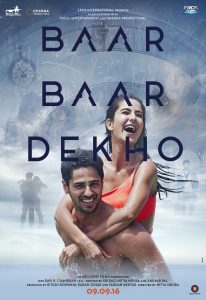 About halfway into Baar Baar Dekho, visual artist Diya (Katrina Kaif) holds an exhibition of her work at one of London's tonier art galleries. Her work — clumsily cropped vintage photographs of Indian women superimposed on brightly coloured Nepalese Thangkas — looks interesting from a distance, but closer inspection reveals it to be a boring body of work that lacks originality and, of course, artistic merit.
The same can be said of Nitya Mehra's awkward first film — Baar Baar Dekho — as a director. It borrows heavily from a number of films — About Time, The Lake House and The Time Traveller's Wife, to name a few — and recycles sequences and situations that have been used in other films to much greater effect. The film does have a carefully-manufactured veneer of gloss, which does well in the trailer (it was viewed more than seven million times on social media) but fails to save the movie, which is not only clumsy but boring as well.
The romance of childhood sweethearts, Jai (Sidharth Malhotra) and Diya, is established in the opening credits of Baar Baar Dekho. Diya is rich whereas Jai is not. Diya is a visual artist and Jai is a dedicated mathematician who is more interested in mathematics than anything else in the world. The two lovers decide to tie the knot after Diya proposes to Jai over dinner at a restaurant. The extravagant preparations for a grand wedding turn Jai off, who dislikes the pomp and circumstance his would-be father-in-law enjoys. Things come to a head when Diya shows Jai a posh apartment that she has purchased for them, without his knowledge, and with some help from her father. Jai gets into a heated argument with Diya and calls off the wedding. He gets drunk and falls asleep in the new apartment. While asleep, he experiences visions of several time periods in his future, ostensibly through time travel. The scenes from the future show how the error of his selfish and errant ways hurt those around him and lead to a failed life as a friend, son, husband and father. Jai attempts to correct his mistakes during various episodic visions of his life.
Movies about time travel require a suspension of disbelief to be viewed and enjoyed. Baar Baar Dekho needs much more. In order to sit through the entire 140 minutes, viewers not only have to suspend disbelief but also forgo logic and good taste.
The film fails in many areas — direction, editing, music, cinematography, and casting — but its most glaring weaknesses are the screenplay and performances. The haphazard screenplay fails to tell the story in a coherent manner. The dialogues are cheesy, trite and unnatural. Characters are not allowed to develop fully; they fail to come to life on screen. The character of the mathematician, played by Malhotra, is inscrutable, at best, and boring, at worst. The very good-looking actor appears in virtually every scene and displays a total of one emotion, using a single look that combines amazement and confusion, throughout the film.
Kaif's toned body is on ample display in Baar Baar Dekho but fails to titillate, given that the actor seems to have lost all her liveliness, along with her weight, after breaking up with Ranbir Kapoor. The film fails primarily because it fails to make audiences care about Diya and Jai — about whether they separate or if they get married.
The film has one saving grace — the song Kala Chashma sung by Badshah, Neha Kakkar and Indeep Bakshi, which is said to have garnered more than 60 million views. Unfortunately, it appears right at the end as the credits are rolling.
In any case, one good song does not make a film watchable. All in all, Baar Baar Dekho fails to live up to its title.
Next