Out of the Equation: Pak-Afghan Relations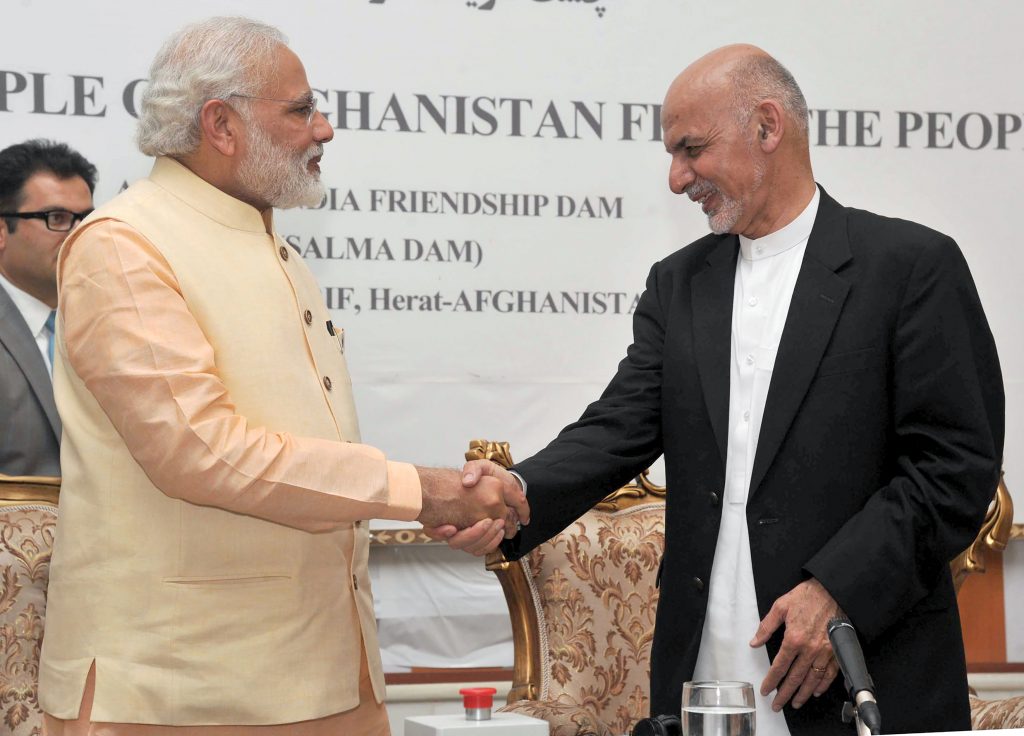 The relations between Afghanistan and Pakistan have remained largely unfriendly since the latter's independence from British rule in 1947, but lately the India factor has inserted an uncertain and toxic element into the relationship.
In recent months, President Ashraf Ghani has moved Afghanistan away from Pakistan and closer to India. His pro-India statements and decisions are primarily meant to seek more Indian assistance and express anger with Pakistan for failing to help him stabilise Afghanistan by delivering the Afghan Taliban to his government. In fact, he is using India as a counterweight to Pakistan, with the backing of the US. For some time now, the US has been encouraging India to play a greater role in rebuilding and stabilising war-ravaged Afghanistan. As the US and its Nato allies gradually detach themselves from Afghanistan's never-ending conflict, they are hoping India can take over some of their responsibilities to prevent the vacuum from being filled by the Taliban and other militant groups, including the Islamic State (IS).
The recent trilateral meeting of Afghan, Indian and American officials to realign their interests and assistance to Afghanistan in line with the priorities set forth by Kabul was further evidence of the emergence of this new alliance. In the past, such trilateral meetings in the context of Afghanistan could not be imagined without Pakistan's participation. It was a clear message that Kabul and Washington had decided to keep Islamabad out of the equation and replace it with New Delhi.
Like his predecessor Hamid Karzai, Ashraf Ghani has thrown caution to the wind and is unwilling to address Islamabad's concerns while forging deeper ties with New Delhi, particularly in security matters. However, it won't be easy and realistic to keep Pakistan at a distance as, unlike India, it is an immediate geographical neighbour of Afghanistan. As they say, one can change one's friends, but not one's neighbours.
This realignment of forces and alliances is contributing to the tension in the region and prompting Pakistan to seek new allies. Pakistan's 'all-weather friendship' with China is now a byword, but it has become deeper and exemplary in the new scheme of things due to the US policy of China's containment through India and some of the Southeast Asian countries. As trusted neighbours and friends, China and Pakistan have together weathered many a storm and would continue to stay together whatever the circumstances. Pakistan has also taken measured steps to develop friendly ties with Russia, one of its rivals during the Cold War when it was fully aligned with the US. The first-ever joint military exercises between Pakistan and Russia were conducted recently in Pakistan's mountainous training centres, ironically at a time when Pakistan's relations with India, an old ally of the erstwhile Soviet Union, are at a dangerously low point.
Pakistan has always been concerned about a situation where it would be confronted with a two-pronged threat emanating from India on its eastern border and Afghanistan on its western frontier. This has happened gradually and the threat is now becoming a reality as Afghanistan and India have become close allies politically and also in terms of security. Both complain about Pakistan exporting terrorism to Afghanistan and India through militant groups harboured by it. However, they refuse to admit that Afghanistan's soil is being used to provide sanctuaries to anti-Pakistan elements, including the Tehrik-i-Taliban Pakistan (TTP) and the Baloch separatists, who are bent upon destabilising Pakistan. This cannot happen without the collusion of the Afghan intelligence agency, NDS, and the involvement of the Indian RAW as Pakistani officials have been alleging.
On its part, India is now openly backing the Baloch separatists and even offering asylum to rebel leader Brahmadagh Bugti, the grandson of slain Baloch tribal chief Nawab Akbar Bugti. Prime Minister Narendra Modi's mention and open sympathy for the Baloch separatists in his Independence Day speech and India's decision to highlight human rights abuses in Balochistan could well be due to its realisation that the secret about India's involvement in Balochistan is already out after the capture of its active service spy, Kulbushan Yadav, by Pakistani authorities from Balochistan.
The hostile relationship between India and Pakistan is a known fact but its present intensity is unsettling. The repeated, unsubstantiated Indian allegations against Pakistan and its threat to isolate it in the world and its reported plans to review the 56-year old Indus Waters Treaty are hostile acts that could push Islamabad to the edge. The Afghanistan conflict and the use of its soil for a proxy war is an addition to the several unresolved issues between India and Pakistan.
The Kashmir dispute has flared up again due to the unprecedented protests by Kashmiri Muslims chanting slogans of 'azadi' (freedom) from India, followed by the militants' attack on the Indian Army base at Uri in Jammu killing 18 soldiers. This time though, putting the blame of the Kashmir uprising on Pakistan isn't convincing despite Indian efforts because independent media reporting from the Kashmir valley has shown that it is an indigenous movement fuelled by the killing of the young and popular freedom fighter, Burhan Wani.
The volatile situation in Kashmir and the tension along the Line of Control following the Uri attack has fuelled speculation whether this could lead to yet another India-Pakistan war. The two have fought three full-fledged wars in the past. Pakistan's decision to highlight the human rights abuses in Indian-administered Jammu and Kashmir at international forums has angered India to no end and prompted it to accuse Pakistan of using brutal methods to suppress Baloch nationalists and shelter India and Afghanistan-focused militants and terrorists on its soil. Though India believes its propaganda against Pakistan would turn the attention away from the brutalities committed by its forces against Kashmiri protestors, this isn't happening as the Kashmir protests are continuing despite a curfew in the valley and the ban on social media.
In the context of Afghanistan, India has undoubtedly gained the upper hand by befriending the Afghan government through its generous development funding of $3 billion and its decision to open the doors of its military and police academies and teaching institutions to train the Afghan army, police officers as well as diplomats, teachers and other officials. By comparison, Pakistan due to its smaller size and economy could only manage to provide $500 million for Afghanistan's reconstruction. The mutual trade between Afghanistan and Pakistan had peaked to $2.5 billion and was in Pakistan's favour, but insecurity and tension on the border has led to a drop in its volume. The Afghan transit trade through Pakistan is also going down due to the tense relations between the two neighbouring countries and on account of Kabul's hectic efforts to reduce its dependence on Islamabad by finding alternate routes, including the development of the India-funded Chabahar seaport on the Arabian Sea in Iran.
It is obvious that Pak-Afghan relations would remain unfriendly as long as the Afghan Taliban and the Haqqani network are able to find refuge in Pakistan and until the Pakistani Taliban and Baloch separatists remain ensconced in their bases in Afghanistan. This suits India, which is fishing in troubled waters and is happy to assist the Afghan government to be able to take on Pakistan. India was concerned when Ashraf Ghani paid his first visit to Pakistan instead of India after becoming the president of the Afghan Unity Government in September 2014. He had made the move in a bid to improve Pak-Afghan relations and seek Islamabad's help in negotiating peace with the Afghan Taliban. As the peace talks didn't make any headway and Taliban attacks in Afghanistan intensified, the Afghan president began blaming Pakistan for the violence in his country and made a major bid to court India. This is leading to heightened tension between not only Afghanistan and Pakistan, but also India and Pakistan. In such an atmosphere of distrust and blame-games, there is little chance that their relations would improve or their economies would prosper through regional integration.
Rahimullah Yusufzai is a Peshawar-based senior journalist who covers events in the NWFP, FATA, Balochistan and Afghanistan. His work appears in the Pakistani and international media. He has also contributed chapters to books on the region.
Next