Movie Review: Actor in Law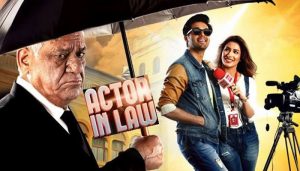 How does one follow up a movie like Na Maloom Afraad, which managed to combine genuine laughs with a deep understanding of Karachi and its unique culture? Director Nabeel Qureshi has given the answer in the form of Actor in Law, which doubles down on everything Na Maloom Afraad attempted, with slightly more mixed results.
As with Na Maloom Afraad, Fahad Mustafa once again plays the lead. This time he stars as a struggling thespian (is there any other kind?), who stumbles into the legal profession of his father (Om Puri) and discovers that his acting talents translate perfectly into the courtroom. Needless to say, like any good Pakistani parent, Puri had disapproved of Mustafa's occupation. Mustafa finds the fame which eluded him in his acting career after reporter Mehwish Hayat captures his skills on camera and introduces him to a wider audience. Realising he can use this new-found power for positive purposes, Mustafa teams up with Hayat to pursue a series of human rights cases.
Actor in Law plays out more like a series of vignettes than a movie with one plotline as the different cases the pair fight allows the director to explore just about every conceivable social and political issue, from the harassment of women in public places to the political wall-chalkings that dot the city and the enduring popularity of Altaf Hussain. And throughout, it manages to be very, very funny.
If there is one problem with Actor in Law, it is that it is so packed with allusions that it sometimes disrupts the flow of the movie. Everyone from TV host Ayesha Sana of "bright karain" infamy to model and alleged money launderer, Ayaan Ali, is alluded to. What still makes it work is Qureshi's obvious love for and knowledge of Karachi and his equally obvious anger at issues like corruption, child labour, the continued existence of patriarchy and sensationalism on TV.
Qureshi handles all of this with a deft touch and is aided by an accomplished team of actors. Mustafa's courtroom scenes allow him to mug for the camera but he is equally adept in the more subtle moments. His obvious chemistry with Hayat allows one to overlook her botched attempt to play a Parsi. Otherwise, Hayat brings an equal amount of passion and intensity to her role. The few other women characters littered in the movie have far less to do. Mustafa's sister, for example, has no function other than to provide him tea. That, too, may be a reflection of our society but the lack of well-rounded women in the movie seems a tad jarring in a movie with a message.
Actor in Law can be a bit too preachy at times but every moment of melodrama is leavened by humour. Like all good satires, the movie uses laughs to reinforce its point. It's just that Qureshi has so many points to make that character development is sometimes given short shrift. Om Puri, for instance, doesn't get enough of an opportunity to show his disappointment in the son and their showdown towards the end feels slightly forced.
Still, it is hard to complain too much about a movie which takes itself seriously but not too seriously, has a stellar soundtrack with contributions from Atif Aslam and Rahat Fateh Ali Khan, and a cast that does justice to the material. It may be no Na Maloom Afraad but then few movies will be.
Nadir Hassan is a Pakistan-based journalist and assistant editor at Newsline.
Next