Zehra Nigah Pays Tribute to Faiz Ahmed Faiz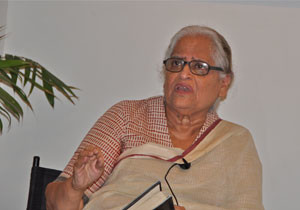 Down Memory Lane
It was a real treat to hear Zehra Nigah pay tribute to Faiz Ahmed Faiz at the Karachi Literature Festival this year, but it was even better to hear her at T2F on June 21, where she recounted tales from when the poet resided with her in England during his years in self-exile. Audience members were able to interact with Nigah and request her to narrate a specific incident or poem.
"I never heard him speak ill of anyone," recalled Nigah. In fact, once he was stepping out to go to someone's house and upon finding out who it was, Nigah told Faiz sahib not to go because she had heard that same man say some pretty nasty things about him elsewhere. Faiz sahib was not unduly concerned. "Why do you listen to such things (Tum buri batain sunti kyun ho?) Just turn off the switch," he remarked and proceeded to visit the man. Another time, a guest reprimanded Faiz sahib for his excessive smoking and asked him how many cigarettes he had smoked in his life. Faiz sahib gave him a figure. The man pulled out a calculator from his pocket, punched in some numbers and remarked, "You could have saved three lakh, something-thousand rupees had you not smoked!" To this, Faiz sahib earnestly responded: "Phir to acha huwa, what would I have done with all that money!" Too polite to ask a guest who had been there for hours boring him with his own poetry, to leave, Faiz got out of it by asking Nigah to fake a lunch appointment for him. There were countless such anecdotes in Nigah's walk down memory lane.
Though most of the evening centred around Faiz, his life and his poetry, towards the end Nigah read out from some of her own work as well, often asking moderator Asif Farrukhi to locate a specific poem in the book when memory failed her, or telling the audience that the poem they had requested was too long and that she was too old to remember or recite it. However, upon their insistence, Nigah was forced to recite one of them with tarannum. In fact, that proved to be the highlight of the evening.
A verse that resonated with her audience at T2F was: "Suna hai jungalon ka bhi koi qanun hota hai….meray shehr mein bhi jangalon sa koi qanun nafiz kardo."
A telling comment on the Pakistan of today…
Farieha Aziz is a Karachi-based journalist and teacher. She joined Newsline in 2007, rising to assistant editor. Farieha was awarded the APNS award for Best Investigative Report (Business/Economic) for the year 2007-2008. She is a co-founder and Director at Bolo Bhi, an advocacy forum of Digital Rights.
Next