International Conference on Leadership and Women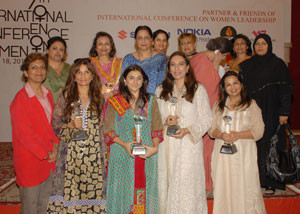 Women in Action
The 7th International Conference on Women Leadership organised by Triple-E, an event management company, was held at the Sheraton Hotel on June 18 and included a list of highly influential speakers. The aim of this conference was to highlight the fact that women have an equal role and position in this world as men do.
The turnout wasn't too big and the audience comprised mainly women, leading Haroon Waheed (head of HR at Unilever Pakistan) to remark that the presence of men at such a gathering was essential to correct the gender balance. Waheed mainly focused on the topic of gender diversity and said, "No business or corporate entity can grow without women." He spoke about how women are encouraged to work at Unilever through the provision of facilities such as a day care centre that enables mothers to work without feeling guilty about ignoring their families.
Couture designer Nilofer Shahid's tale of her journey to success was truly inspirational for all young females aspiring to be successful designers.
Another speaker, Fauzia Naqvi, pointed to the lack of educational facilities and how civil society has been playing a major role in this area as compared to the government. She spoke about the role the global organisation Development In Literacy (DIL) was playing in promoting female literacy by financing schools in Pakistan.
The theme of architect/heritage conservationist, humanitarian worker and reformist Yasmeen Lari's speech was: "Can Karachi be a Women Friendly City?" Lari spoke on the need to create a more women-friendly environment, ensure the safety of women using public transport, hold seminars on gender equality, and ensure equal representation of women in order to achieve a culture of peace. The conference ended with the presentation of awards to all those women who are seen as role models in society. The event had a sprinkling of celebrities, among them model Nadia Hussain and event manager Frieha Altaf, who was also one of the award winners.
This article was originally published in the July 2011 issue of Newsline under the headline "Women in Action."
Raisa Vayani is an Editorial Assistant at Newsline
Next