"An actor's job is to capture the soul of a character and then liberate it at one point"
– Manzar Sehbai
Originally from Lahore, Manzar Sehbai has had a lifetime of acting experience. From being an active member of the Dramatic Society at the Government College, Lahore, he rose to fame with Dark Room, a theatrical masterpiece that he performed alongside Usman Peerzada, Imran Aslam and Shoaib Hashmi in 1967. Sehbai was subsequently affiliated with the Pakistan National Council of the Arts in 1973. After pioneering in experimental theatre with Sajjad Haider and Saleem Chisti, and doing numerous plays on television, Sehbai graced the renowned Rawalpindi Liaquat Hall with two mega hit plays in 1974: Ki jana main kaun (which was written by his brother, Sarmad Sehbai) and a remake of Dark Room. This was the time when he departed for Germany and deprived the many aspiring actors of an icon to look up to. He returned in 2006 and played the main character in PTV's screen adaptation of Manto's Toba Tek Singh. His recent big screen project with Shoaib Mansoor, Bol, is finally getting him the recognition he deserved long ago. The depth of his personality and astuteness of his thoughts make him a true artist.

Newsline got up close and personal with Sehbai at his current residence in Lahore.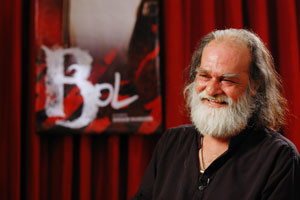 Q: Tell us something about your character in Bol. Can you relate to any aspect of him?
A: I fail to relate to him at all. Hakeem Sahib is an authoritative, intolerant father of seven daughters who is bound by cynicism and is unwilling to think beyond tradition. The contradiction between my character in the film and my personality is what I have enjoyed the most. It actually facilitated my ability to perform the role.
Q: That is an interesting way to look at it. Does this fit your definition of acting?
A: That is how it is supposed to be. As an actor, I believe that if you embrace something too closely, it starts to suffocate you. How can I step in a character if I don't know how and when to step out of it? An actor's job is to capture the soul of a character and then liberate it at one point. He doesn't own the character — that is for the audience to consume. Let them perceive it in their individual capacity and in accordance with their state of mind.
Q: How was your experience working with Shoaib Mansoor?
A: He is the most dedicated professional I know. He works consistently and hardly ever eats while working. His energy on the set is contagious while at the same time, he keeps a friendly approach towards everyone. For me, he is a friend. Shoaib Mansoor understood my style of work and gave me as much space as I needed to bring out the best in me, with significant interference.
Q: In Bol, you share the screen primarily with three actresses. What was it like working with Humaima Malik, Zeb Rehman and Iman Ali?
A: As an actress, Humaima's commitment to her character was unmatchable. I remember shooting a scene where I had to slap her, and she asked me to slap her for real to attain authenticity. "Hit me as hard as you can Manzar sahib," she said to me. I, of course, refused.
Staying away from the screen for so long has had no effect on Zeb. She can still perform as effortlessly as she did back in her days with PTV. I would always tease Zeb on the set since her character was very tragic, it always required her to be in tears. Whenever she came on the set, I asked for the glycerine. "Who has the bottle of tears?" I used to say.
Iman Ali did justice to her role. In persona, we were miles apart. And that's all I'm going to say.
I do want to give special credit to our production team of young chaps, some of whom are still students. They worked very hard, without eyeing the clock, and made this film possible. From production assistants and camera crew to coordinators, everyone was incredibly meticulous.
Q: Are you planning to continue acting? What are your future plans?
A: If I come across a script with some substance, I'd love to act. For now, I have a few projects lined up in Germany including a short film.
Q: Any advice for aspiring actors?
A: Be imaginative. Imagine how your character would behave in certain circumstances, even if they are not in the script. Secondly, diversify your experiences. Put yourself in situations that you have never experienced before. Try to get to know as many people as possible; getting to know different people is the most underrated treasure. There is character in all of us and if you have met someone similar to a character that you need to perform, it will be a lot easier to assimilate him.

Read a review of Bol here.
Next