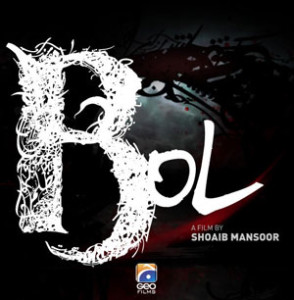 Film with a View
Watching Shoaib Mansoor's film Bol is akin to having a discussion with an intelligent person who is a nervous wreck. A lot of what the person says is heart-wrenching and thoughtful, but he flits from topic to topic so quickly that you end up wishing he would stick to the point.
Bol will tug at your heart strings, possibly compel you to shed a tear or two and force you to launch into a debate about Islam and tradition with your next-door neighbour, the cab driver, your mom or whomever you bump into heading out of the cinema. But you will leave the theatre wishing the movie had been shorter and tighter, the feel good Zeynub's Café ending had been clipped and that Mansoor hadn't tried to stuff four years worth of research into a three-hour movie. The film had so many debates about Islam running through it that by the end of it you felt like you had watched two movies, maybe even three, for the price of one.
While Bol has a strong story and some unforgettable characters, the major disadvantage of this beautifully-shot film is that it fails to sit still on a single theme or storyline. The movie is all over the map, touching on a smorgasbord of situations with a scattershot approach that leaves you ravenous rather than contented.
However, Mansoor's strengths as a filmmaker are evident throughout Bol. He shoots Lahore lovingly and tenderly, and catches the essence of the inner city's jungle of streets, the pre-Partition havelis bent over with age, and the grandeur of the Badshahi mosque better than any filmmaker in recent years. Lahore is a city of contrasts and paradoxes: the red light area rests in the shadow of one of the most revered mosques in the district, and posh restaurants rub shoulders with crumbling houses. Mansoor is able to depict the essence of the city in subtle and thoughtful ways, sometimes by a wide shot that shows the horizon of the city and at other times by an extreme close-up of a fading fresco painted during the Mughal times.
Bol can also be credited for bringing into the limelight extremely talented actors that we had no idea existed before Mansoor discovered them. Though the film boasts stars with huge followings such as supermodel Iman Ali, pop sensation Atif Aslam and television's talented star Humaima Malik, in addition to TV's favourite anchor, Mahira Khan, and cinema's most detested villain, Shafqat Cheema, the real star of Bol is Manzar Sehbai. A stage actor and acting chairperson of the Asian Pacific Film festival, Sehbai has previously been involved in experimental theatre in Pakistan. His last appearance was in Toba Tek Singh in 2005, until Mansoor hunted him down in Berlin where he was teaching at a university and convinced him to act in Bol. The result is astounding. Though the character of the angry hakeem, a closet mullah who is constantly trying to curtail his daughters and listens to no logic, has been performed many times, never has it been done with the poignancy and depth that Sehbai brings to the role. The angry mullah becomes human in Sehbai's portrayal and we begin to empathise with the challenges he faces in feeding many hungry mouths, the social stigma he fears if society discovers his son is a khusra (transgender person or hermaphrodite) and the pressure he is under to marry off a whole platoon of daughters. Sehbai makes us understand the mullah, and we end up feeling sorry for him rather than hating him.
In Khuda Ke Liye, Shoaib Mansoor insisted on walking down the oft-beaten path, basing his film on terrorism and Gitmo, but in Bol he steps away from conventions and brings to the fore issues that are often kept away from drawing-room discussions and cinema screens. The film illustrates the lives of khusras or hermaphrodites by drawing a poignant picture of what happens when a khusra is born in the home of a closet mullah (Incidentally, the young man who played that character was superb for a first timer). Unlike most films made in Pakistan that depict the woman as a beautiful and sexy victim of society, Bol's star is a strong and determined woman (executed brilliantly by Humaima Malik) who takes difficult decisions with a toss of her long braid and insists on speaking her mind without giving much thought to the consequences.
The beautifully scripted exchanges between the ranting hakeem and the headstrong daughter are the highlight of the film, and create many moments that you carry with you when stepping outside the cinema. Equally compelling are the moments between the hakeem and the tawaif and the hakeem and the pimp, this last one being played out against the sectarian divide.
Mansoor's film will spark a debate and, hopefully, rejuvenate a film industry that is struggling to keep its head above water. At a time when funeral prayers for Pakistan's cinema are being held and most filmmakers are moving toward television, Bol is an inspiration. It's a shining example of all that can be done when a good story meets brilliant dialogues and an unbelievable actor.
Read an interview with Manzar Sehbai here.
This movie review was originally published under the headline "Film with a View."
Next