The PCB vs Afridi: A Poorly Played Cricket Drama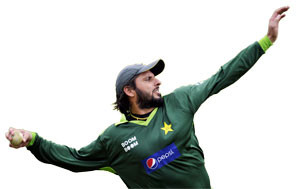 It seems that Ejaz Butt and his team cannot do anything right. During a stormy tenure as the chairman of the Pakistan Cricket Board (PCB) that began in 2008, Butt has overseen some of the worst controversies to have hit the sport in this country.
Under his watch, Sri Lankan cricketers were targets of a brazen terrorist attack in Lahore in 2009 as they drove towards Gaddafi Stadium under surprisingly thin security cover. As a direct result of that incident, Pakistan was stripped of its right to co-host World Cup 2011. No major international team has visited the country since then as Pakistan has become a pariah in the world of sports.
Under him, three of Pakistan's leading cricketers were found guilty of spot-fixing in 2010. More recently, Butt got himself embroiled in an ugly dispute with the country's most popular cricketer, Shahid Afridi, just weeks after the all-rounder shepherded Pakistan to the World Cup semi-finals in March.
The dispute was finally settled out of court following direct intervention from influential quarters, but there was no happy ending for either party.
Afridi — arguably Pakistan cricket's only surviving superstar — is now a 'retired' cricketer and has had to pay a hefty fine of Rs4.5 million to compensate for his disciplinary breaches. The PCB may have done a bit of face-saving by slapping Afridi with that fine, but the Board emerged as a bigger loser. It was forced to grant a No-Objection Certificate to Afridi to play in the English Twenty20 tournament (Friends Pro-T20) though initially it was averse to the idea. More importantly, through the PCB's mishandling of the case, Pakistan has lost the services of one of its most accomplished cricketers at the age of 31.
Under Afridi's captaincy, Pakistan were rapidly reemerging as a force to reckon with — at least in the limited-overs formats. Pakistan's convincing wins over top-tier teams like Sri Lanka and Australia were proof of that. Under Afridi, Pakistan were seen as major contenders for the Twenty20 World Cup title in 2012. Without him in the team it might be a different story. But Afridi says he is not even thinking about it.
"Thank God it's over," the former Pakistan captain told Newsline in a telephonic interview from England where he is currently playing for Hampshire in their Friends Pro-T20 title campaign. "It's difficult to believe what happened during the last few weeks, but I'm not thinking about it anymore," he said.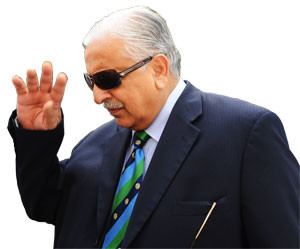 Though Afridi has refused to change his mind about his decision to retire from international cricket, he has given clear hints that a change in the PCB set-up may see him return to national duty. "I will think about it if things change," he said. "But right now I'm just focusing on my current assignment and that is to give my best for Hampshire."
While Afridi is keeping himself busy in England and will then be playing in the inaugural Sri Lanka Premier League later this summer, the PCB is expected to receive a shake-up this October when Ejaz Butt completes his third year as PCB chairman.
There have been strong speculations that President Asif Zardari, the PCB's chief patron, will appoint a new chairman in October. However, such reports remain unconfirmed.
Butt and his team should have been shown the door back in 2009 when they failed to defend Pakistan's right to host the 2011 World Cup matches in the aftermath of the terrorist attack on Sri Lankan cricketers. Since then, it has mostly been downhill for Pakistan cricket and, in many ways, the PCB's poor policies can be blamed for it.
Take a look at the Afridi-PCB row. It was a disaster waiting to happen.
It all happened in an ugly manner with Afridi taking a swipe at the PCB Board when it decided against retaining him as captain after the series against West Indies in May. The PCB, in response, decided to suspend his central contract. The Board also revoked all NOCs granted to Afridi, thus preventing him from playing for Hampshire in the ongoing English Twenty20 tournament. But it didn't all happen overnight. There were a lot of warning signs that were completely ignored by the authorities.
There were reports of discord within the team management weeks before the World Cup got underway in February, but it was only after securing the ODI series in the Caribbean that the Pakistanis started exposing a rift between Afridi and coach Waqar Younis.
It was an open secret that Afridi and Younis started developing differences during the New Zealand tour that took place before the World Cup early this year. In fact, their relations got strained to the extent that Butt had to rush to New Zealand to help sort out the differences between the duo. Though their team performed quite well in the World Cup — at least before its surrender to India in the World Cup semi-finals — it was evident that Afridi and Younis weren't on the best of terms even during the tournament. They were seldom seen together as the Greenshirts played their World Cup games in Sri Lanka, Bangladesh and India.
During the World Cup, the captain and the coach talked their own talk. Both had their own plans for bringing out the best from their team during the World Cup. There was no coordination between the two when it came to the post-World Cup future of the team. Both of them had preferences vis-Ã -vis which players should be be retained in the team after the World Cup. And their player lists for future rebuilding obviously didn't match.
Even before Afridi's remarks against the Board, there were signs that the PCB balance was tilting towards Younis. Afridi was well aware of it. As somebody who had managed to unite a bickering team, Afridi believed that he was well within his right to ask for sufficient authority as Pakistan captain. Similarly, Younis was of the view that as the team's coach he should have the final say. Meanwhile, the Board was whiling away time. It waited till the World Cup was over and during the tour of the Caribbean, decided to get rid of Afridi.
Senior Board officials argue that the PCB was well within its right to replace Afridi with Misbah-ul-Haq as Pakistan's One-Day captain. "Afridi wasn't a long-term choice because we appoint captains on a series-to-series basis. He is wrong when he says that we sacked him as captain. The Board simply decided against continuing with him," a PCB official who requested anonymity told Newsline.
In a nutshell, the Board remains adamant that it has done nothing wrong. It continues to bury its head in the sand and Pakistan cricket is suffering because of its ostrich-like stance.
This article was originally published in the July 2011 issue of Newsline under the headline "Face-off."
The writer is ranked among the battle-hardened journalists covering sports. As sports editor for The News, he covers sporting action extensively in Pakistan and abroad.
Next