Photography: All About a House
Emaan Rana graduated from the Indus Valley School of Art and Architecture (IVSAA) in 2010, with a degree in graphic design and a minor in photography. 'The Family,' curated by Arif Mahmood in April 2011, was her first group show exhibition alongside some of the leading photographers in the country. The first glimpse of the family, however, appeared in Rana's thesis work at the IVSAA. The collection on display was memorable. Below are some pieces culled from that portfolio and a description in Emaan's own words of what inspired it.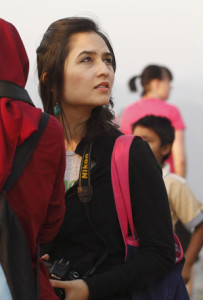 My ancestral home, Afghan Manzil, is soon to be sold and demolished, slated to be forgotten by future generations. It was built in Saddar Cantonment, Hyderabad, in the late 1800s by my maternal great-great-grandfather, Syed Lalbaz Khan, and his four sons, his eldest being my great-grandfather Syed Gulbaz Khan who migrated from Afghanistan — hence the name Afghan Manzil.
Lalbaz Khan, of the Ustarani Syed tribe of Pathans, along with his wife and three sons left Kandahar during the second Anglo-Afghan War when the nation was ruled by Sher Ali Khan of the Barakzai dynasty. At the time, clans from various tribes were migrating for better jobs and a better living. Shikarpur was the main business centre in those days, and so most Pathans, coming from Kandahar, would come through Shikarpur and then move. Lalbaz Khan's family's destination was Hyderabad.
Not much is known about why my family picked Hyderabad, nor is there substantial information as to what Lalbaz Khan did for a living once he reached there. What is known are details about his eldest son, my great-grandfather Gulbaz Khan. He became the Chaudhry of the Saddar Cantonment: head of the Cantonment Board and the head of the clan. After him, his eldest son, Agha Nooruddin, also named Shah Nawaz, became the vice-president of the Cantonment Board for 36 years. Carrying the title of 'Syed' before your name was a big responsibility and it wasn't advisable to use it unless you were confident that you would live up to the importance of the title. Hence instead of 'Syed,' most men in the family put 'Agha' before their name, a title given out of respect for the 'Syed.'
Afghan Manzil's first wing was built in the late 1800s when Lalbaz Khan constructed a small house for his family. After that, when Gulbaz Khan was married and had his children — four sons and a daughter — a separate wing was constructed. His eldest son and daughter died at a very young age. Of the surviving three, Shah Nawaz aka Agha Nooruddin married Lal Bibi, and they had three children. Thus a separate wing was subsequently added to the main house for his family.
Ahmed Nawaz and his wife Shahjahan had four children. They also had another wing constructed, with a later addition with two separate sections for each of their sons. And Allahnawaz and his spouse Zebunnisa also had a separate wing constructed for themselves. Thus, what started as one small house kept getting larger and larger to accommodate all the family members and was finally formalised in 1934.
Ahmed Nawaz Khan was called Pyaara Baba by all the children of the house and his wife Shahjahan was called Pyaari Amma. Similarly, Allah Nawaz was called Mittha Baba and his wife Zebunnisa was called Mitthi Amma. Pyaara Baba and Pyaari Amma were my biological grand-parents, but since the brothers were extremely close and Mittha Baba and Mitthi Amma did not have children, they too were parents to my mother and her siblings. In fact, there was no real differentiation between the two 'fathers' and 'mothers,' who jointly raised the children.
This folio is the story of four generations and four families living together in a house that thrived on laughter and joy, wisdom and spirituality. As a child I spent a little time there, but never really understood that it was so much more than just a house. It is only now that I realise that it was an institution that rooted all of us, giving the entire family an overwhelming sense of belonging. Its doors were always wide open for anyone and everyone to come in. Bustling with servants, vendors and unexpected guests, the house brimmed with life, and with an alluring sense of immortality, as if this happiness would last forever. And the two pillars sustaining this intensity were my two grandmothers: Pyaari Amma and Mitthi Amma.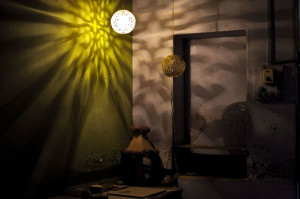 Pyaari Amma was eccentric, funny and quick-witted. She was the queen of her house and would never step out for anything — everything was brought to the house, whether it was jewellery, clothes, or medical attention. The time the operation theatre had moved to the Manzil is now legend. She was intensely generous, was looked on as a fountain of wisdom and was everyone's confidante. Mitthi Amma was the epitome of beauty and grace. She was the calm and responsible one and spent her whole life taking care of all the children and grandchildren and providing for all their needs. She was completely selfless.
Alas, since the death of my two grandmothers, the laughter has run thin and wisdom fallen short. Over the years, my family has grown distant and cold. My uncles are strangers to my mother, each in turn increasingly indifferent to one another. The house mirrors this sadness, standing ruined and desolate. There are many equally ravaged houses in the interior, but Afghan Manzil has the abandonment writ in its desolation. The things in the house remain as they were, as if the inhabitants just stood up and left one day, leaving everything behind. This folio is the result of the intense compulsion I felt to pick up the broken pieces, to retrace the roots that now seem to define who I have become, to finish the story of a house that began in romance and ended in tragedy.
Editing the photographs felt as if I was gently cleaning decades of dust off something sacred and precious. Several of my photographs reveal matkas and surahis lying forgotten in shadows and corners, signifying a searching thirst, as if they were waiting for my family to return. Some of the windows and doors in the house, inspired then from the Hollywood epic Helen of Troy, seem prophetic now that tragedy has visited Afghan Manzil. My journey through the story of this house has been a sad and painful one. But though the taste of transience is bitter, it has also brought me closer to where I came from. And it has given Afghan Manzil the immortality and permanence that time denied it.
Next