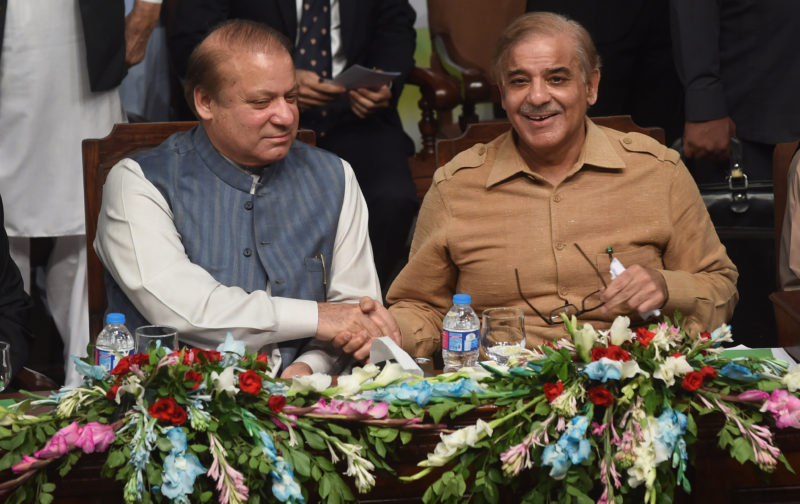 Nawaz Sharif, former prime minister and now former president of the Pakistan Muslim League-Nawaz was named lifetime 'quaid' of the party, in a meeting of the Central Working Committee at PML-N's Model Town Secretariat on February 27, while Punjab Chief Minister Shahbaz Sharif was appointed as the party's interim president.
The move came after the Supreme Court had declared Nawaz Sharif ineligible to head a political party, following his disqualification as the Prime Minister of Pakistan. The verdict overturned the Election Reforms Act 2017, which allowed Nawaz to preside over the ruling party, despite being ousted as the PM in the July 28, 2017 decision in the Panama Papers case.
The apex court's latest verdict against Nawaz Sharif also meant that all of his decisions as the party president since being disqualified as the PM, stood annulled. This resulted in the PML-N candidates having to contest the Senate elections independently.
While the 'quaid' position remains ceremonial, and was specially created for Nawaz Sharif, party insiders maintain that no decision would be taken by the PML-N that does not have the former PM's 'approval.' However, other PML-N leaders maintain that Shahbaz Sharif will not be a 'puppet party head' and will make sure his vision is implemented.
Even so, the PML-N leaders were quick to publicly dispel assertions of disunity, with Maryam Nawaz tweeting, "Alhamdo Lillah, we are one and united," ahead of the ceremony to appoint Shahbaz Sharif as the interim president, followed by, "Congratulations and a big hug to @CMShahbaz," with the Punjab CM replying, "Thank u my daughter.. Hamaisha khush raho."
Maryam even retweeted a picture captioned, "For the haters," that showed her with Hamza Shahbaz.
However, the opposition parties are not buying the 'over the top' unity on display and believe that, at the very least, Nawaz Sharif's own political future might have seen its last.
"The PML-N can tout him as the quaid or rehbar but Nawaz Sharif's political future has ended. With Shahbaz Sharif now the party president, we still have to see how that plays out between him and Maryam," says Mustafa Nawaz Khokhar, the Central Punjab Information Secretary of the Pakistan People's Party (PPP).
"This is the party's internal matter, but the decision should have been taken long ago," says Jamaat-e-Islami (JI) spokesperson, Ameerul Azeem, saying the PML-N should have "respected" the Supreme Court's verdict.
"Frankly, I don't quite understand what difference a certain person being the party head or not makes to actual politics and policies of the party. Politics is a superior process," maintains Pakistan Tehreek-e-Insaf (PTI) spokesperson, Fawad Chaudhary. "Nawaz Sharif's actual problem will be when he is convicted. And he can see that right in front of him." Chaudhary sees "clear disintegration" within the PML-N, and says Nawaz Sharif won't be able to save his politics or his party.
Former interior minister, Chaudhry Nisar Ali Khan, who resigned from his position ahead of the Panama Papers' verdict last year, has been vocal in his criticism of the party. His absence from the Central Working Committee meeting last month, further fanned rumours of his potential departure from the PML-N.
However, PML-N insiders are confident that Shahbaz Sharif will successfully woo him back, as he takes over the party's command. Far greater concerns remain, of the divides within the Sharif family.
"There's no doubt that there are two camps within the Sharif family. The differences have been expressed
publicly in the past as well. Nobody can forget that Hamza didn't participate in a single campaign meeting for his aunt in the NA-120 by-election," says Khokhar.
"There are differences when it comes to party strategy as well. One camp advises in favour of going from Islamabad to Lahore by air, the other prefers taking the GT Road. But the message that resonates and draws the crowds is that of Nawaz Sharif, which is why his camp has had an edge over the other," he adds.
JI's Ameerul Azeem believes Shahbaz Sharif's style resembles that of his father, Mian Sharif. "His is a more compromising attitude. Nawaz Sharif, unlike his father, has monarchical tendencies, where what he thinks and says is rigid. He views everyone else as his subjects," he says.
"And so if Shahbaz Sharif is actually the de facto president of the PML-N, we should see this change in the party's actions as well. Shahbaz Sharif will try that the line currently taken up by Nawaz Sharif and Maryam is altered and he is allowed to work. If this doesn't happen, there's a chance Shahbaz Sharif might step down and say that he doesn't want to be used as a front, while the policies are being made by someone else."
Fawad Chaudhary sees clear differences between the two brothers. "Shahbaz Sharif isn't charismatic. But, more importantly, there is a clear contradiction in how the two brothers indulge in politics: Nawaz Sharif is anti-establishment, Shahbaz Sharif is pro-establishment. So whose narrative will rule?"
Nawaz Sharif's narrative has led to the PML-N's victories in the by-elections in Chakwal, Lahore and Lodhran — the northern, central and southern regions of the coveted Punjab province. However, Fawad Chaudhary doesn't believe it was the narrative that has resulted in those wins.
"They were winning by-elections in Punjab before that as well," he says. "When there are by-elections in KP, PTI is winning unopposed. A by-election is no test of a party's popularity; it's basically a case of winners coming from the party that is ruling the province."
Mustafa Nawaz Khokhar concedes that Nawaz's narrative is being bought by the masses.
"Yes, an anti-establishment narrative appeals to the masses, but why wasn't this narrative part of the PML-N agenda a year ago? Why did it spring up only after the Panama Papers verdict?"
Next