"We learned the valuable lessons she taught."
The following tribute to Asma Jahangir has been prepared by Pablo Espiniella, in collaboration with Henrik Stenman, Anthony Cardon, Matthias Behnke, Audrey Rinaldi, Moetsi Duchatelier, Jyoti Sanghera, Rupert Colville and Michael Wiener — her colleagues in the United Nations. It also speaks for the many staff members who supported and worked with Asma in the Office of the UN High Commissioner for Human Rights.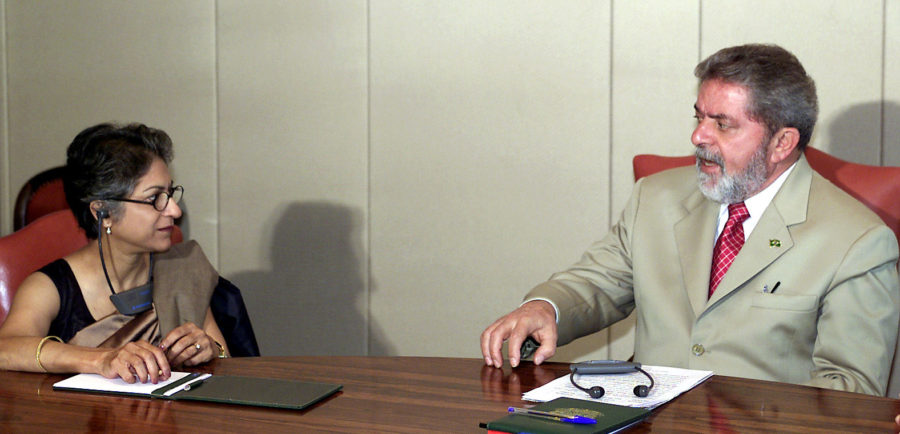 "There is always hope in the fight for human rights. There are always possibilities to gain terrain in the protection of victims. There is always ground to turn a negative situation into a positive one," Asma used to say. "The important thing is to persevere." And she did. And we learned from her.
I first met Asma Jahangir back in 1999, during my first mission to Timor-Leste, as a UN Human Rights Officer. She had just been designated by the then UN Commissioner on Human Rights as Special Rapporteur (SR) on Extrajudicial, Summary or Arbitrary Executions, and I was part of the team assigned to assist her.
Her commitment to justice left a deep mark on me, and triggered my passion for working with an international organisation like the UN or the Human Rights Office that can make a difference in people's lives through the dispensation of justice. And I am sure I can speak for all my colleagues who have served the consecutive mandates entrusted to her.
Through her giant vision, determination and sense of fairness and justice, Asma ensured key victories in this fast-changing world in which the universality of human rights is, regrettably, often questioned, even within the walls of the UN.
Asma spoke fearlessly and argued in defence of victims of so-called honour killings, an issue she managed to place high on the agenda of the main UN human rights bodies. She also stood steadfast against the death penalty, and put a spotlight on the responsibility of non-state actors for human rights abuses, including the Taliban in neighbouring Afghanistan, and similar actors in her own home country, Pakistan.
Her further work as Special Rapporteur on Freedom of Religion or Belief spearheaded critical reflections at the international level, on one of the most complex and sensitive fundamental freedoms, resulting in a deeper understanding for the rights of victims accused and charged with blasphemy. During the highly publicised issues of the so-called "law on the headscarf" in France and cartoons of the Jylland Posten, Asma would always take a carefully balanced approach, preserving all relevant human rights and rectifying legally inaccurate interpretations.
Asma was always deeply disturbed by the discriminatory attitudes against religious minorities and women. Seeing Asma challenging discrimination at the highest diplomatic levels has always been a lesson for us. For example, she coined the following sentence, which was reiterated several times in the commission's mandate by her (male) successors: "It can no longer be taboo to demand that women's rights take priority over intolerant beliefs that are used to justify gender discrimination."
If thematically she managed to break ground in numerous areas, her recent country mandate as SR on the situation of human rights in Iran was no less striking. In this role she advocated powerfully for the independence of the judiciary and eloquently gave voice to the victims of human rights violations in the country. She paid tribute in this respect at every opportunity, both privately and publicly, to those who contributed to the mandate by providing information, at great risk to themselves, and her compassion for the victims was most evident in the numerous interviews she conducted.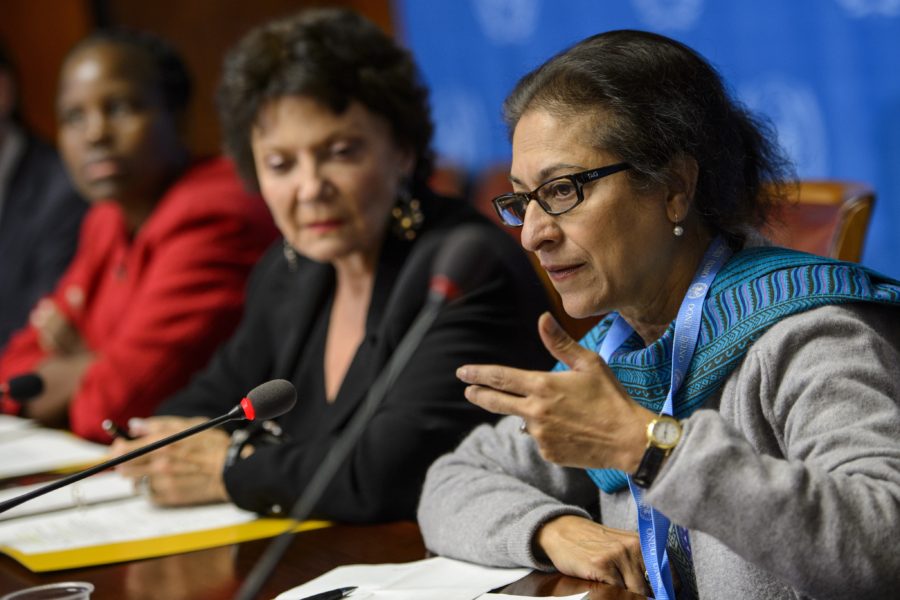 One of my most memorable moments with Asma was seeing her in action during her visits to countries. All those who worked with her would agree. Her engagement with government officials on difficult issues, the legal arguments with courts and tribunals, her arguments with civil society organisations, as well as the calls on the UN to 'do more' while recognising positive developments at all levels and by all actors, is a lesson that there is no hopeless cause in the protection of human rights.
Throughout her tenure as UN Special Rapporteur, Asma published 26 mission reports, following visits to the former Yugoslav Republic of Macedonia, Albania, Mexico, Timor-Leste, Nepal, Turkey, Honduras, the Democratic Republic of Congo, Afghanistan, Jamaica, Brazil, Sudan; on her missions as SR on religion or belief (2004-2010), including Nigeria, Sri Lanka, France, Azerbaijan, the Maldives, Tajikistan, UK, Angola, Israel and OPT, India, Turkmenistan, the former Yugoslav Republic of Macedonia, Republic of Serbia (including a visit to Kosovo) and the Lao People's Democratic Republic.
There is always hope, there is always a chance in the fight for human rights, but we have to persevere. And hopefully, we learnt the lessons as firmly as she taught them.
Roll of Honour

1995 — Martin Ennals Award for Human Rights Defenders

1995 — Ramon Magsaysay Award

1998 — Honorary Doctorate from University of St. Gallen, Switzerland

1999 — King Baudouin International Development Prize as HRCP Chair

2000 — Liberal International Prize for Freedom 2001 — Millennium Peace Prize by UNIFEM (the United Nations Development Fund for Women)

2002 — Lisl and Leo Eitinger Prize (The University of Oslo's Human Rights Award)

2005 — Nominated for the Nobel Peace Prize for 1000 Women for Peace project

2010 — Freedom of Worship Medal at the Four Freedoms Award

2010 — Hilal-i-Imtiaz 2010 — UNESCO/Bilbao Prize for the Promotion of a Culture of Human Rights

2012 — North-South Prize of the Council of Europe

2014 — Pro Dignitate Humana bestowed by the Polish Ministry of Foreign Affairs

2014 — Stefanus Prize, Norway

2014 — Officier de la Legion d'Honneur, France

2014 — Alternative Nobel – The Right Livelihood Award, Sweden
Next