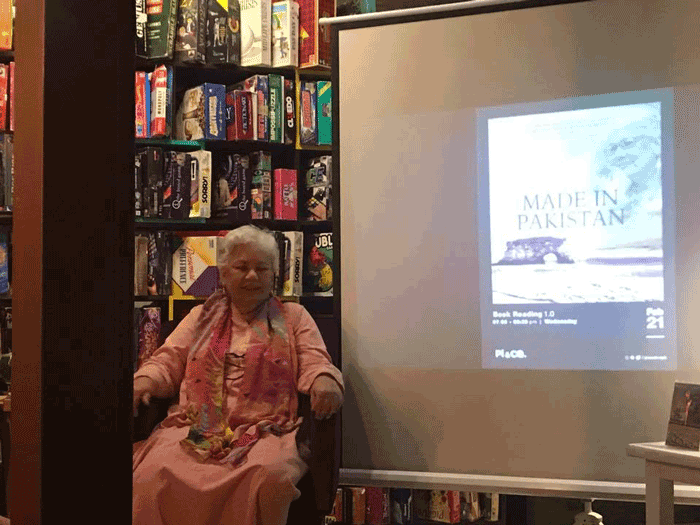 As friends and colleagues of author Lynette Viccaji seated themselves in retro purple armchairs and rustic wooden bench-desks close to the writer, it seemed more like a class reading-circle in the dimly lit co-working café and community space, Pi & Co. The occasion was the book reading of Viccaji's recently published memoir, Made in Pakistan.
Fahd Nassr and Shaan Naqvi, the owners of Pi & Co, introduced the author, and the moderator, Ruquia Hammad, a former student of Lynette's. The discussion that followed the reading session was a casual back-and-forth. It was frank and engaging, as Lynette shared her thoughts on the book, her writing process and the recollections that made writing the book possible.
"I didn't intend to write a book; in fact, I had never even considered myself a writer," she said. "For some reason I had always associated writing with fiction, and I had never been able to write fiction." Lynette revealed it was when she started writing her blog 'Plums in the Pudding,' – inspired by her friend and author Shazaf Fatima Haider – that she found her niche: writing her day-to-day musings.
Made in Pakistan was inspired by a poem of the same name that Lynette wrote for an annual slam poetry competition held at The Lyceum, where she was teaching at the time. Both teachers and students were encouraged to write original poems. Lynette's poem was based on the theme of 'What Bothers Me?' It touched upon the subject of the exclusivity of the Pakistani identity. The audience listened with rapt attention as she read out this poem which has also been included in the memoir. She then read out excerpts of her book, which detailed cheeky anecdotes of her children – Cyrus and renowned singers Zoe and Rachel Viccaji – and her husband.
In the question and answer session, the author revealed the subject of her next book – "It is going to be all about my mother!" – and the reality of how the socio-cultural history has changed. With many of Lynette's former students attending, there were fewer questions and more compliments for their literature teacher's warm writing style.
Next