Walking the Middle Eastern Tightrope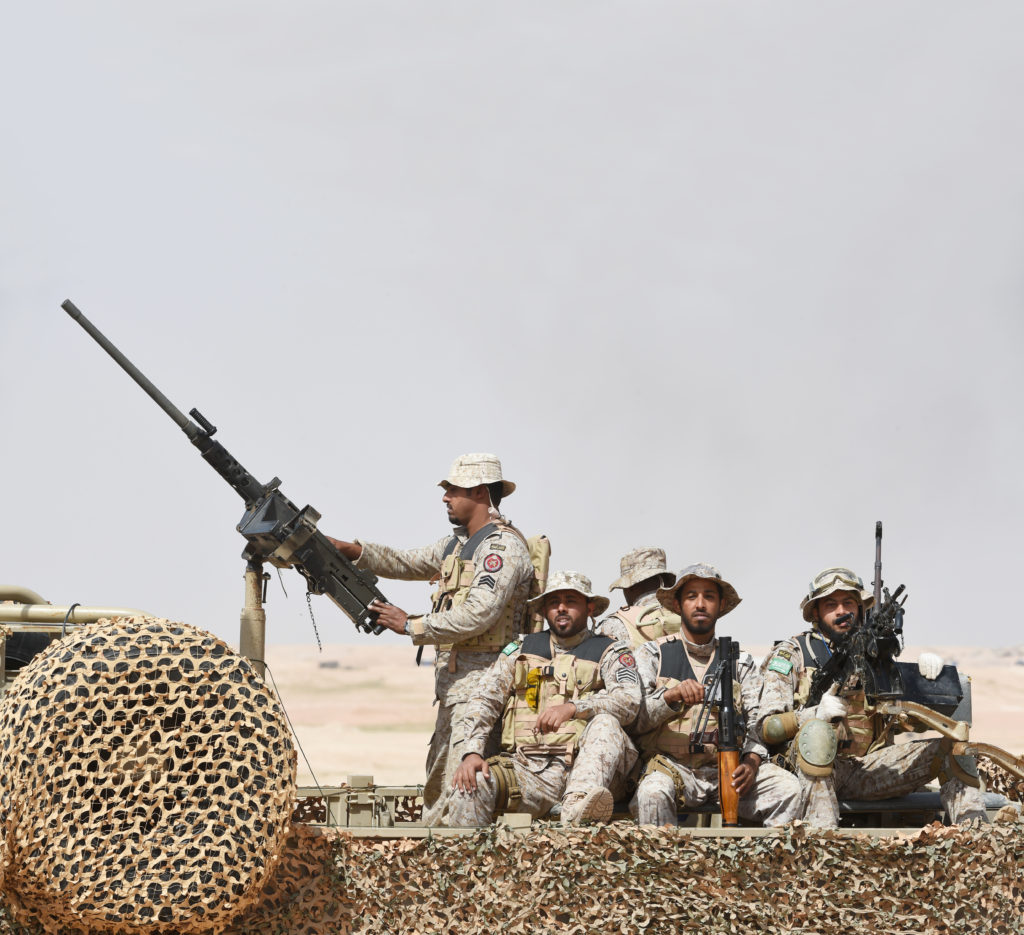 This February was marked by confusion over Pakistan's decision to send more troops to the Kingdom of Saudi Arabia. Rumours, conspiracy theories and speculation started doing the rounds in various quarters of Pakistani society.
One theory claims that the deployment of Pakistani forces along Saudi Arabia's border with Yemen could engage Pakistani forces with Houthi rebels, allegedly backed by Iran in their fight against the Yemeni government. And that this could lead to the worsening of Pak-Iran relations.
Despite clarifications from civil and military authorities, that Pakistani contingents are in Saudi Arabia in a strictly advisory and training-dispensing capacity, the Senate has expressed serious reservations about the deployment. Among these is the complaint that the Parliament was not informed of the decision.
This development has taken place at a time when the Middle East is ridden with conflict, with tensions between the Saudi-led Islamic Military Counter Terrorism Coalition (IMCTC) and Iran, and the Saudi-UAE move to isolate Qatar. Islamabad is already faced with its own problems. India, under the leadership of Prime Minister Narendra Modi, has resolved to isolate Pakistan after the announcement of the new Afghan strategy and South Asia policy by American President Donald Trump. Pak-US ties, too, are strained.
Keeping crucial regional players on its side is important for Pakistan. Particularly at a time when its war on terror is still ongoing, while it aspires towards rapid economic growth with mega projects like the China-Pakistan Economic Corridor (CPEC).
Pakistan's policies, for one of the world's most important regions, lack clarity and transparency, and its thoughtless involvement in the Middle East could damage the country both domestically and internationally. The Parliament's dissatisfaction over troop deployment in Saudi Arabia, and over General (Retd.) Raheel Sharif's decision to lead the IMCTC, reveal that a degree of secrecy was exercised by the military when taking these pivotal decisions.
In addition, owing to the cloud of ambiguity that surrounds Pakistan's stance, Saudi Arabia and Iran are pressing Islamabad in the direction of their own respective policies and interests. Iran has raised objections over Sharif's assuming command of the IMCTC, while the UAE expressed disapproval over Pakistan's unwillingness to join the alliance against Houthi rebels in Yemen. Saudi Arabia, meanwhile, is attempting to persuade Pakistan to join the camp against the Syrian regime, as well as the front against Houthi rebels.
Safeguarding Pakistan's interests is not an easy task. At present, its stakes lie in conflicting power blocs. The policy choice for conflict-hit Middle East is a complex one.
Iran and Saudi Arabia are equally crucial for Pakistan, keeping in view the historical ties with the two countries and the interlinked national interests in the region. Occasionally Pakistan needs financial support, besides oil, to keep its economy on a steady path.
Iran borders Pakistan's strategically important province of Balochistan, the stability of which is vital for CPEC. Balochistan is important to Iran too, as prolonged instability in the area could turn it into a launching pad for terrorist attacks in Iran. Pakistan and Iran need each other. It is in the national interests of both to maintain good relations.
Peace in Afghanistan, critical for stability in Pakistan, is not possible without the help of Iran. It has become influential in the country due to Afghanistan's dependency on its trade route. Tehran has also developed ties with the Taliban, to contain the Islamic State (IS) in Afghanistan.
Torn between tensions with India on its eastern border and Afghanistan in the west, Pakistan cannot afford to cut off ties with yet another neighbour — Iran. Yet it must also wield influence in Riyadh to be able to stop private funding to various madrassas. A similar position of manoeuvrability is also necessary in Tehran — to stop the recruitment of fighters from Pakistan and Afghanistan for the war in Syria and Yemen. At the same time, Iran is also blamed for having ties with militant organisations in Pakistan, such as Jaish-e-Muhammad. And finally, Pakistan's success in its war on terror depends on cooperation in the region. Given the long history of sectarian violence in the country, any imbalance in its ties with Iran or Saudi Arabia could prove dangerous.
The Saudi-UAE move to isolate Qatar can prove to be another challenge for Pakistani policymakers if the Kingdom insists that Islamabad take its side. The Saudis and Emiratis have launched a crusade to to contain the influence of Qatar — a rich neighbour who refuses to kowtow to them.
Saudi Arabia has the largest number of Pakistani expats in the Middle East — approximately 1.9 million — followed by the UAE — 1.2 million. Qatar, despite a comparatively lower number of expats, has several Pakistanis working in crucial sectors such as education, petroleum, medicine, social work, engineering, banking and finance. Pakistanis own four large school networks in the country. Remittances from the three countries are crucial for Pakistan's economy.
Qatar — a country rich in energy resources — can be a useful ally for an energy-starved nation like Pakistan. The two countries signed an LNG agreement in 2015. Qatar has developed defence ties with Pakistan; it has purchased the Pak Super Mushshak trainer aircrafts and has expressed an interest in the launching of joint defence projects with Pakistan. The Sharif family enjoys close ties with the royal families of both Saudi Arabia and Qatar.
Such a situation makes Middle East policymaking tricky work. Nonetheless, Islamabad can reduce the difficulties by introducing clarity and transparency in its policies in the Middle East, which can help to convince stakeholders both at home and abroad.
More specifically, Pakistan can clarify its points of divergence and convergence with regional countries. Concrete interests should be identified and communicated clearly at home and to Middle Eastern countries — including Saudi Arabia, UAE, Iran and Qatar. Parliamentary and media debates on the subject must be encouraged to bring informed opinion on one page.
Keeping Pakistani citizens in the dark about sending troops to the Kingdom is undemocratic and undermines the role of various institutions in the process of decision-making. Additionally, it has also driven certain segments of society to speculate and spread disinformation in a country already facing instability.
The 2015 parliamentary resolution on neutrality in Yemen bars sending Pakistani troops abroad for any conflict. The Pakistani officials were, at first, convinced that the IMCTC was not against any country. Now, they are trying to convince the parliamentarians, with little or no success, that troops have been sent only to impart training – a sign of an inconsistent foreign policy.
Next