Movie Review: Three Billboards Outside Ebbing, Missouri
Simple in its storyline but immense in its depth, the film Three Billboards Outside Ebbing, Missouri by Director Martin McDonagh was a strong contender in the Best Film category in this year's Academy Awards. The film is a dark comic drama surrounding a tragedy in a small town in middle America, with the central character of a mother, bereft at the loss of her teenage daughter under horrific circumstances, who decides to take matters into her own hands.
Seven months after the brutal rape and murder of her beautiful teenage daughter, Milred Hayes (Frances McDormand) has an epiphany while driving home at the sight of three worn-down billboards. The police have been unable to make any headway in the case because her daughter's body was found completely scorched, barely leaving any evidence, except for the DNA of the culprit. Mildred is, however, convinced that the police could do more and decides to use the billboards to draw attention to her daughter's unresolved murder. She rents the billboards to convey three simple messages in a sequence: "Raped While Dying," "And Still No Arrests?," and "How Come, Chief Willoughby?"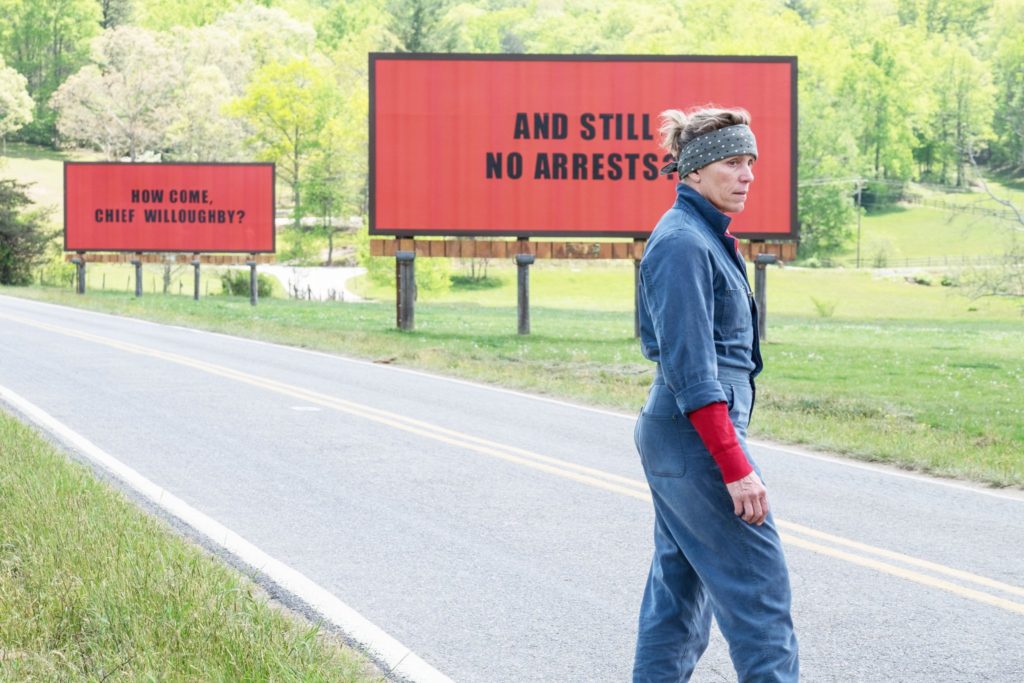 Although the billboards are located near Mildred's home on an isolated road with hardly any passersby, the contentious messages stir up controversy in the small town. Addressed to the Police Chief William Willoughby (Woody Harrelson), half the townsfolk take offence at the billboards, since many hold him in high regard. Although sympathetic, Willoughby feels the attack on his reputation uncalled for, and tries to reason with Mildred that the DNA of the culprit doesn't match anyone in the criminal database of their town — or in the country for that matter. Willoughby pleads for her to take down the billboards in consideration of the fact that he has terminal pancreatic cancer. Mildred informs him she is already aware of his medical condition since it's an open 'town secret.'   
Nevertheless, Mildred responds with defiant barbs, which is her general disposition towards anyone who challenges or bullies her, whether it's the townsfolk or her abusive ex-husband, or the red-neck, alcoholic second-in-command of their town's law enforcement, Officer Dixon (Sam Rockwell).
After an altercation at the dentist's where Mildred drills a hole in her dentist's thumb, Willoughby is forced to call Mildred into the police station for questioning. During the interview, Willoughby's health suddenly deteriorates and he is immediately rushed to the hospital. Refusing any further medical care, Willoughby takes time off from work, and spends a blissful day with his wife and two very young daughters. Subsequently, he commits suicide leaving behind three letters — for his wife, for Officer Dixon and one for Mildred.
Officer Dixon, despite his violent and racist impulses, regarded Willoughby, as a father figure. Now in charge of the town's law enforcement, he unleashes his fury at anyone maligning his revered superior and reacts in the only way he knows how. He assaults the owner of the billboards, Red Welby, beating him to a pulp and hospitalising him, while putting Mildred's friend and co-worker behind bars on minor drug charges. Dixon's cocksure actions only get him suspended when a new African-American sheriff walks into town.
The next twist in the story comes from Willoughby's note to Mildred, assuring her that his decision to commit suicide had nothing to do with her, or her billboards. Knowing that his death could mean trouble for her, he leaves Mildred $5000 for the billboards' next month's rental. However the billboards are soon torched by an unknown arsonist and Mildred decides to take matters further.
None of the film's characters fall into neat black-and-white boxes. Director/producer/writer Martin McDonagh's realistic approach to the story takes the audience straight into the lives and motivations of people in a middle-America small town. The cinematography and the crisp editing keeps the movie engaging, but one could watch the film solely for the brilliant performance of the deeply aggrieved mother with a steely-resolve by Frances McDormand, who bagged the Oscar in Best Actress category. Also nominated for the Oscars for the Best Male in a Supporting Role were Sam Rockwell for his versatility as Officer Dixon, transforming from an obnoxious jerk with mommy-issues, to a redeemable character, and Woody Harrelson as Police Chief, William Willoughby.
Overall, Three Billboards Outside Ebbing, Missouri has received seven nominations for the 90th Academy Awards, including Best Picture and Best Original Screenplay. In addition the film has garnered other awards, four Golden Globe Awards, three Screen Actors Guild Awards and five British Academy Film Awards.    
The writer is working with the Newsline as Assistant Editor, she is a documentary filmmaker and activist.
Next