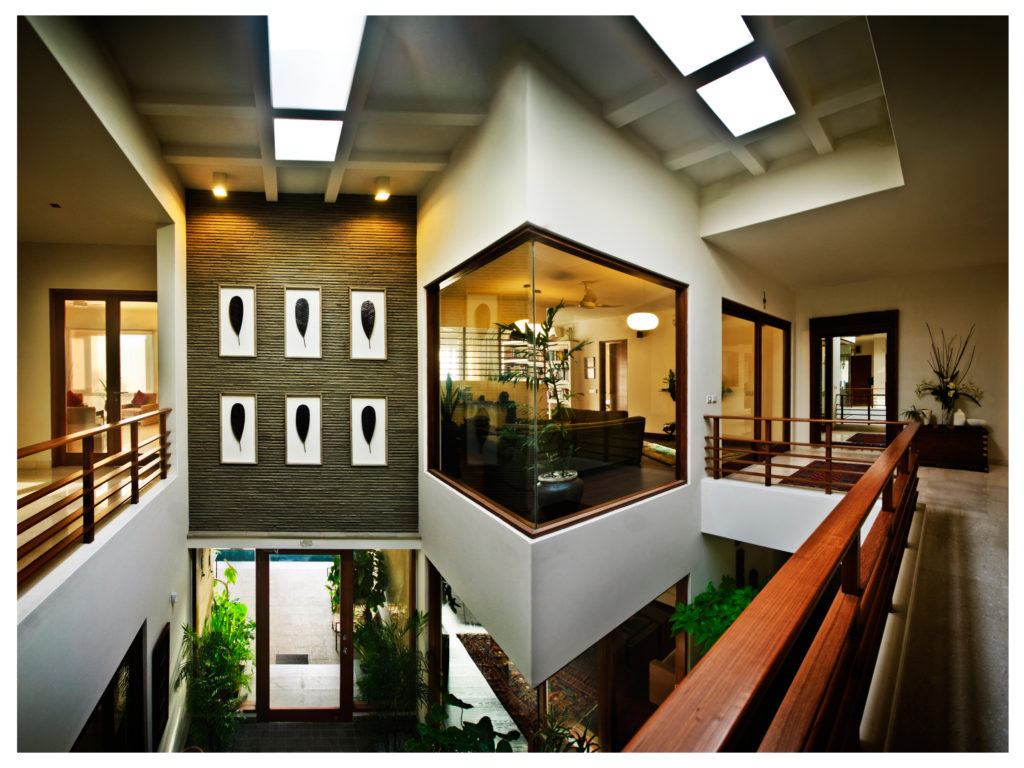 "The other day I asked my client if she would wear a pink shirt with red trousers and an orange scarf? She said no. So then I asked her why she wanted to mix so many different elements in her house," said architect Arshad Faruqui. This was his response when I asked him how he handles clients when they begin to get too much inspiration from the internet.
"If you wouldn't wear those things together, then why would you want a classical window with a traditional [local style] door in your house? They won't gel together."
Of course there are many people (and some architects) who favour a more eclectic approach to design, but it's not exactly an aesthetic that Faruqui espouses. "Our style is modern with a touch of ethnic. We don't do very ornate designs. If people come to us asking for a White House-style residence or something very lavish, we usually advise them to seek a different firm who would be better able to serve them. Usually though, people look up our projects beforehand and know what to expect from us," he said.
Faruqui's emphasis on simplicity made all the more sense when he mentioned that he began his career with Habib Fida Ali, the late renowned architect known for his minimalist, understated projects. Eventually Faruqui left Fida Ali's firm to start a new studio with architect Ali Naqvi. And around 10 years ago, the partners moved on to focus on their independent practices, which resulted in Faruqui starting Copper and Steel. In addition to residential and office projects, Faruqui also designs furniture and fountains. He has curated multiple group exhibits including '21 Chairs' (2011) and 'Seven Deadly Sins' (2013), and is presently the chairman of the Board of Architectural Education at the Institute of Architects Pakistan (IAP).
It's not a coincidence that I began this article with Faruqui's quote about the 'pink shirt, red trousers, orange scarf' combination: Fashion often provides useful analogies for architecture and interior design, as it did for Faruqui in his conversation with the client.
To state the obvious, clothes are fixable (and also disposable) in a way that buildings aren't. So it's no secret that trends in architecture change more slowly.
This article won't provide an exhaustive look at all the styles and technologies found in the country today (that would require a book). Instead, it simply offers a glimpse into the working lives of architects: the kinds of projects they work on, the small shifts in the field, and some of the challenges these architects face.
And one common struggle for architects (or for any designer who deals directly with clients) is of balancing their personal ethos with the needs and demands of the client. Faruqui is obviously not the only architect who has clients coming up to him with files full of images taken from the internet. When I asked Tariq Hasan of The Architects about what outside factors are influencing design within the country, this is what he had to say: "One of the biggest influences in Pakistan recently is the 'Dubai syndrome.' It's an imported ideal, and it's usually imported for Dubai as well.
"The internet and magazines provide a lot of inspiration for clients. But a lot of it is inappropriate: climatically inappropriate, culturally inappropriate, and financially inappropriate. For example, we should not be making glass buildings in this country because they are very heavy in terms of energy usage. But that's what Dubai is doing, so that's what people want to try here. What they don't realise, unfortunately, is that energy is much, much cheaper in Dubai. So one really has to educate and guide one's clients."
Hasan's own education was at the University of Texas at Arlington and after graduating he went on to work for the well-known Houston-based architect, Irving Phillips. When a few friends broke away to start their own firm, he decided to join them. They worked on many projects, winning some competitions along the way, until the now-famous 1980s oil glut happened. As the economy in Texas soured, Hasan packed up and returned to Karachi to start his own firm. Today, The Architects is among the bigger architectural firms in Karachi and, in addition to single-family residential projects, they are also working on high-rise apartment complexes and two major government buildings: the new Sindh Secretariat complex and the Islamabad High Court.
The Dubai syndrome is just one trend that Hasan mentioned. The other thing he has noticed over the years is that houses have been getting larger and larger with time. One reason for that, he believes, is the rising cost of land and people wanting to maximise the space they have. The other, he says, is that perhaps people are planning for the future and thinking of how their children and even grandchildren may live in these houses. "Sometimes they're a lot larger than you really need. So if you think of the Japanese style on one side and the Dubai/Saudi style on the other, we're closer to the latter."
I brought up this issue of big homes with Khadija Tul Kubra as well, who is partner and principal architect at Design Options, along with fellow architect Moyena Niazi. After graduating from Dawood College of Engineering and Technology, she worked at Arshad Shahid Abdulla (ASA) for around six years before she teamed up with Niazi. In terms of design aesthetic, she likes handcrafted things and tries to introduce a touch of the human hand in her buildings, be it through hand-cut stones in a wall (as opposed to machine-cut stones) or metal work.
"In Pakistan, clients mainly want big homes. They don't always see the beauty of a small space," said Khadija Tul Kubra. "If you have a bedroom, with mainly just a bed in it, what's the point of making it 20 or even 30 feet long?"
I asked her how she convinces clients to think small, to which she said, "Sometimes I'm able to and sometimes I'm not. I usually show my clients my projects in the beginning and tell them this is the kind of work that I do. That they should come to me if they like the kind of projects that I do. There was one client who I thought might ask me for a lavish house so I showed him a 500-square-yards project that I'd done and said this is the kind of work that I do. He said "Acha theek hai." But once the house was made, he said, "Aap nay bohat kum covered area rakha hai."
These issues of lavishness and scale that all three architects thus far have mentioned are not just style concerns. They have environmental implications as well. Khadija Tul Kubra mentioned that reducing the covered area of a home naturally means less wastage of materials used. And Faruqui shared that clients are dissuaded from having big open spaces in their homes which would put more pressure on the air-conditioners.
In fact, when I'd asked Khadija Tul Kubra if there are any new trends in the field, the word she mentioned was 'sustainability.' Her partner at Design Options, Moyena Niazi, has recently done her masters in sustainable buildings and environments at Newcastle University.
"There's been a lot of awareness about sustainable practices in the last five years and a sense that this is the direction that people should take. But it's not yet been implemented that much," said Khadija.
Sustainability was at the heart of my interview with Ahmed Mian, founder of Studio Subtractive. Mian graduated from the Indus Valley School of Art and Architecture in 1996, and later went on to do his masters in industrial design at the Pratt Institute. He worked at American firms before returning to Pakistan, where he worked for Tariq Hasan for about a year before starting his own studio. Sustainability is part of Studio Subtractive's manifesto and even their name refers to the significance they place on environment conservation.
"I'm a true modernist, but that does not mean that I deny everything that is traditional or craft-based. It's just that as a modernist I don't believe in excessive use of elements in architecture that are decorative. That's what Subtractive is: we just take it out. Architecture should be function-driven.
"Modernity has issues as well. You have a hot room? No problem! Let's put an AC in it! But whenever we at Subtractive do a project, even if it's just interior, we look at orientation, we look at the sun, we look at the location. You can insulate those parts of the house that get more sun and make thicker walls and double-glaze the glass. It's not rocket science."
These are just a few of the strategies that Mian's firm (and others) adopt to create more environmental-friendly homes. Another is to consider materials that aren't yet very commonly used in Pakistan. For example, when Mian worked on Mews Cafe on E Street in Karachi, he convinced the clients to go for a steel structure instead of concrete, which is what is typically used in the city.
"Steel is great. It is light and it is one of the most recyclable materials on the planet, at least for the construction industry," he said. "Everything was done in steel, including the detailing. And it's a very successful project that brought us on the map."
So why aren't more people using steel?
"It is a little bit more expensive," Mian admits. "Availability may also be an issue since it's not as readily available as a cement ki bori. And there's not enough general awareness about using steel here in Karachi."
Studio Subtractive is at the moment among the few Leadership in Energy and Environmental Design (LEED)-accredited practices in Pakistan and Mian repeatedly emphasised the need for keeping the environment in mind when designing buildings.
Arshad Faruqui mentioned the possibility of using solar panels in buildings, but stated that it's a big investment that many people cannot yet afford for their homes. "Some people do have some solar panels for their geyser, for example, but the houses are not fully dependent on them for power," he said.
And Tariq Hasan has made use of roof gardens or trellises in many of his projects to keep the buildings cooler inside. He also mentioned the importance of passive systems such as ensuring there is cross-ventilation in homes and that there are shaded windows.
You can't talk about the environment without talking about population, and the rising population of Karachi has naturally affected the demand for homes as well. Hasan mentions how countries like America developed suburbs outside cities, but pointed out the pressure that puts on transportation. And in cities like Karachi, where the public transport system is fairly underdeveloped, horizontal expansion is not practical.
"We need to be building up. Low-rise or mid-rise buildings are what the rest of the world seem to be doing and that's because the more high-rise you go, the less economical it is. Unless you're very tight on land, you should aim to go five to eight storeys," he explained.
"The most difficult thing to do is housing, and by that I mean multi-family housing. Luxury housing is different and we do some of those projects too, but when you are working on affordable housing there is very little room for creativity. For most of them, the size of the apartment is pre-determined. You can work with the shape a little bit, but because of the requirements for the number of rooms, there are limitations. The bathrooms and kitchens need to be ventilated. So it's difficult. And then the higher you go, the more people are detached from the ground. Thus we try to create grounds and spaces in the middle of the building."
By this Hasan is referring to communal spaces and even green areas. "But when we try to put green areas in buildings, it raises costs and then they aren't economically viable anymore."
Among other projects, Tariq Hasan's firm is currently working on two complexes for the Ismaili community and one for the Bohri Jamaat. These apartments will offer a mix of affordable and more luxurious apartments. "It is important that in housing there should be a mix. It creates a better sense of community," said Hasan.
But architectural firms are not just about houses and offices and restaurants. In many of the interviews I conducted, concerns about institutional architecture popped up. Ahmed Mian questioned why Pakistan has not produced internationally recognised projects the way that India and Bangladesh have, and mentioned Jatiya Sangsad Bhaban (Bangladesh's House of Parliament) as just one building from South Asia that is widely admired for its architecture.
"What is wrong with Pakistan? I really think it has to do with our selfish nature," he said. "What we need in this country are more competitions. How else would the client know which design is the best?"
Both Hasan and Faruqui also acknowledged the importance of competitions, especially for younger emerging architects, but they also had a few reservations. Arshad Faruqui, for instance, mentioned that Copper and Steel is a small studio and he wants to keep it that way. He stated that he cannot afford to devote all his resources to a project which may not come to fruition. Even Tariq Hasan, whose firm has participated in and won many projects, mentioned this as a concern. "If you win 10 competitions, maybe one of them will actually get built," he said.
One such competition that Tariq Hasan won is to work on the Islamabad High Court. "It's an important building and we really put our heart and soul into it. We thought about what a court building should look like in a democratic system. And we wanted to convey the idea of the judiciary giving hope to the people. So we have towers of light as part of the design as well as a huge communal verandah and the constitution carved out of stone which everybody would have to walk by."
These are the kinds of projects that many emerging architects would aspire to work on. But not everybody, obviously, has the chance to work on them. Arshad Faruqui pointed out that not everybody who starts their career in architecture will go on to become the next Habib Fida Ali or the next Arshad Abdulla. And he does not mean that in a disparaging sense.
"Look at people like Rizwan Beyg who does fashion design or Sameera Raja who runs Canvas Gallery. They both studied architecture and are now working in different fields," says Arshad Faruqui.
Architecture, he feels, can translate into various other areas of creativity, which is perhaps why he has spent so much time in the past few years curating and organising group projects. For 'Seven Deadly Sins,' for instance, he had architects, artists and even writers collaborate on installations at the Koel Gallery. Then in 2014, as part of Pursukoon Karachi, he organised 'Baithak' at the Karachi Cantt Railway Station. Designers from different fields gifted 28 benches to be used around the station. It's a project that Faruqui is especially proud of, since it made the works by architects and artists more publicly accessible in the form of benches. Starting in 2018, Faruqui will be teaching a course at NED university titled 'Architecture and Beyond.'
And while for Faruqui architecture can inhabit different shapes, for others, like Khadija Tul Kubra, it sometimes means going invisible. In our interview, she mentioned renovation work at an Arif Habib Bank branch in Hyderabad. It was an old building in need of repair and her firm worked on fixing the major issues without changing the overall aesthetic. "Some people who saw it later were disappointed because they thought we would change everything," she said with a laugh. But sometimes architecture is about preserving history and traditions as opposed to conspicuously marking out your own aesthetic.
Zehra Nabi is a graduate student in The Writing Seminars at the Johns Hopkins University. She previously worked at Newsline and The Express Tribune.
Next