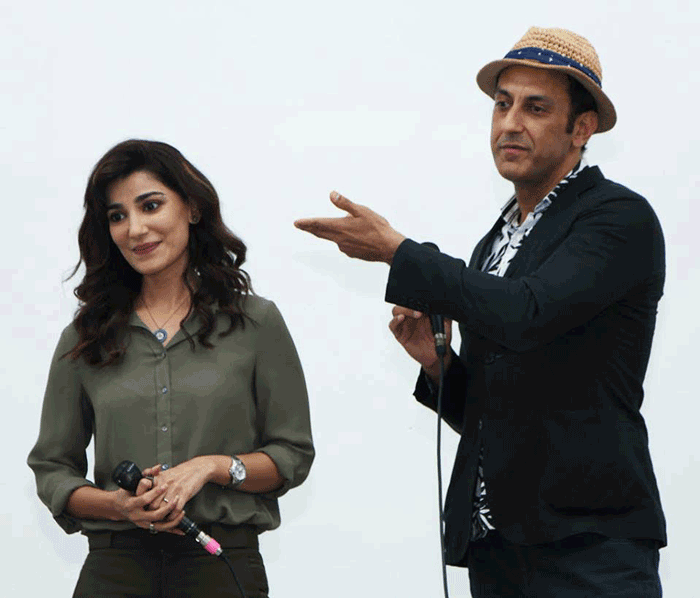 It was clear from the crowd assembled at the Alliance Fran̤aise on February 24 that the Karachi Underground Film Festival (KUFF) had garnered the attention of many a Karachiite. A joint collaborative venture byAlliance Fran̤aise and Cin̩aste One Рan organisation that promotes film-making, particularly short films РKUFF was the first alternative film festival to be held in Karachi.
Five short films, between 10 to 20 minutes each, in both English and Urdu, were screened consecutively inside the art gallery before a jam-packed audience, followed by a question and answer segment. The first short film was by Cinéaste One founder, Rumman Zia, a film-maker whose work has screened in festivals across the United States, India and Canada, and who is currently in the process of developing an offbeat sitcom for Netflix.
His film, Lurid, self-described as "Dark, dirty and damaged: Found-footage of imploding memories," was sweepingly aggressive, with psychedelic graphics and interesting animation. The short did not fully succeed in its intent to shock the viewer; it was more an assault on the auditory senses of the audience as the film's soundtrack was set at an unbearably high decibel. Smattering applause by confused members of the audience filled the five-second intermission, and led into the next film.
Kuliyat Masroor Badvi, the film-maker of the next short, has worked as an art director and directed several music videos. His first short ever, Filth, was a commentary on an ugly aspect of society hidden from public view: the Machiavellian exploits of male predators who prey on women. Thunderous applause ensued as the credits rolled.
The third film, Nameless: A Life Without Identity, was directed by Noman Khanzada, whose portfolio includes music videos, corporate documentaries, web series and commercials. A powerful piece, his short highlighted a frequently overlooked injustice in Pakistani society – the lack of official identity, of children born of prostitutes or out of wedlock.
Seemab Gul, whose earlier documentaries and hybrid films have been supported by Channel 4, CBA WorldView and Arts Council England, screened One Day in Whitechapel. The film is particularly relevant to the current xenophobic climate – it tells a story of two teenagers on opposite sides of a racist demonstration.
The festival's last film, Orphic, was a psychological thriller about a musical maestro who conducts the perfect symphony. It stars renowned actors Adnan Jaffar and Navin Waqar both of whom attended KUFF and participated in the question-and-answer session, alongside director Rumman Zia and film-maker Faraz Haider, who made Orphic.
With free entry for all, the inclusive atmosphere that KUFF endeavoured to create made for a diverse audience, and a myriad questions and comments about the films. The line-up of films ventured outside the realm of the known to create and inspire more subversive film-making in Pakistan – which is, in its own right, a commendable effort.  
Next