Book Review: The Tea Trolley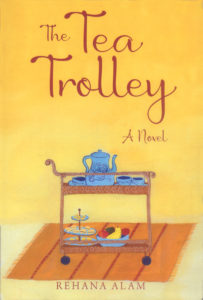 How does one find the perfect life partner for a daughter or a son? That was a quest once undertaken by parents, aided by family and assorted friends and acquaintances, in our part of the world. Now less so, but the tradition still continues.
The 'tea trolley' is a euphemism for this ritual as it is customary for the girl being 'viewed' to bring in the snacks and the regulation tea. That explains why, a once quintessentially British tradition and colonial import — the ubiquitous tea trolley — is no longer available in its original home in the UK. I discovered this to my shock when I tried to purchase one to replace my grandmother's more than half-a-century old trolley a couple of years ago in London, only to be confronted by a very bemused salesperson at British Home Stores in London, asking me, "What is a tea trolley?" I had no better luck in other stores. So now they are only available here, locally made, but not as hardy as the original ones.
To get back to matchmaking and The Tea Trolley, the story is set in 1979 in Karachi. A middle-class doctor's family starts on the quest of finding a suitable husband for their only 18-year-old daughter, Amna (they have an older son, Nadeem, studying chartered accountancy in the UK). The mother, Rabia, one of six sisters herself, is the perfect all-round homemaker and superbly organised. She is determined to start the hunting process for an appropriate son-in-law well in advance of Amna's completing her four-year university course, of which, at the start of the narration, she has just completed the first year and begun the long, lazy summer holidays. But that is not to be as her mother is adamant that girls have a limited shelf life and the "window of opportunity" once missed, may not present itself again. Amna dreams of finishing her studies and working, but dare not voice that ambition to her mother.
The process, once begun, moves forward quite quickly. What makes this story more interesting is the background information about how Amna's mother and assorted sisters got married and how their lives have turned out. And there's the criteria for a son-in-law set by her parents: a professional, such as a doctor, a barrister, a banker. Definitely no industrialist (they turned down a multimillionaire's offer) or anyone in a risky profession, such as that of a pilot.
There are nearly a dozen visits by prospective suitors and their families — doctors, a barrister, bankers, a pilot, a major. While Amna is initially very resentful of being paraded in front of strangers, her mother tells her, in no uncertain terms, that being short and not a beauty (more cute than beautiful, it seems), she had better take the opportunity of cadging a proposal and a groom while she is still in "bloom." There are a few rejections on both sides (the first doctor was dismissed by Amna's mother because he wore socks with sandals), but more 'likes,' with proposals following from boys' families soon after the visits. And then the investigation begins in earnest: the groom's credentials, his friends and colleagues, his salary verification, his past (God forbid he has an interesting one), his parents, their financial and social status and so on and so forth.
What is refreshing about the cheerfully illustrated The Tea Trolley is that the author has used the Arabian Nights formula — stories within the main story. So, in addition to the ongoing saga of visits from prospective parties, are 12 stories narrated by different people somehow connected to the search for a suitable groom for Amna, who tell the tales of people they know or have heard of, revolving around marriage, or the lack thereof, and how these characters' lives turned out. It's a clever ploy of getting in a bit of history and a look at other issues, such as the confusion and carnage of Partition, and the 1971 war and further partition of Pakistan into Bangladesh and Pakistan (formerly West Pakistan), of women's lack of empowerment and decision-making, of scams and scoundrels. Some stories bring you close to tears, some enrage you, and some give you hope that, somehow, things will turn out all right.
"Finding a husband is never easy," says the blurb on the back of the book, and the narrative bears out this statement. Surprisingly, the term 'arranged,' marriages, I have always felt, is a misnomer. Most marriages, even in the enlightened West, are arranged. What else would you say when friends set up a blind date, or when you log on to a dating site, or even more popular apparently, the 'speed' dating process, where on a long table, you sit with a variety of choices and are given a minute or two to decide if you like what you see and want to set up a second meeting, or move on to exchange information with the next contender in line. There are so many movies based on this somewhat comedic theme, that you wonder about the absurdity of the process. Ultimately, it seems, it's all about the fear of loneliness and the almost hardwired 'knowing' in our genes that, as the blurb goes on to say, "a happy marriage is often the basis of a happy life, even though finding the right mate remains a gamble." No matter how many precautions you take.
The story ends on an unexpected note. Does Amna find 'Mr Right,' can she live out her dream of 'finding herself' via a career, is that ever going to be acceptable? A debut novel, the denouement is quite masterful. We have a new storyteller in our midst. Now perhaps a sequel?
Next