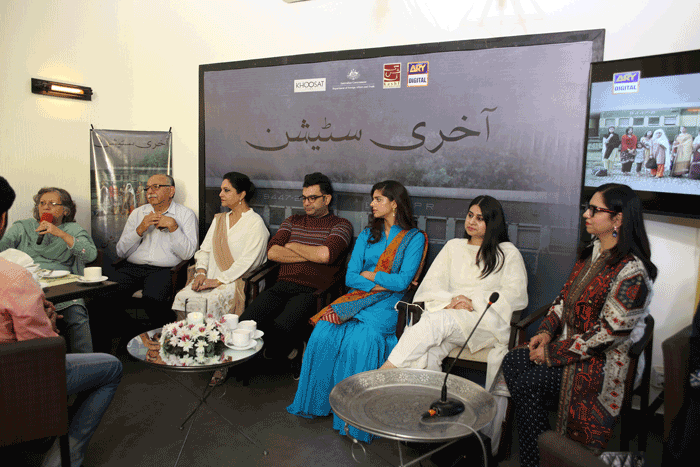 Bloggers, reporters and other invitees settled inside the fine-dining contemporary restaurant, The Patio, on February 9, waiting in anticipation to view the promotional video for ARY Digital's drama series, Aakhri Station. The eatery's sleek décor had been redone to accommodate the panel and the guests, with sunlight filtering in through the glass windows, making for a well-lit, intimate set-up for the launch of the seven-episode mini-serial.
Produced by the Kashf Foundation – Pakistan's first microfinance programme specifically targeted towards women – in collaboration with Khoosat Films and the Australian Government, the series deals with social issues that women face, such as domestic abuse, mental illness, family planning and patriarchal oppression. Roshaneh Zafar, Kashf's managing director, and producer of the mini-series, stated that the series sought to present real-life stories of Pakistani women who overcame their pain and suffering through sheer will and bravery and continued with their lives.
The press conference, organised by Starlinks PR and Events, was a star-studded event with lead actor Sanam Saeed, vocalist Tahira Syed, writer Amna Mufti, director Sarmad Khoosat, musician Arshad Mehmood and creative media head, Moneeza Hashmi, in attendance. Zafar introduced each of the luminaries and went on to speak about the drama series, which airs every Tuesday at 9pm on ARY Digital.
The original soundtrack (OST) for Aakhri Station, titled 'Mujhay Apney Jeenay Ka Haq Chahiyeh' and sung by renowned Tahira Syed, included a poem by writer and poet Amjad Islam Amjad, recited by Bollywood actor Shabana Azmi.
Saeed, Khoosat and Hashmi acknowledged the need for representation of women outside of the Urdu drama tropes used for women in the entertainment industry. "Women in dramas are seen bashing each other in one way or another. However, Aakhri Station presents a strong message of sisterhood," said Sanam Saeed.
Next