Every year it seems, everyone's 'Sultana Apa' — President of HUM Network — comes up with something new and exciting. This time it is a training programme for aspirants to the entertainment industry.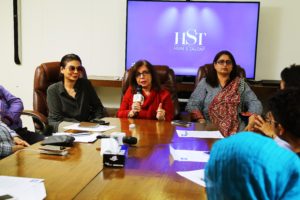 In a boardroom event launch on August 1, 2017, Sultana Siddiqui introduced 'Hum S. Talent' to those present, saying, "The entertainment industry is expanding… [there are] drama serials, and Pakistan is also producing a good amount of movies every year. But for us to move ahead, we need to up our game. We have amazing talent in the country, but no proper institutes providing professional training, professional etiquette and discipline. That is how I came up with this idea."
The new venture will provide mentorship in acting, modelling and other fields related to the entertainment industry. There will be no age limit for the applicants applying for acting classes. Furthermore, after the completion of their training, the trainees will not be bound to work for HUM Network; they can work for any other media network of their choice. However, there is one stipulation: during the period of their training, they will be asked to sign a contract.
Shedding further light on the admission process Maimoona Siddiqui, the Vice-President of Programming at HUM said, " The first step will be filling the forms, which are available on Hum S. Talent's website. In these forms the entrants will specify their area of interest so that they are trained accordingly. The forms received will be sorted out and the ones qualifying by meeting the basic criteria will be called for auditions or interviews. In the auditions, a panel of experts — related to that particular field, for which they have applied — will test the applicants. Initially the auditions will be held in three cities— Karachi, Lahore and Islamabad."
Those are the nuts and bolts. But talking about the big picture, Sultana said, "We want to change the image of Pakistan globally. We intend to do that by improving the quality of Pakistani content through our training programme." There will, undoubtedly, be many contenders for jobs in the entertainment industry when the training programmes end. But no fears: at the end of the event it was revealed that two of HUM Network's channels — HUM and HUM MASALA — are being launched in the UK — making the world an aspirants' oyster.
Next