The Shifting Sands of Thar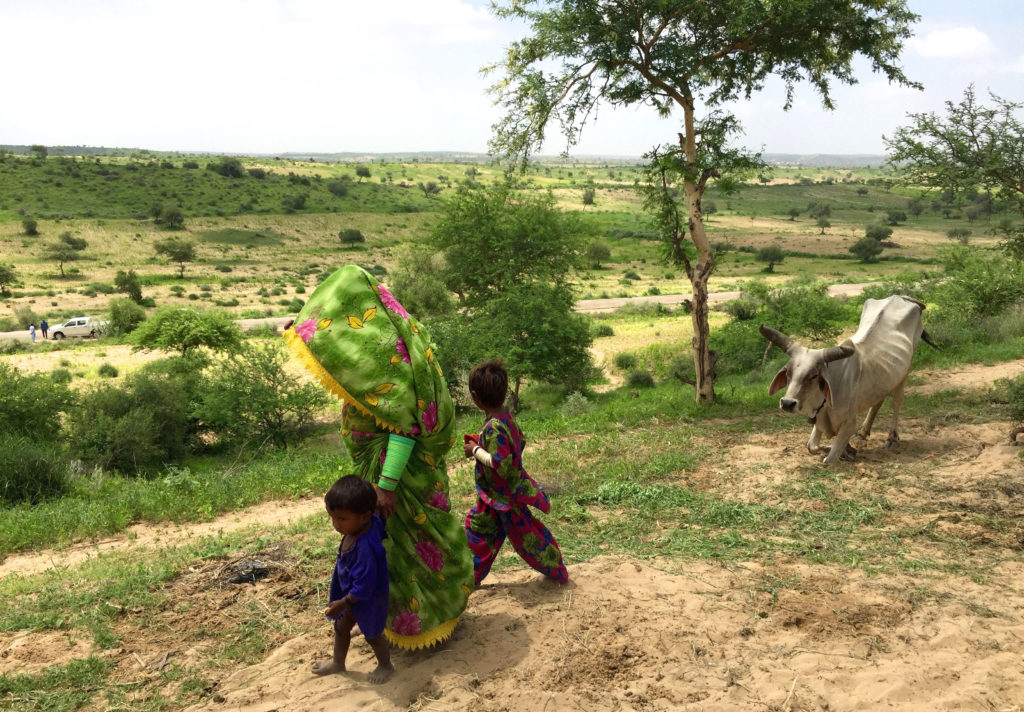 Photos by the author
Vatt is the Sindhi word for 'edge.' It is also the term used by locals to identify the southern periphery of Tharparkar district that borders the Rann of Kutch. 'Rann' — pronounced Rirn — means wasteland. For those living on the edge of a wasteland in Islamkot taluka, the outside world doesn't stretch far beyond Mithi, a distant city of lights.
Kishore Meghwar, a villager in his twenties, looks like someone who lives on the edge. His unflinching gaze was born out of a lifetime of staring down a sea of dunes, some of which can rise up to 130 feet here in UC Giryacho. Despite the lack of electricity, functional schools or hospitals in the area, Kishore is attached to his turf. He is in the grip of the spell that this 19,638 square kilometre district casts on its inhabitants. He hails from Gorano — one of 12 hamlets that lie within a stone's throw from each other.
Prema Meghwar, a childless old lady, also lives in Gorano. Ever since her husband passed away, her nephew has farmed their land and looked after her. It is her only means of sustenance.
Ironically, it is the vatt that has some of the best quality land in Tharparkar district, the water table being only 25 feet below the surface. Its pastures are known to breed the creme de la creme of goats.
Kishore is a shepherd for most of the year but a farmer during the monsoon, locally regarded as the 'fifth' season. He rises at the earliest hint of pink light in the sky and either tends cattle, or cuts weeds off his guar (cluster bean) and millet plantation. After darkness falls, the cattle are unleashed into the starry night. In the morning, they are rounded up and brought back home, where they spend the day resting in the shade of trees.
At the moment, he has reason to be happier than usual. Tharparkar saw its fifth season for the first time in six years. It received 197 mm of rainfall in July — three per cent above normal. Areas along the vatt have always been generously endowed with kandi trees — rain or no rain. Gorano and its 11 neighbouring settlements surround a natural depression of 2,700 acres. Local villagers have farmed this land for generations.
Naseer Kumbhar, a teacher and short story writer based in Mithi, told Newsline that locals have a connection with the desert; it runs deep and permeates all aspects of their existence. Their love for dunes is one small example of this. "In the evenings, they find comfort in the texture of the cool desert sand against their feet," says Naseer. They build their homes on ridges to get a good view of their crops and wandering cattle.
Life in Tharparkar district – with its population of approximately 1.6 million people – is a juxtaposition of two contrasting realities: haunting beauty and terrible want.
A baby boy weighing 1.6 kilograms lies inside an incubator in Civil Hospital Mithi, resembling a foetus in a womb. He has survived nine days, but the doctor doesn't think he will last for many more. In another ward, an older girl, Jamina, has a problem. She can't sleep at night. Outside, women with babies in their laps wait for their turn. They sit with the flies on the floor of the lobby, or outside the front entrance.
Beyond the walls of this medical facility, the dunes paint a different picture. Crowded with trees and seasonal plants after the monsoon, Tharparkar doesn't look like a place that has been ravaged by drought. Relief, which finally came from the heavens, couldn't compensate for the 1,463 children under the age of five that have died since 2014.
The Nursery Ward of Civil Hospital Mithi is at its maximum capacity with 11 babies. Paediatrician Dr Sikandar Raza complains that it is the only hospital out of the six in the entire district that is somewhat equipped. It was due to birth asphyxia that most of the newborns died in the last four years. He cites "favouritism" as the reason for the lack of professionally trained sanitary workers in the hospital.
Ever since the local and international press caught wind of the child mortality rates, the Sindh Health Department has been reluctant to disclose any bad news. Nevertheless, data provided by a District Health Officer of Tharparkar reveals that the deaths of children under the age of five have only risen since 2014.
Four fatalities of chikungunya in Thar were recently reported in the press. According to Dr Achar, the focal person for chikungunya, none of these fatalities were due to the virus. He says that blood samples of the 576 suspected infectees were sent to Islamabad for testing. "Of these, only 95 tested positive for chikungunya, while 25 results are still pending," he explains.
There is no visible evidence in the hospital of the Rs 5 million budget allocated to it by the Zakat and Ushr Department.
In Diplo taluka, young Nyal Meghwar skips school and takes his camels out for a stroll. "If the schoolmaster can skip school, why can't I?" he asks. Out of the 4,010 government schools in the district, 909 remain closed. While a total of 154,679 students are enrolled, only one third of these are girls.
Dr Allah Nawaz Samoo, Chief Executive Officer of the Thardeep Rural Development Programme, dispels the myth that Tharis are unwilling to send their daughters to school. "If the schools aren't delivering basic facilities, such as teachers and furniture, why would people send their kids there?" he asks.
Children have no option but to sit on the floor in classrooms, explains Hameer, a project manager at Baanhn Beli. There aren't even any toilets in schools. And so, the dropout ratio is high. Teachers go on 'leave' at least once a week. Samoo does not think that the private sector can offer any solution to the problem, which is essentially a socio-political one. "If the children enrolled in NGO schools cannot read or write, what is the use of that education?" he asks. He points out that government school teachers are far better paid than even those in private schools in Karachi. Yet they still don't do their jobs properly.
"In Nagarparkar taluka, girls' education is virtually non-existent," says Dr Shankar Lal, President of Baanhn Beli. The girls' high school here has only one teacher. He says the government needs to change its recruitment policy and hire lady teachers. Lal confirms that when there are teachers in schools, children — including girls — do attend. "In a school set up by Unesco and Baanhn Beli where teachers were present, there was an attendance of 65 students," he says. He also points out that an organisation called Norwegian Church Aid is promoting gender-justice across the province.
In a remote corner of Nagarparkar taluka, three miles from the Indian border, Pirbho Lal Mahraj is faced with an unusual dilemma. It's not that he's never had electricity — the lack of which is a given in these parts — it's that he isn't being allowed to use the solar panels given to him by Thardeep Microfinance. "The Rangers prefer not having any lights in such close proximity to the border," he says, "particularly when things are tense between the two countries." If Mahraj's neighbours want to go and farm their lands, they must first get a permit from the Rangers. Mahraj has never seen his political representative, MPA Mahesh Malhani. But he says he once had the "misfortune" of seeing Sharjeel Memon. "When they do come, they just eat and leave," he quips.
The dunes and metalled road run out long before one arrives at this fringe of Tharparkar. Cutting across the horizon, the distant Karhoonjar Hills look tiny. Horses, the most common mode of travel in Nagarparkar, graze freely across the plain. Mahraj's settlement is a collection of 15 houses known as Kharirio Got. To get there, one must follow a faint mud track for at least an hour. Barks of dead trees serve as signposts. Resembling abstract sculptures, they lean inwards and usher the traveler in one direction or another. But eventually even these run out.
Khariro Got has not had a dispensary for 55 years. Women in labour go to the nearest hospital, which is an hour's drive away, in Nagarparkar. Mahraj, a qualified dispenser, has opened a shop that sells medicine. He goes to Mithi, the distant, almost foreign city, once in two or three months. There is a lack of potable water in this locality. The Sindh government installed a reverse osmosis plant, but it failed to work properly, like many others in the district.
Nearby, in a Meghwar settlement in UC Adhigam, Shaanti rises at four in the morning to make tea for her family. The compound outside her chaunra (mud hut) is full of charpoys, which she clears up. She then carries two dillaas (clay water pots) to the nearest well, four kilometres away. This is one method of fetching water from a well in Thar. The other, less arduous, way is deployed by those who own an ox cart and some blue plastic containers. In such a case, it is the man who runs the errand. The landscape is lined with devi (tamarisk). Pre-partition stone monuments, some of which date back to 1914, make up the remnants of the bazaar. They hint that this remote corner of Adhigam was once a bustling thoroughfare and trade hub. Now however, there isn't even any potable drinking water. There is a dispensary, but it has no medical facilities.
Morumal Meghwar, a local resident recalls the earthquake that struck the region in January 2001, the epicentre of which was in Gujarat. "There was no relief work at all," says Morumal. "After the 2011 rains we were completely cut off from the rest of the district, and nobody reached out." Several miles north, nearer to the Karhoonjar Hills, part of a metalled road — the only one that leads south — is missing. It was washed away in 2011 by runoff from the hills. This image runs in stark contrast to Sharjeel Memon's former mansion on the outskirts of the town of Nagarparkar.
There is a well-known saying in the desert: No matter what corner of the country a Thari may be in, when it rains in Tharparkar, she/he will pack their bags and head home. This applies to the 55 per cent of Tharis who fall below the poverty line.
Migration in Thar is determined by push and pull factors. "Pull migration involves those families coming out of destitution, who choose to move to the cities to educate their children," maintains Allah Nawaz Samoo. "It also includes those who have started small businesses in urban areas such as Badin, Sanghar, Mirpurkhas or Tando Allahyar, or work as labourers," he says. "They move to these places, acquire land on lease and do not come back." Push migration, on the other hand, involves those who do not have livelihood security. They are forced to move, due to drought or conflict. "They return during the monsoon and work as tenants on a crop-sharing basis (batai).
The people of lower Sindh, Thar in particular, are of a cooler temperament than those of upper Sindh, who are closer to the tribal belt and more influenced by it. Shabab Hussain Mirza, a SSGC assistant engineer from Jamshoro observes that people in Dadu district and northwards wear a more hostile look on their faces than those in the south. Bheem Raj, a local activist and lecturer at the S.M. Government Arts and Commerce College Karachi, told Newsline that while city dwellers may be more confident than Tharis, they are also more aggressive and impatient.
Perhaps this is why Thar is the last bastion of tolerance in the country. Hindus — who make up at least half the population in the district — and Muslims have coexisted peacefully here for centuries. Yet there have been unsettling developments of late. Madrassas funded by political parties and banned outfits have begun to sprout across this desert with alarming frequency. Most social workers and activists of Thar are reluctant to speak on the topic. Sono Kangrani, CEO of Thardeep Rural Development Programme, sees "religiosity as a point of future conflict in Thar."
A group of missionaries walk along the road from Mithi to Islamkot. They are wearing kufis (prayer caps) and carrying luggage and foldable tents on their shoulders. Some of them are from Kohistan district in Khyber-Pakhtunkhwa, others from Gilgit Baltistan. As members of the Tableeghi Jamaat, they are walking from town to village, preaching. "We have been in the area for six months and have delivered sermons in Mirpurkhas and Mithi," says Noor Mohammad, the leader of the pack. Their next stop is Islamkot. Other missionaries roam this desert too, he says.
Ali Akbar Rahimoo, Executive Director at AWARE, told Newsline that historically, the madrassas in Tharparkar never threatened communal harmony. The ones established recently, however, are different, he says. These include the Jamiat Ulema-e Islam's (JUI-F) complex in Chhor, and those belonging to the Jamat-ud-Dawa (JuD) and Jamaat-e-Islami (JI).
The Falah-e-Insaniyat Foundation (FIF), a charity wing of the JuD, is responsible for setting up educational institutions and masjids in Thar. The organisation has been placed on a watch-list under the Anti Terrorism Act, by the Ministry of the Interior. Qurban Samejo, District President of the Milli Muslim League, a political party launched by the JuD, told Newsline that they have been setting up "private schools" and "masjids" — not madrassas. "We have set up 300 schools across Sindh under the Al-Dawa system," says Samejo. "Of these, one primary school is in Mithi, with an enrolment of 25 children." Their largest schools, he says, are in Karachi, Mathli and Shahdadpur, where they have a "college."
Samejo explains that the Al Dawa syllabus uses books published by Al Ahsl, a publishing house based in Karachi and Lahore, in which there is greater emphasis on Islam, Islamic history and the biography of Prophet Muhammad. He says that this syllabus is "government approved." The schools charge a fee of up to Rs 500 per student.
"And we have made masjids, not madrassas," clarifies Samejo. "It is sad that in this country people cannot seem to differentiate between the two." The FIF has established 15 masjids across Tharparkar district, in Diplo, Mithi and Islamkot. Addressing the accusation that these were built on government property, he says, "These mosques already existed long before we started running them. The owners donated the plots to us and we developed them further."
"We have also built 2,000 wells in Thar, more than half of which were for the Hindu community," he continues. "We have installed solar panels in Bambrio Bheel village, located near Islamkot," says Samejo. "Dhanro Bheel, a PPP councillor is a friend and comes to us if he needs help with anything, because he says that the government doesn't do anything for his people." According to Samejo, the FIF has also built a 30-bed hospital in Mithi, adjoining the school. Its medical facility in Karachi is called 'The Modern Hospital.'
Samejo is from Baghliar village, in Diplo taluka, where he has Hindu neighbours and with whom, he says, his family has happily coexisted for generations. "You can ask them how helpful and respectful we have been." Samejo says that the slaughter of cows has always been practiced on a low-key level, in Muslim-majority areas. He points out that there are also various NGOs that slaughter up to 100 goats to distribute the meat among the impoverished.
Rahimoo is of the view that the seminaries "aim to exploit the tensions already present in the caste-based politics of Thar," he says. "The poor and marginalised turn to madrassas for a semblance of support and security."
Allegiances in the caste-based politics of Thar tend to lean towards piri/mureedi and not ideology. "Pirs exploit religious tensions for political ends," explains Rahimoo. By fomenting hatred, the Pirs have made it much easier for the madrassas to attain their goal. He cites MNA Pir Noor Mohammad Shah Jeelani as an example of a politician who was elected based on mureedi allegiance, even though he is not from Tharparkar.
Referring to the accusations made against Umerkot's Pir Mohammed Ayub Jan Sarhandi of forcibly converting Hindu girls to Islam, Rahimoo points out that many locals are of the view that if this were true then he would have also converted his own haris, who are still Hindus.
MPA Mahesh Malani, elected on a joint Hindu-Muslim mandate is testament to Hindu-Muslim unity in the district. "But in 2013, political opponents rebuked his candidacy on grounds that he was non-Muslim," says Rahimoo. "A mullah by the name of Ramzan, who was later dubbed 'Thari Taliban,' issued a fatwa (religious decree) against his eligibility."
According to Rahimoo, the ingress of madrassas in Tharparkar can be traced back to the drought of 1985-87. It was the first time the media highlighted a drought in Thar. Upon hearing the news, religious missionaries made inroads into the region to help the impoverished. In the drought that began in 2014, another wave of missionaries entered the district, he explains.
Umer Kaimkhani, the JI Amir for Tharparkar district is of the view that madrassas will not end inter-religious harmony in Thar, where Hindus and Muslims are so closely connected that they cannot be made to turn against each other. Instead, he believes that "attacks made on social media by those attempting to be 'moderate' create conflict and misunderstanding." Kaimkhani feels that out of respect for Hindus, cows shouldn't be slaughtered in front of them — instead, this activity should be restricted solely to Muslim localities.
Rahimoo recalls the time when Dileep Doshi Meghwar, member of the Thar Sujag Sath development organisation posted a facebook comment protesting that people were being discouraged from participating in liberal activities in Thar, yet religious events were allowed to be held at all costs. An FIR was lodged against Dileep and he had no option but to flee.
He points out that seminaries of other faiths are also present. "In Umerkot, Korean Christian missionaries have opened a church. They are focusing on converting Bheels, who interestingly, were soldiers under the Rajput rulers, and therefore are a martial race," explains Rahimoo.
Khalid Kumbhar, a social worker and columnist for the Awami Awaz, tells me that the land and environment of Thar was in better hands under the ruling Rajput caste. "Cutting trees and hunting were not allowed," explains Khalid. As in various other parts of the subcontinent, the British ruled the area through the existing feudal order. Under the Land Grant Policy of 1930, upper caste Hindus of Thar had to ensure the preservation of the land, most of which was owned by them. "Shikar was only allowed in exceptional cases, if an animal was needed for medicinal purposes," continues Khalid. Minimal cultivation was allowed — enough to feed one's family — and that too only in depressions and low-lying areas.
Up a winding road that leads into the heart of the Karhoonjar Hills, there is a small pond located near the Sardharo temple. It is a revered and sacred site, where the Hindus of Thar deposit the ashes of their dead. A spring in the hills supplies the pond with a constant flow of fresh water. Although the sky is a dynamic blue after the rain, the pond is pitch black.
The writer is a staffer at Newsline Magazine. His website is at: www.alibhutto.com
Next