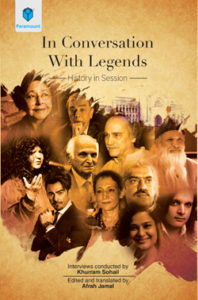 To celebrate Pakistan's 70th independence anniversary, on August 12, Alliance Francaise de Karachi organised the launch of Khurram Sohail's book showcasing 50 of Pakistan's celebrated historians, musicians, critics, playwrights, poets, humanitarians, sportsmen and media personalities. In Conversation with Legends — History in Session is a compilation of in-depth interviews conducted over 10 years by Khurram Sohail, a seasoned Urdu journalist, critic, columnist and author. These interviews are candid sentiments of movers and shakers that have influenced the cultural and artistic landscape of Pakistan.   
Two of the 50 legendary Pakistanis featured in the book — musical maestros known for the magic of their music, sitarist, Ustad Raees Khan and guitar guru and singer, Aamir Zaki — passed away before its publication, lending the occasion a certain poignancy. But the guests at the event took pleasure in the musical homage paid to Pakistani music's legendary gurus by Arif Sinan on guitar and Turab Ali Hashmi on sitar. A documentar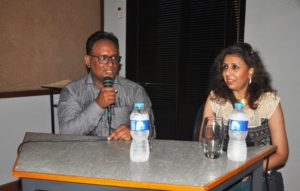 y was also presented on Khurram Sohail's journey to expand Pakistan's cultural footprint in the course of his career. The book reinforces such efforts, serving as an introduction to the societal power-players who helped establish the country's artistic and cultural footprint on the map for future generations.
Published by Paramount Books, In Conversation with Legends — History in Session is the author's seventh book. Originally written in Urdu, the interviews were translated and edited by Afrah Jamal — a freelance columnist and copywriter who also works as a marketing consultant. The book's launching ceremony came full circle as Sohail recalled how, exactly four years ago in the very same hall at the Alliance Francaise, the idea for this book had first germinated.
The writer is working with the Newsline as Assistant Editor, she is a documentary filmmaker and activist.
Next