Movie Review: Toilet – Aik Prem Katha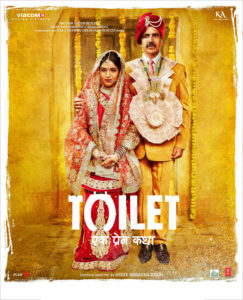 For a socially relevant film which is surprisingly low on Bollywood masala, Toilet — Aik Prem Katha, has proved to be a remarkable success at the Indian box office, grossing over 51 crores across the country in the first three days. Producing a film with a powerful message, on an icky subject, and making it eminently watchable, is a tall order. But full marks to director Shree Narayan Singh for rising to the challenge, and injecting it with just the right degree of humour.
Based on a true incident from a village in Madhya Pradesh, the film coincides with Indian Prime Minister Modi's 'Clean India' campaign that addresses one of the country's long-standing issues: more than one-third of the Indian population defecates in the open — the highest figure anywhere in the world. And with the country's rapid population increase, more people are being exposed to the dangers of open waste. The film also points a finger at the ingrained cultural resistance to having toilets inside the homes and additionally, the endemic bureaucratic hurdles and massive corruption involved in making public toilets.
Toilet begins with a simple boy-meets-girl love story and strangely revolves around, yes, a toilet. A bicycle shop owner and still single at 36, Keshav (Akshay Kumar) is desperate to get married, but in order to do that he has to submit to his superstitious pundit father's two peculiar demands. First, he has to wed a cow to counter a negative aspect in his janam kundli (he is a manglik according to his astrological chart) which he does. His second condition is that the bride-to-be must possess two thumbs on one of her hands to prove a compatible wife. Keshav bumps into Jaya (Bhumi Pednekar) in a moving train, just as he emerges from the washroom. She lectures him on toilet etiquette (keep the bathroom door locked when using it; wash your hands after using it). But for Keshav, it's love at first sight.
Ever the consummate, resourceful trouble-shooter, Keshav finds a solution to all the obstacles thrown his way to win his lady-love. However, what he forgets to mention to his new bride — a tough, smart graduate — is that their male-centric home, comprising his brother, father and himself, does not have a toilet.
The day following the wedding, Jaya is invited by the women of the neighbourhood to a 'lota party' at pre-dawn, which entails that she accompany the women as they walk to the fields in the darkness, to relieve themselves away from prying eyes. Aghast, she learns that this is their customary toilet, and that for the rest of the day the women are expected to hold themselves.
Jaya's need for a private loo complicates her relationship with her husband and his unreasonable father. While Keshav tries to accommodate her need in every possible way — he takes her to a neighbourhood family's loo; steals a portable toilet from a film set — but building one in the house is out of the question because of his obstinate father's long-held belief that it would render their home impure. Meanwhile, he has no qualms in defecating outside the house over a nala, and invading the privacy of women (including his own bahu) relieving themselves in the field, by accident. The rest of the village voice the same views, including the women, who are the real sufferers, as they are exposed to the harsh elements of nature, face health hazards and even rape.
The storyline may seem incongruous to city-dwellers, but it strongly echoes the conditions women live in, in underdeveloped townships and rural villages. In Pakistan, too, the subject is considered inconsequential. However, one of the most significant endeavours that addressed and highlighted this issue was the Orangi Pilot Project, which provided toilets for every home on a self-help basis, and was replicated by communities in other areas.
Returning to Toilet, while most of it is self-explanatory, the use of Urdu sub-titles would have helped in understanding some of the pure Hindi dialect in a film which is more than just light-hearted entertainment — it carries a critical social message.
The writer is working with the Newsline as Assistant Editor, she is a documentary filmmaker and activist.
Next