Well-known photojournalist Mobeen Ansari launched his second photography book White in the Flag on the lives and festivities of the religious minorities of Pakistan at the Indus Valley School of Art and Architecture (IVSAA) on August 3.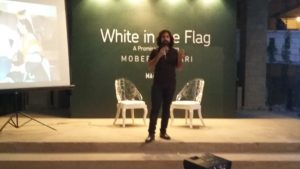 Relating to the audience the incident that sparked his interest in the lives of the religious minorities, he said, "Thirty-five years ago my dad was afflicted with abdominal tuberculosis and was in a dire need of the rare 'O positive' blood. My dad's Christian friend, Ronny, donated his blood and saved my father's life. After that incident I developed a keen interest in Christians, and started attending their gatherings and religious celebrations." That culminated in the book, which he completed in seven-and-a-half years.
A few of the many people featured in the book were present at the event, and they were called upon the stage to talk about their experiences vis-a-vis acceptance as members of the minority community in Pakistan. Ansari's Parsi piano teacher, the first Sikh cricket player to join the national squad, two other Sikh gentlemen, and a woman hailing from Kalash, were Ansari's esteemed guests. A short video clip introducing his book was also shown to the audience.
The courtyard of the IVSAA was the perfect venue for the occasion. The tasteful décor and refreshments served followed the theme of the national flag's green and white. The evening also featured some celebrities — among them former cricketer Wasim Akram, and his wife, Shaneira, and the president of the State Bank Museum. Published by one of the leading publishing houses in the country, Markings, the book is a perfect combination of aesthetics and quality content.