Movie Review: Viceroy's House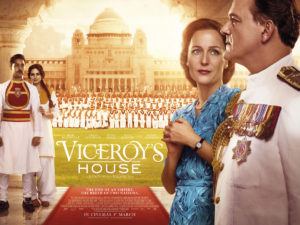 From the pages and newsreels of history, the film The Viceroy's House is a dramatised version of the British handover of India by the last appointed Viceroy and Vicereine. The period piece commences with the arrival of Lord Louis Mountbatten (Hugh Bonneville) with his spouse, Edwina (Gillian Anderson), and daughter, Pamela, in Delhi in 1947. Voila: a mélange of historical drama, biopic and Bollywood-style love story, clearly made with a view to appeal to both, British and Indian audiences.
A symbolic jewel in the colonial crown, the film has a distinct Downtown Abbey-esque feel. Run by a 500-strong domestic staff, comprising Muslims, Hindus and Sikhs, Edwina Mountbatten remarks on entering her new opulent 340-room palatial `house,' "It makes Buckingham Palace look like a bungalow."
Against the raging backdrop of communal riots erupting across India, a romance is rekindled between Mountbatten's newly appointed Hindu valet, Jeet (Manish Dayal), and his long-separated love, Alia (Huma Qureshi) — Edwina's Muslim assistant. But the star-crossed lovers are caught in the fray of rapidly changing events that are tearing them and their country apart. Jeet had been the sympathetic jailer of Alia's now blind and infirm freedom-fighting father — acted by the late Om Puri.
The staff, particularly Jeet, keep abreast of all the local events by eavesdropping at every opportunity on the negotiations, reports and dealings that Mountbatten conducts upstairs in the Viceroy's house, especially with key political players such as Jinnah (Denzil Smith), Nehru (Tanveer Ghani) and Gandhi (Neeraj Kabi).
Permeating down to the lower staff, these discussions ignite differences between the Viceroy's Hindu, Muslim and Sikh staffers. The raging question: do Muslims deserve the creation of a separate homeland called Pakistan? News of ongoing bloodbaths keep arriving from their respective villages, and finally the devastating Rawalpindi and Lahore massacres of 1947 spur the Viceroy to speed up the no-longer-peaceful transition which was scheduled for 1948. Meanwhile, the multi-ethnic Viceroy's staff begin to lunge at each other and at members of the senior British staff, turning in the process, the Viceroy's house into a microcosm of the events transpiring in the rest of the country. Later, the house and its belongings also become a reflection of Partition, as the library books, musical instruments, and even the silver spoons are divided and 20 per cent of everything is packed to be sent to Pakistan.
There is very little in the film to surprise Pakistani and Indian audiences. However, some historical facts may come as news to viewers, such as Mountbatten's initial attempts to negotiate for an undivided India with Jinnah, Gandhi and Nehru. Conversely, Jinnah asks for a corridor along northern India joining the western and eastern wings of what is to be Pakistan. But all three subcontinental leaders' conflicting views result in the impasse that becomes Partition.
Another perhaps lesser known surprise is that Cyril Radcliffe, the barrister appointed to draw the partitioning borders on the Indian map, had never stepped foot on Indian soil before being commissioned for this behemoth task. Frustrated and racked with guilt for having to draw the lines that would be like "a bloody axe cleaving right through people's lives," he ultimately shares a secret document with Mountbatten, making the latter look like a pawn in the Great Game.
It turns out that this highly classified British wartime document in Radcliffe's possession absolves the Viceroy of the infamous 'Mountbatten Plan,' which many believe led to the most monumental and bloodiest migration in history — displacing approximately 14 million, and devouring over a million souls in communal carnage. In this film, the secret war document places the blame squarely on British Prime Minister, Winston Churchill, who had left office two years earlier. And, oh yes — he seems to have done it in collusion with Jinnah.
While powerfully evocative for the most part, artistic license notwithstanding, the film seems to take liberties with history, deviating from many truths. Additionally, there is no mention of the Freedom Movement or the Pakistan Movement of the All-India Muslim League. Pakistani writer, Fatima Bhutto, decried the film in her piece for The Guardian, and very pointedly accused the director, Gurinder Chadha, a British-Indian, for taking "…pleasure in laying the bloodshed and brutality of 1947 at the feet of two particular villains: Muslims and Jinnah."
Small yet pivotal, Jinnah's role would have most probably incensed local audiences, had the film been screened in Pakistan. At the very least, portraying Jinnah with sinister overtones, compared to the flattering depiction of Nehru's character, would have, rightfully, been viewed as outright bias — a hackneyed, misguided trend seen in altogether too many ultra-nationalistic Indian films. Indians, meanwhile, may find issue with Gandhi's standpoint, since he is seen to be appealing to Congress leaders to make Jinnah India's first Prime Minister, to avoid a divided India.
As for Lord Mountbatten and Edwina's roles in the film, they appear one-dimensional. There is no suggestion in the elaborate, expensive Anglo-Indian production of the former's in-the-closet homosexuality, nor is there even the faintest hint of Lady Edwina's infamous infidelity with India's first Indian Prime Minister, Jawaharlal Nehru, a liaison still remembered after 70 years.
Already screened in UK and European countries, Australia and Singapore after its first presentation at the 67th Berlin International Film Festival in February 2017, The Viceroy's House was released in Indian cinemas in August, and is scheduled for screening in the US in September. However, our Censor Board has disallowed its screening in Pakistan.
The writer is working with the Newsline as Assistant Editor, she is a documentary filmmaker and activist.
Next