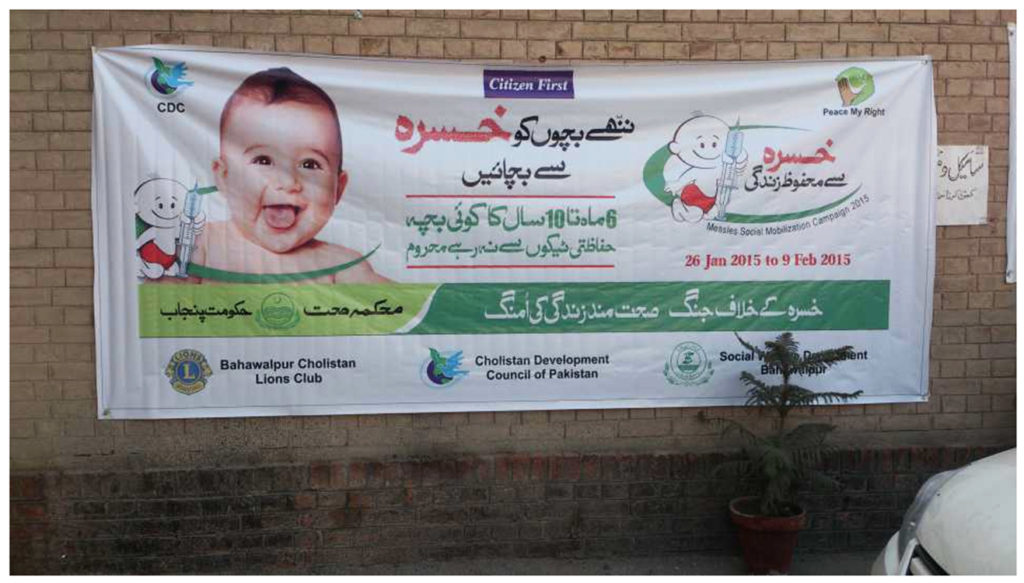 For Nizamuddin (who goes by his first name only), it is just another day at work. In a small room in the Expanded Programme on Immunisation (EPI) Centre, Civil Hospital, in Quetta, Nizam is doing what he has been doing for the last 25 years — saving the lives of children by inoculating them with life-saving vaccinations.
In the backdrop are posters on walls reiterating the message: hifazati teekay muhafiz zindagi ke (vaccines safeguard human life) and polio se bachao ka teeka chauda hafte ki umar men sirf aik baar (the life-saving polio vaccine needs to be administered just once to infants at the age of 14 months).
For four-month-old Ramsha, this is her third trip to the centre. She is being given Penta-III, Pneumo-III and OPV-III and IPV shots to protect her from various childhood diseases, including polio, diptheria, whooping cough, tetanus, meningitis, and pneumonia, etc. These journeys to the centre take her mother a good 45 minutes by bus. And usually she has to be accompanied by some male family member. Today, for example, she is escorted by her 18-year-old brother. Although it means half a day gone by for both of them by the time they get home. Ramsha's mother feels the time is a valuable investment in her daughter's future.
And once today's shots are done with, Nizamuddin quickly fills in a yellow vaccination card, hands it to Ramsha's mother, and tells her to come back when her baby is nine months old.
Although the entire course of childhood vaccinations is available free of cost to all children under 23 months by Balochistan's Expanded Programme, not all children are as lucky as Ramsha.
In Pakistan, around 400,000 children under five die every year, with half the deaths attributed to vaccine-preventable diseases.
On July 5, much to the consternation of the Polio Emergency Operation Cell, a new case of polio surfaced in an 18-month-old boy in Balochistan's Qilla Abdullah. This was the first in the province and third in the country this year. The health department stated that the parents of the child had refused to administer him polio drops.
There has unarguably been a substantial decrease in polio cases — from 306 in 2014 to just 54 in 2015 and down to 20 last year — but the relief has been short-lived: Ahmed Jan's case in July served a blow to all those involved in the eradication of the crippling disease.
But could it be the single-minded focus on polio that is itself contributing to the high child mortality in Pakistan?
"Only once we have attained universal routine vaccination for children under two can polio be reduced and ultimately eradicated," said Dr Azra Pechuhu, the chair of the oversight committee, highlighting the importance of maintaining "herd immunity in children through routine immunisation."
That notwithstanding, Dr Meher Taj Roghani, deputy speaker of the Khyber Pakhtunkhwa Assembly, who is a pediatrician by qualification, pointed out that while "the eradication of polio is undoubtedly extremely important, so is the eradication of other childhood diseases. Unfortunately, over the last two decades, we have sorely neglected routine immunisation, diverting all our resources to polio eradication. The result: our coverage for routine immunisation has scored dismally, leaving a huge number of unimmunised children."
Dr Pechuhu concurs with Dr Roghani's contention, maintaining that it is critical to exempt vaccinators from polio campaigns so that they can focus their energies on routine vaccinations.
Lady Health Worker, Rizwana Rasheed, added, "Parents expect vaccinators and Lady Health Workers (LHWs) to vaccinate their children at their doorstep for even the routine shots." That is, of course, not how the system works. In addition, she disclosed, many parents believe that the drops administered for polio — which are given at home by health workers — are providing cover for their children from all kinds of diseases. "Many don't know there are nine other vaccines included in the schedule which can only be given at the EPI centre," said Rasheed. Hence, until they are made aware of this fact, many children remain vulnerable to all the childhood illnesses that could so easily be preempted and prevented.
The vaccines for 10 preventable diseases available free of cost from EPI include tuberculosis, poliomyelitis, diphtheria, pertussis, tetanus, hepatitis B, haemophilus influenza type B, pneumonia, diarrhoea and measles.The schedule for an infant is completed in six visits to the EPI Centre, from birth to 15 months.
Pakistan's routine immunisation coverage stands at a dismal 54 per cent, according to the last Demographic Health Survey 2012-2013 (PDHS). There are substantial coverage and equity challenges with geographic and economic differences between and within regions, as well as between provinces. Punjab takes the lead in this respect at 65 per cent, Khyber Pathtunkhwa (KP) follows, at 53 per cent. But Sindh at 29 per cent, and Balochistan at a dismal 16 per cent, lag far behind.
Perhaps taking a step in the right direction, on May 12, this year, the KP provincial assembly amended a decades-old law to make vaccinations against all preventable diseases compulsory, and to establish a mechanism to persuade parents to immunise their children. Dr Roghani was instrumental in this process.
Around the same time, on May 18, The Islamabad Compulsory Vaccination and Protection of Health Workers Bill was moved in the Islamabad Capital Territory (ICT) by Zahra Wadood Fatemi, a member of the National Assembly, in the lower house. "Our main objective is to pressurise parents to get their children immunised. Once this bill becomes a legal document, people will be compelled to complete their children's vaccination regimen," said Fatemi.
However, under the 18th Constitutional Amendment, the bill will only be applicable to ICT, and other provinces will have to work with their respective provincial assemblies if they seek any similar changes.
Among the four provinces, the challenges faced by Balochistan, with the smallest population scattered over a vast geographic area with little semblance of any infrastructure or development, are truly monumental. The statistics speak for themselves: there are only 909 vaccinators for a population of 8.9 million. Furthermore, reaching the widely dispersed population is also costly.
Meanwhile, there is a small ray of hope elsewhere. Punjab, the most populated province of Pakistan, which hosts half of the country's people, has taken the lead in driving the EPI programme forward. Independent surveys in the province show a 22 per cent increase in immunised children over the past two years, from 65 per cent (PDHS 2012/2013) to close to 90 per cent today.
This, according to Dr Munir Ahmed, at the Punjab Expanded Programme on Immunisation, "has only been possible due to a high-level of political commitment where none other than the Punjab chief minister personally and regularly takes stock of the health sector and monitors the province's progress on immunisation coverage and equity."
Commenting on the low immunisation coverage in Sindh, with an estimated half-a-million children who are under-immunised (with 200,000 of them living in Karachi alone), Professor Dr D.S. Akram placed the blame squarely on bad governance and poor planning. Once again, the numbers are telling. Out of the 20 polio cases reported in the country last year, eight were from Sindh. "It has been a story of lack of political will," said Dr. Akram candidly.
But hopefully, some change is on the way. As the Expanded Programme on Immunisation (EPI) and the Polio Eradication Initiative (PEI) work towards synergies, more and more polio community volunteers and communicators are being involved in helping address vaccine misconceptions and hesitancy, both for polio and for routine vaccines.
More than 17,000 community based vaccinators have been deployed since August 2016 by the polio programme, effectively releasing LHWs and EPI vaccinators from polio duties.
Finally, a step in the right direction.
Next