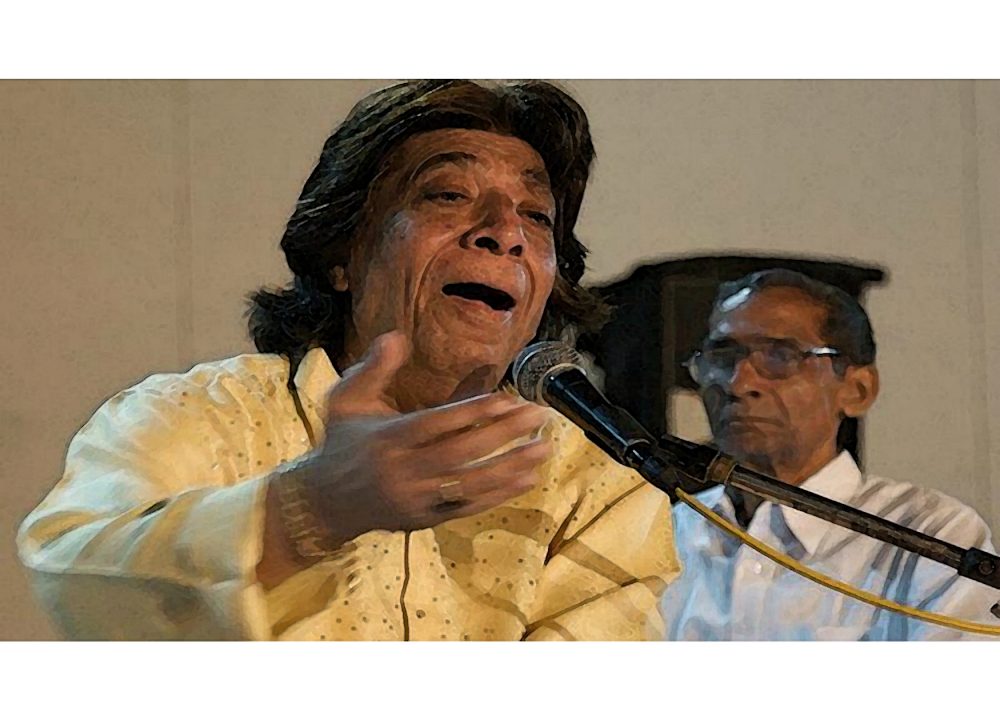 I met Ustad Fateh Ali Khan two years ago, for the last time, during the recording of Pakistan Television Corporation's programme Firdaus Gosh. This particular episode was dedicated to raag Miyan Ki Malhar and the octogenarian Ustad had travelled to Lahore, all the way from Islamabad, for the recording. He was in very poor health and had to be carried to the stage and kept propped up by his students so that he could sit comfortably. As he prepared for the performance, I asked him why he had undertaken the five-hour journey when he was so ill. "I had been invited to sing in the programme several times in the past and had declined," he replied. "However, when I heard that this particular episode was dedicated to Miyan Ki Malhar, I felt it was my responsibility to perform in the show." I asked him why he felt that way, and he said, "I have to show everyone how the raag is rendered correctly." There was not a hint of arrogance in his matter-of-fact reply. "The third note, gandhar, employed in Miyan Ki Malhar, is not found in the harmonium keyboard," he continued. "It is lower than the flat third on the keyboard and cannot be sung correctly by musicians relying on the harmonium. It is my job to show people the correct gandhar of Malhar. That is why I am here."
The short conversation is a perfect example of the Ustad's attitude towards music. The primary goal of his performances was always to educate, train and enlighten. He did enjoy showing off his technical virtuosity and musical prowess, but it was teaching that was of paramount importance to him.
Ustad Ji was often criticised for singing in simple taals, or rhythmic cycles, like teen taal (a 16 beat rhythmic cycle), ektala (a 12 beat rhythmic cycle) and jhaptaal (a 10 beat rhythmic cycle) unlike his peer, the phenomenal Ustad Salamat Ali Khan, who was known for employing complex taals in his singing. His response to the criticism was nonchalant. "I do not sing to impress listeners," he would say. "My goals are different. I want classical music to become popular among the masses. Using complex taals and employing intricate rhythmic patterns confuses and, ultimately, alienates most listeners. Such gimmickry, for lack of a better word, makes music inaccessible and esoteric. That can never be the goal of a responsible musician."
The maestro had a propensity to lapse into conversations during his performances and was often criticised for the habit. "I agree that dialogue in the middle of a song can dilute the effect of music," he admitted. "That, however, applies to musicians who sing to entertain. I do not. I am an Ustad and my job is to teach. I, therefore, have the latitude to address and talk to my listeners."
Indeed, Ustad Fateh Ali Khan spent his entire life educating musicians, music aficionados and lay listeners, simplifying the basics of raag and taal, explaining the basics of classical music in simple terms, taking the mystery out of its theory, making it both accessible and enjoyable. This is no mean task in a field where musicians jealously guard their knowledge, work hard to make music abstruse, rarely share what they believe are the secrets of music, and use their gift primarily to earn money. And this, without a doubt, is what makes Ustad Fateh Ali Khan the great musician that he truly was!
Ustad Fateh Ali Khan traced his ancestry directly to the founders of the Patiala gharana. He was one of three sons born to Ustad Akhtar Hussain Khan (1900-1972), who moved to Lahore from Patiala in 1947. While his other two brothers, the late Ustad Amanat Ali Khan and Ustad Hamid Ali Khan, are equally well known, it was Ustad Fateh Ali Khan who ruled the world of classical music in the country for seven decades. When he passed away in January this year, he left behind a number of students and a legacy of more than 2,000 hours of recorded music — a veritable treasure trove for students and practitioners of music all over the world.
Ustad Fateh Ali Khan lost friends, family members and patrons during the partition of India and Pakistan. But surprisingly, he was never bitter about the pain and suffering that he endured for several years after moving to Lahore. He felt that the hard times had helped make him a better musician than he would otherwise have been. "There is a difference between a 'competent singer' and a 'great artist'," he used to point out. "A competent singer has four qualities. One, he is knowledgeable, or jaankar; two, he has perfect pitch and timbre and sings in sur and laya; three, he understands raag and taal well; and finally, he knows how to connect with listeners. It is necessary for a musician to possess these four qualities and there are hundreds, if not thousands, of singers who possess these qualities. They are all 'competent singers' but none of them are 'great artists.' A truly great musician is one who has led a full life; one who has been through life's ups and downs, experienced love and betrayal, dealt with friends and enemies, survived poverty and abundance, and tried to make sense of all that life encompasses. When a 'great artist' performs, all that he has experienced in life is presented in his music. This is the power of a great artist. His experiences, feelings and emotions, conveyed through music, resonate with those of listeners."
Ustad Fateh Ali Khan's music embodied all the characteristics of the Patiala gharana. "We place a lot of emphasis on voice culture in our gharana," he would say. "Patiala singers cover a full range of three octaves and maintain their tonal quality over the entire register. The voice is full-throated and powerful but never harsh; rather it is sweet and almost nasal. Our focus is on maintaining tempo accurately rather than on getting into the vagaries of complex rhythmic cycles. Doing that creates difficulties for listeners. In Patiala, we place a great emphasis on musical ornamentation, but it is done with restraint and care. Moreover, we enjoy interplay with our accompanists. We do not want tabla players to just play theka or sarangi players to just follow our singing. We want them to fully participate in our musical performances. Our vast repertoire of ancient and authentic bandishes is our real asset. No one else can lay a claim to it."
Ustad Fateh Ali Khan's claims, while lofty, are neither false nor exaggerated; they are a reflection of his confidence, integrity and knowledge, and not of vanity and pride.
A little over two years ago, he asserted his position as Pakistan's most eminent musician when he sang Miyan Ki Malhar, together with his estranged brother, Hamid Ali Khan, in Firdaus Gosh. A number of reputed musicians rendered the same raag in the programme, but none performed it as well and as accurately as Ustad Ji, leaving the audience spellbound. The great musician, visibly pleased with his authoritative presentation of the raag, declared, "Fateh Ali Khan is still alive!" during the middle of his performance.
As I listen to those recordings today, I have to agree with him!
Next