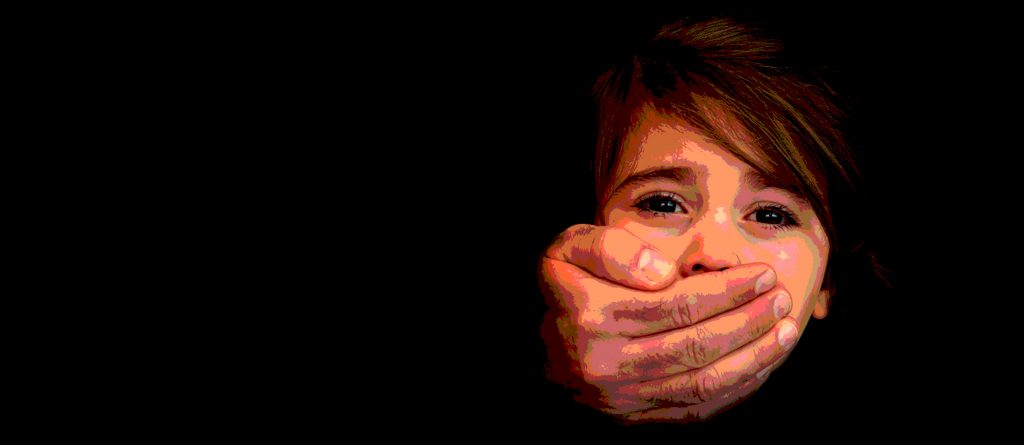 In 2004, a six-year-old girl went missing in Lyari. She was accompanying her mother, who had gone for a medical check-up. On the way back, the mother stopped by a pharmacy while the girl went to a nearby kiryana store. Within minutes, she vanished. A journalist alerted Mohammad Ali, who was known for his social work in the area. Ali arrived at the home of the missing child a few hours later, and after speaking to the family, he helped them lodge an FIR at the police station and combed the area in search of the girl.
Early morning the following day, he was shocked to receive a call from the family informing him that the girl's naked body was found at night on the rooftop of a three-storied building. She had been killed after being sexually assaulted. The brutal incident weighed heavily on Mohammad Ali's mind. He visited the place from where their daughter had disappeared and the building from where her body was found — both were at a short distance from their house. And yet no one had noticed the little girl being taken to the roof of the highrise; from this he deduced that the predator had to be someone known to the little girl. Had she been taken away by force, people in the neighbourhood would certainly have noticed it.
This incident crystallised Mohammad Ali's resolve to focus on the issue of missing children, and help in recovering them, and further, to ensure that other children did not meet the same fate. Ali, himself a victim of abduction, had experienced torture first hand in 1997. His abduction was connected to a gang rape case of a 19-year-old girl in Korangi. She had been sexually assaulted by four to five people, one of whom belonged to a political party. The organisation Ali worked with, took her for court appearances and provided her moral support by counselling her. The kidnappers group decided to get Ali out of the way. "They kidnapped me from a bus stop on main Shahra-e-Faisal, held me for 24 hours and burnt me with cigarette butts," says Ali, as he shows his scars. "I explained to them that there was no point killing me, as I was only a messenger and not the decision-maker. There would be others to replace me if I was killed. I offered to pass on their message to drop the case and they released me." Unfortunately, all the culprits in the case were released and the parents of the rape survivor took between six to seven lakhs and disappeared from Karachi as if they never existed.
But the incident of the six-year-old Lyari girl made Ali realise that there was no platform to guide parents of missing children on how to seek help and find them in the shortest possible time. In fact, the girl's parents confirmed that he was the only person who came to their help in their hour of distress. As far as the law enforcement agencies, the government, the donors and even the public were concerned, the issue of missing children was a non-issue. Ali decided to fill this yawning gap, much against the advice of his friends and family. He set up Roshni Research & Development Welfare Organisation, also known as Roshni Helpline, a search and recovery concern for missing children.
He continued his work in Lyari's highly congested and, at that time, friendly locality. Ali observed that in every lane, there were always one or two locals who were extremely well-informed about their own street, and the people who frequented it. It could be the panwala, the rationwala, the milkman or a road vendor — people who were usually an important part of the community. Ali decided to partner with them and devise a system, whereby immediate steps could be taken to ensure the speedy recovery of missing children.
But initially, they avoided him. They suspected of him of being part of a new gang entering their locality, who was offering a partnership now, but would demand money later. Also, it meant coming into contact with the police, and possibly kidnappers. However, he managed to convince about seven to eight of them, including a Public Call Office (PCO) operator, a hotelwala located at the entry and exit points of the Union Councils, and devised a system whereby if any these people learnt of a missing child, they would immediately inform the families to connect with the Roshni Helpline.
Roshni's first success was in Lyari's Council No. 3 at a time when people utilised PCOs. A PCO operator overheard a woman in conversation with her husband, telling him that she couldn't find their child despite searching everywhere for the last couple of hours. He offered to help, and called up the Roshni office and explained what had happened. Arriving at the PCO immediately, they helped the parents register a missing report in the Roznamcha and distributed a poster with a picture of the missing child to the people of the area.
About seven to eight hours later, they received a call from a local hotel owner saying that the child on the Roshni poster was sitting at a table in his hotel, drinking tea with a man. He was instructed to hold them there, while the Roshni Helpline called the police station, who, in turn, informed their mobile vans in the area on the wireless. The police raced to the spot and caught the child with the kidnapper, who had sexually abused the child twice and was about to whisk him off to Machar Colony.
Roshni shared their success story with all their volunteers — following which 148 people partnered with them in Lyari, including mosques. The mosques needed some convincing but they agreed to keep a register of lost children containing the contact addresses and numbers provided by their relatives. By 2005, they streamlined their system, which meant posters of the missing child would be printed and distributed all over Lyari on an urgent basis.
However, Roshni's work in Lyari brought them to the notice of a dangerous gang who kidnapped people for ransom. They caught two Roshni volunteers and warned the NGO to stop working in Lyari. Roshni's work with the police on missing children posed a serious threat to them. The NGO agreed to suspend their operations temporarily, and only then were their workers released. But ultimately, Roshni had to shift to another location.
They moved to Rimpa Plaza where they shared office space, at no cost, with an old colleague of Mohammad Ali, and continued with the same work in Saddar Town. In 2005, Roshni Helpline received their first small grant from the Fund for Global Human Rights, with which they rented a small office and bought their first computer.
Roshni continued to grow and soon became the first NGO in South Asia to use transgenders in tracking missing children, drawing flak from certain quarters. "Transgenders have a belief that they will be going to hell anyway, but before getting there, if they can help save a child, at least they will earn the blessings of the child's family," says Ali. So far, Roshni has trained 53 gurus (heads of the transgender groups) in Karachi, who, in turn, trained their chelas (followers) to keep a lookout for missing children at traffic signals and places which they usually frequent, on receiving a missing child's poster from Roshni. At present, the NGO has a network of 2,000 transgender volunteers.
"There is hardly any organisation in Pakistan that is working solely on the issue of missing children," reveals Ali. "In fact, we were the ones who introduced a proper definition of `a missing child' in Pakistan. According to our definition, anyone who is 18 or below is a child. If the child is not in contact with the parents or guardian for 48 hours, he or she should be considered missing, and the police are bound to investigate. We, however, start pursuing a case from the first hour the parents report that their child is missing," says Mohammad Ali.
In its 2015 Annual Report, the NGO stated that a total of 2,160 children were reported missing, of which 1,639 were boys and 521 were girls between the ages of one to 18 years. Ali says the most grisly aspect of missing children is when they are found murdered. In Gulshan-e-Iqbal, for instance, in the last two years alone, 10-12 bodies of children were recovered — and in some of these cases, attempts had been made to register a First Information Report (FIR), but the police had inititally refused. The sad part is that the case of a missing child usually becomes a 'cognisable offence' only after the dead body is found.
In 2012, Roshni filed a petition before the Sindh High Court on the matter of missing children, submitting cases that were not properly investigated as a consequence of which children lost their lives. Headed by Justice Shahid Anwar Bajwa, the Sindh High Court issued an interim order after the preliminary hearing and issued notices to the home secretary, the inspector general of police, and other officials, seeking the issuance of directives to the police to consider cases of missing children as a cognisable offence to be investigated without delay. The petition also wanted all the relevant departments questioned on the reasons behind not registering an FIR, just because the case of a missing child is considered a non-cognisable offence. "Any missing child's case should be investigated by the police, with or without an FIR," says Ali. The final decision on the petition is pending.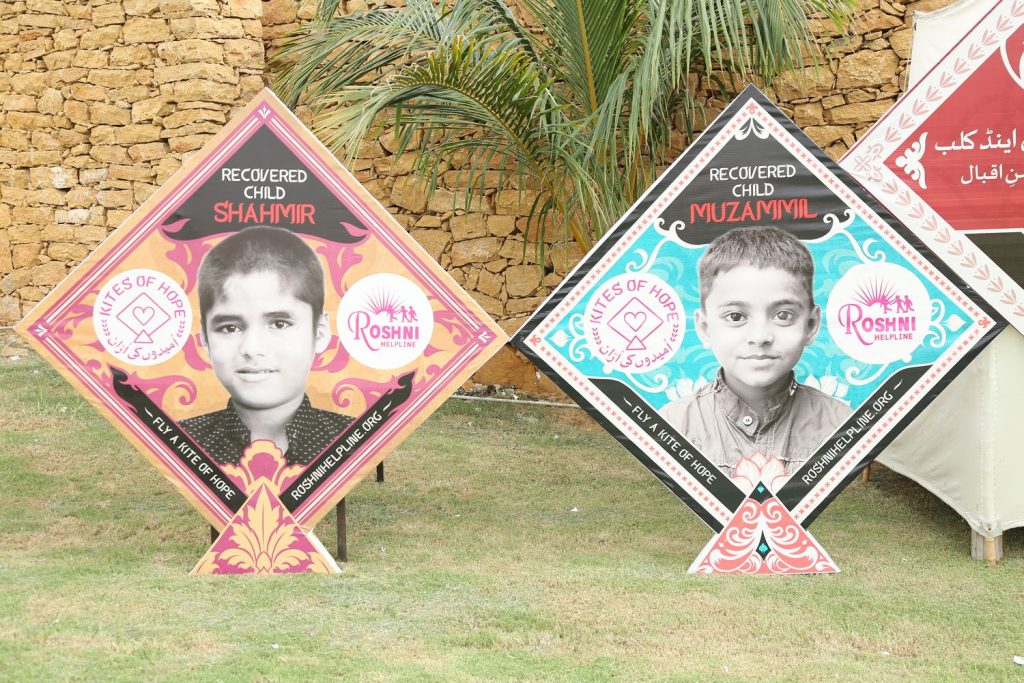 The problem lies not just with the negligence of the police. Ahmed Raza, Roshni's Programme Officer, explains further, "Actually there is confusion surrounding the law. In the Pakistan Penal Code 364-A, `kidnapping' and `abduction' are cognisable offences. So when parents arrive at a police station to report that their child is missing, the police suggest the possibility of it being a runaway incident, in which case the child could return. If a case of kidnapping is lodged, the police ask for names of possible suspects, which the parents are unable to give. Unfortunately, the police tend to use this as an excuse to avoid pursuing such cases. Besides, the police have a track record of avoiding registering cases of missing children, whether it is a newborn or an 18-year-old. This has been happening for the last 4-5 years. Of course there is always the possibility of a child running away, but how can a newborn do that? So the term `kidnapped' in the Penal Code needs to be addressed," states Raza.
The police keep two registers at the stations: Register No 1 is for FIRs and Register No. 2 is a daily dairy called Roznamcha, where notations are made. Ali adds, "We say cases of missing children are cognisable offences and should be reported in Register No. 1, because then the police are legally bound to investigate and attach an officer to record statements and conduct the necessary raids. But when a case is noted in Register No. 2, then the police are not legally bound to investigate. And yet, based on his notation, an investigating officer can go to the local magistrate for permission to investigate the case further — but this never happens. Unfortunately, we have also seen that if a child of an influential family goes missing, an FIR against unknown person/persons for unknown reasons gets registered immediately.
"In all the cases we have studied and worked on, we have found that children of 10 years and below never run away. According to our database, over the last six years, 90 per cent of the runaways are 10 years and above. So by avoiding the cases of missing children, the authorities are avoiding each and every age bracket. It's essential for this law to be revised — all it needs is a small amendment for the missing child's issue to become a cognisable offence. But there is nothing stopping the police from registering an FIR for a missing child's case even now, if they wanted to. Also in the police stations, there are no notice boards for the missing," says Raza.
Interestingly, Roshni was called to brief the 20-member National Assembly's Standing Committee for Human Rights in Islamabad in 2012, after they saw Roshni's press releases about the cases of the missing children in the Karachi newspapers. However, despite briefing them on the situation and explaining how the current law is a hurdle in registering FIRs on missing children, nothing has changed. "We approached all tiers in the government — the provincial administration, the IGP, the home secretary, the additional secretary and the minister of social welfare — to resolve the issue, but there has been no progress," says Ali.
Both Ali and Raza narrated how, when suddenly cases of missing children started emerging in Lahore and Karachi last year, the government and the police departments at the highest level rubbished them simply as rumours. In Iqrar ul Hassan's TV show Saray Am in September 2016, the SSP West, Pir Mohd Shah, claimed that there was not a single incident of a missing child in Karachi West in 2016. Unfortunately for him, three such families approached Roshni, of which two were from Karachi West — one child went missing in March and the other in April, and both these were reported cases.
Interestingly, Sindh's new Minister for Social Welfare, Shamim Mumtaz, who took charge last year, placed ads in almost all the Urdu, Sindhi and English newspapers, giving parents tips on the security measures they should adopt to keep their children safe.
In their petition to the Sindh High Court, Roshni had asked for special training to be given to the police force to deal with cases of missing children. Raza says, "Whenever we ask them a basic question, like according to the law, what should be the age of a missing child, they don't even know that; so how can they report on or know the sensitivity of the issue? You can't merge the cases of missing adults with those of children. The latter can be used for purposes of ransom, adoption and sexual exploitation. So far we have conducted seven to eight training sessions with the police in different districts of Karachi, Shikarpur and Jacobabad."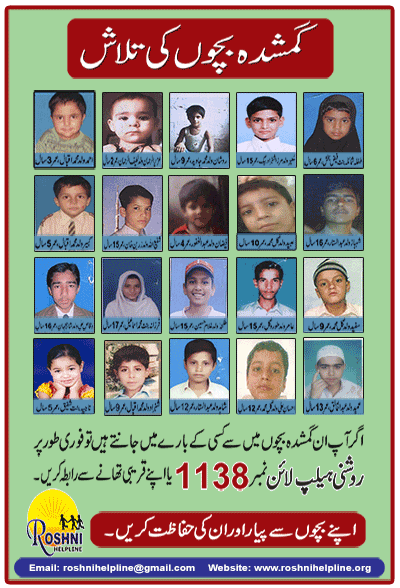 From the time Ali started Roshni Helpline, 11 years ago, they have managed to recover 4,832 kids. In a recent missing child's case, an 8-year-old girl was found after eight months. She went missing from Quaidabad, Karachi, in March this year. Roshni included her picture in ads of missing children that they usually place in the smaller local newspapers. A Sindhi family living under the Quaidabad bridge saw the picture of the girl in that ad and got in touch with Roshni to inform them that the girl in the picture was with them. They had found her in Gulshan-e-Hadeed, near Steel Town. This child was mentally challenged and was unable to give her own name or an address. The DSP of the area handed the child to the Sindhi family to be looked after, and they, on their own, tried their best to locate the child's family. When Roshni Helpline found her, she seemed very happy with her adopted family who had been loving and looked after her despite them being poor. The police, meanwhile, had not even bothered to trace the missing girl.
Recently Roshni Helpline tweeted, "Almost 3,000 average children go #missing in #Karachi every year." The number seems unusually high, but Roshni stands by their figures and gives a breakdown of how they arrived at that figure. Their data is compiled from the Roznamcha diaries of about 100 police stations in Karachi. However, it is difficult to track how many of those children have been recovered
While collecting the data from assorted police stations, they found that in several cases the families of missing children had not informed the police when they recovered their child — so the cases continued to remain open. Part of Roshni's advocacy programme concerns making the families aware of their responsibilities, but the fact remains that the police do not follow up on cases either.
"The data on missing children is not compiled anywhere. Ours is a very small NGO and we have over 300 reported cases in 2016," says Raza.
Roshni strongly believes that the only forum that may have an accurate picture of the total number of missing children is the Karachi Police Control that receives a daily dossier of all the crimes committed in the city from more than 100 police stations. They also receive calls on their '15' Helpline. "They have the latest compiled data of all the crimes committed in the city," says Raza.
In 2015, Roshni had written a letter to Commissioner Karachi, Shoaib Ahmed Siddiqui, to register and check all the families in the 17 beggar colonies of Karachi. Roshni has mapped these settlements and have found that they do not posses ID cards and the figures they give about the children living with them are inconsistent with the number of children they actually have, which makes them highly suspicious. Ali even offered the help of Roshni volunteers for the task and requested the Commissioner to send a directive to all the District Commissioners to instruct the police stations in their areas in the matter.
Roshni has made a short public interest film to demonstrate exactly how easy it is to pick up a child from the street. Currently they are dealing with three cases of missing children from the same street in Mehmoodabad. However, their data compiled from various sources, including the over 100 police stations, newspapers, social media and referral partners, shows that the number of missing children annually exceeds 2,000. "When we are questioned about our data, we, in turn, ask them to share their data with us — even of just the last 10 days, let's say from 100 police stations in Karachi. The situation is actually far worse.
"There are several cases in which the children have run away, but what about those 200 to 300 kids who went missing or were perhaps kidnapped. We have numerous examples of families who have not bothered to report a missing child to the police. They feel that they are better off searching for their children on their own, rather than leaving it to a lackadaisical police force. These cases are also included in our figures," Mohammad Ali adds.
Roshni's current ratio of recovery of children is about 60 per cent. Of the 144 cases of missing children they have dealt with directly up to mid-2016, they have recovered between 80-85 children. These 144 cases include those children who ran away from home. Currrently, they are compiling data for their 2016 annual report which will be uploaded on social media and Whatsapp for all their partners, donors, clients and the media. From January to November 2016, there were 170 cases of missing children reported on Roshni Helpline while 250-300 parents approached them directly.
"Ours is a community-based approach; we raise awareness through theatre and via FMradio. Our first message to families is that they take a photograph of their child every month or at least after a couple of months, for safety's sake," says Ali. Currently Roshni has an andriod phone app called Missing Child for the volunteers and all those who have partnered with them, to share pictures and information, and to track and report on missing children in their respective areas.
The second feature, explains Ahmed Raza, is the tracking of the volunteers. When a child goes missing, the app helps Roshni know how many active volunteers are present in that particular area to assist with the search.
Roshni's service delivery component covers Karachi entirely and some parts of Sindh. Their training programmes in capacity-building and outreach extend to other provinces as well. For instance in D.I. Khan, Bannu and Peshawar, they train social welfare department officers, the police, the child protection bureaus, NGOs and CBOs who work in child protection, on how to identify a missing child's case and manage it. Roshni has linkages with all the relevant NGOs at the grass-root level and government departments in Karachi and organises trainings and sensitisation sessions for them.
Ali shares a relatively new development that has taken place in the cases of missing children: Roshni has started to receive calls regarding 9th and 10th grade students, who never returned home from school. And it has to do with the misuse of social media. He gave the example of a girl who had struck up a friendship with a boy on social media and decided to run away with him to another district to get married. They decided to meet at Cantt Station at 7 pm but the boy never showed up. It was her good fortune that she was found by a police officer. But the girl had left a letter at home for her family saying that she was leaving home of her own accord and that they should not try to track her. She told the officer that her parents were dead and there was no one to care for her. So the police officer took her to Ansar Burney's Shelter Home and reported the case to Roshni, who then informed the family that their daughter was safe and encouraged them to forgive her and move on. Most recently, a 16-year-old vanished without a trace and the only clue they have is that she was in communication with fake facebook accounts.
Similar cases of girls between the ages of 12 to 18, who have run away from home to marry boys or men with whom they have only had cell phone conversations, has led the NGO to start designing an orientation programme for children of 9th and 10th grades in schools on the dos and don'ts on social media and how to avoid getting entrapped by people who could misuse their pictures or blackmail them with recordings of conversations with them.
Roshni maintains that the police do not have the capacity to investigate crimes that originate on social media and the processes of FIA's cybercrime unit are far too complicated. A girl had approached Roshni about a boy misusing her pictures on social media. Roshni approached the FIA, but the girl was hesitant because she feared she would never be allowed to step out of the house again if her family found out. Although the Deputy Director FIA was helpful, he said that the complaint had to be filed online, after which they may have to speak to the girl's family for lodging an FIR and approaching the court. The girl would have had to go through all the legal steps, including visiting the police station. The girl not only backtracked, but she said she didn't even want to report it.
The writer is working with the Newsline as Assistant Editor, she is a documentary filmmaker and activist.
Next