Movie Review: Manchester By the Sea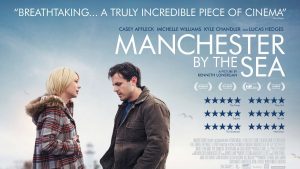 Laconic humour is the biggest strength of writer and director Kenneth Lonergan's dark and dreary Manchester by the Sea. Sardonic wit, deadpan exchanges and dark comedy, along with a great script, as well as some exceptional performances, make the film much more than the melodrama it could easily have been. A genuine masterpiece, the film works very effectively on three levels — an ensemble drama, a dark comedy and a character study.
Lee Chandler (Casey Affleck) is unsuccessful and depressed. He is also testy and angry — and he has no interest in life. He works as a janitor and lives in a dingy apartment near Boston. The young man is jolted out of the painful stupor of his life by the death of his elder brother, who leaves his only son in Chandler's hands. The film chronicles the effects of the unexpected and unwanted responsibility on his life, details his inadequacies, and describes the calamities that force him to the become the anti-social, hard-drinking and miserable man that he is. The film also shows how a horrendous tragedy, when confronted anew, yields unexpected results, revealing highly complex relationships, failings and failures of character, and the potent ability of tragedy to force people into the quicksand of paralysing sadness.
The focus of the film is Lee Chandler, but a number of well-written characters inhabit Lonergan's highly intelligent film. The characters of the adopted son, Patrick (Lucas Hedges), Patrick's mother, Elise (Gretchen Mol), and Chandler's ex-wife, Randi (Michelle Williams), in particular, and several others are emotionally rich and multidimensional. They do not reveal themselves easily and, at times, deceive both the characters in the movie and the audience. Occasionally, they refuse to follow the path that the narrative paves for them and relapse into past behaviours, going back to areas the story seemed to have left far behind. The cast works together perfectly as an ensemble.
Producer Matt Damon was initially slated to both direct and act in the movie but scheduling conflicts forced him to give up both roles. Having Kenneth Lonergan as director and Casey Affleck in the lead role may have been a blessing in disguise. Damon's tremendous star power, histrionic abilities and directorial skills notwithstanding, his work couldn't possibly have been better that that of Lonergan and Affleck. The two men are at the top of their game.
Casey Affleck's searing portrayal of a man forced to lead a life that does not seem worth living stands out in a film full of incredible performances. He truly inhabits the character of Lee, making his profound sadness palpable, engaging and disturbing, and plays the role with precision.
Manchester by the Sea owes a great deal to Lonergan's wonderful direction and writing. It could easily have been yet another film about a broken individual who grows up when forced to take care of a child. Fortunately, the film, is anything but a take on that tiresome storyline. Kenneth Lonergan, who wrote both for the stage and for films before taking up direction, is a master at creating characters that are complex and interesting. His dialogues have a smouldering emotional energy that burns hot but never catches fire. The deeply tragic story of Manchester by the Sea is not just sad, it is also eerily funny – albeit in the darkest manner. Lonergan takes a simple story and, with his magic touch, makes it a highly informed film about love, loss, grief, failure, tragedy, responsibility, parenting and human fragility — indeed, a long list, but he makes it work wonderfully well.
Next