Movie Review: Nil Battey Sannata
T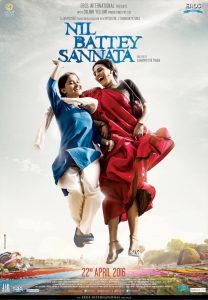 he opening scene of Nil Battey Sannata shows Chanda (Swara Bhaskar), a young mother trying to wake up Apu (Riya Shukla), her 15-year-old daughter, for the first day of the school year, where she's about to begin Class Ten. The interaction is filled with equal parts exasperation and loving amusement on Chanda's part, and sleepy grumbling on Apu's. In their ramshackle one-room house, the two argue over Apu's enduring habit of being late for school. "Why did you have to name me Apeksha?" Apu asks. "You should have named me something with a 'Z', so that my name came at the end of the attendance call and I could get 10 minutes' more sleep in the morning." Eventually, Chanda leaves for the first job of the day (she holds down four in total), working as a maid at the house of a retired doctor (Ratna Pathak), while an unenthusiastic Apu gets ready for school.
This scene is emblematic of the warmth and lightness of touch that infuses Nil Battey Sannata in general. The film explores a range of important themes — issues of class, upward social mobility, the importance of access to education, the difficulty of making a comfortable life in urban modern South Asia for the vast majority of people who do not enjoy the privileges of wealth or social status — but it does so while deftly avoiding falling into the trap of melodrama or unnecessary bleakness.
Written and directed by newcomer Ashwiny Iyer Tiwari, the story follows Chanda, a single mother who is content doing menial jobs so long as it enables her to provide her daughter an education that will ensure her a better life than her own. Apu, for her part, is uninterested in academics. Her apathy is due, in large part, to her own frustrating childishness, but it is also framed in the film as symptomatic of a larger social malaise — where an awareness of one's restricted social class becomes so deeply embedded in one's psyche that to dream of anything beyond seems both naïve and pointless. "A doctor's son becomes a doctor and an engineer's son becomes an engineer," Apu comments at one point. "So of course a bai's daughter will end up being a bai." Fearful of her daughter's lack of motivation to dream big, Chanda decides to try something drastic — she enrolls in the same school as her daughter, hoping that by resuming her education (she dropped out after class nine) she will set an example for Apu and trigger something dormant in her.
The stakes in the film appear relatively small (Apu needs enough motivation to pass her Maths test which would qualify her for extra tuitions that Chanda has been saving up for, and which will, hopefully, enable her to pass her matriculation exams) but they are larger. They're more about a mother trying to convince her daughter to dream and aspire for a better life, even if the odds are stacked against her. What prevents this overarching theme from veering into a generic, overly sentimental "You can accomplish anything you set your mind to" platitude, is the very real obstacles that stand in Apu's way — class distinctions and socio-economic barriers, both external and internal, in her own mind — but which can still be overcome with effort, something Chanda desperately wants Apu to realise.
With a strong narrative that blends pathos with lots of humour, Nil Battey Sannata is also elevated by the remarkable performances of both Bhaskar and Shukla. Bhaskar infuses Chanda with an innocent charm that comes out in her nervousness in rejoining school with students a lot younger than her, as well as in her interactions with her employer, Dr Diwan, an older lady who supports and encourages Chanda in her endeavours. Shukla, in what is her debut performance, gives Apu's defiance and general teenage sullenness a depth that makes the audience want to root for her even as her actions exasperate. Of course, it is the relationship between Chanda and Apu that forms the emotional core of the film, and the film succeeds best at making this relationship grounded in real affection and love, despite the many conflicts that emerge between them. At its most basic, the film is about a mother and daughter navigating their relationship by trying to balance each other's wishes and dreams for themselves and for one another in a world where the obstacles can seem insurmountable.
Nudrat Kamal teaches comparative literature at university level, and writes on literature, film and culture.
Next