Movie Review: Dear Zindagi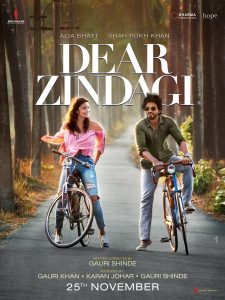 Bollywood has been notoriously bad at depicting mental illness. For one, there is a tendency to focus only on mental disorders with violent symptoms (schizophrenia, psychopathy). Quieter and more internal disorders like anxiety or depression are given short shrift. Additionally, people suffering from mental illness are either demonised or caricaturised and, in those rare instances where efforts are made to empathise with such characters, they are inevitably shown to be "cured", in true Bollywood fashion, by true love. However, Dharma Productions' Dear Zindagi stands out for subverting all of these aforementioned tropes in its progressive and refreshing view of mental health.
Written and directed by Gauri Shinde (who was also behind the 2012 gem, English Vinglish), Dear Zindagi follows Kaira (Alia Bhatt), a young cinematographer who seemingly has a good, fulfilling life — her own apartment, a blossoming career, satisfying friendships, a budding romance — but who, nevertheless, is struggling with several internal conflicts: the fear of being abandoned, the anxiety of being emotionally unfulfilled and alienated in her relationships, the inability to trust and commit to people. Inexplicably prone to becoming cold and distant and lashing out at people, and spending many a sleepless night, Kaira's internal struggles are reaching a point where it is becoming dificult for her to ignore them. When her alienating behaviour sends her casual boyfriend (Kunal Kapoor) back into the arms of his ex, Kaira, heartbroken and also potentially out of a job that could take her career to the next level (the boyfriend was also a director who had offered her work in his next film), Kaira returns to her hometown, Goa, where she is forced to confront her troubled relationship with her family. A chance encounter with psychologist Dr Jehangir 'Jug' Khan (Shahrukh Khan) leads Kaira to hesitantly begin counselling sessions with him to try and understand where her behaviour and internal dissatisfaction is stemming from.
The issues Kaira struggles with are not flashy or dramatic but are, nevertheless, given enough weight to make the film feel grounded and intimate. Once Kaira meets Jug, a lot of the scenes revolve around their therapy sessions, interspersed with scenes showing Kaira coming to terms with, and subtly acting upon, the realisations she comes to during the sessions in her real life and relationships. The film feels groundbreaking not only in its depiction of anxiety and depression as something that can be treated and resolved through therapy but also in its insistence that therapy and counselling are not reserved for extreme sufferers of mental disorders but for anyone who is struggling with an emotional conflict or erratic behaviour.
It is also striking that the film offers solutions to Kaira's emotional problems which are quite different from what Bollywood (and South Asia in general) would otherwise suggest: instead of looking to a romantic relationship and marriage to resolve everything, the film argues that it is more important to focus internally to resolve whatever issues there might be. The film also offers alternate sources of support — the love of friends and the advice of a therapist as opposed to traditional structures of marriage and family. The advice Jug offers — give yourself space to figure out things without pressurising yourself, view your parents as flawed humans who are as liable to make mistakes as anybody else, find fulfilment in different kinds of relationships instead of pining for a romantic relationship to fulfil all your emotional needs — is both commonsensical and revelatory at the same time.
The solid writing and direction of Dear Zindagi is complemented in no small part by wonderful performances. Khan masterfully tones down his superstar persona to give a grounded wisdom to Jug, whose advice occasionally skirts the edge of, but thankfully never veers into the, "just-believe-in-yourself" variety of pop psychology. Balancing the hard truths he dishes out with humour and lightness, his interactions with Kaira are the best parts of the film. But the film really is Bhatt's. Simultaneously capturing Kaira's coldness and vulnerability, Bhatt brings depth and seriousness to complement her youthful innocence, making it easy for the audience to invest in Kaira's earnest journey to reach some sort of emotional resolution.
In a society where frank discussions about mental health are a rarity and where seeking professional help for mental illness is basically taboo, the compassionate way in which Dear Zindagi treats Kaira's struggles and the lengths it goes to in emphasising the importance of emotional and mental well-being, feels quite radical. Hopefully, Dear Zindagi will pave the way for more films like this, which can help normalise mental illness.
Next