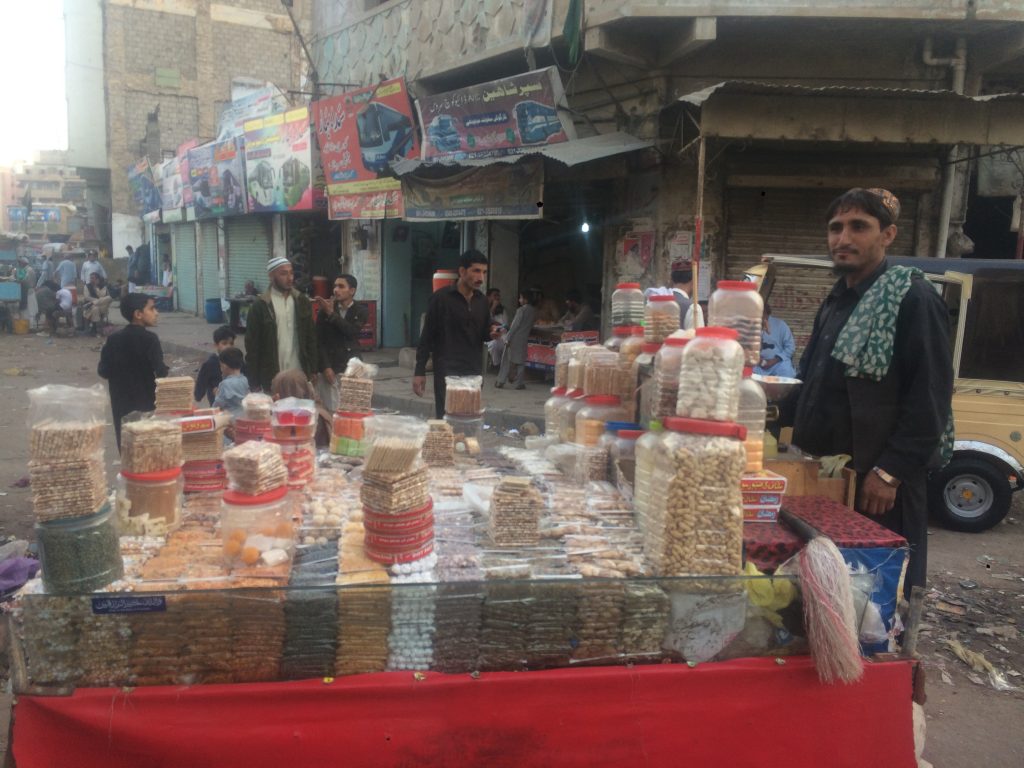 Quetta-based journalist Farid Kasi calls Karachi his second home. He traces his connection to the city back to the '60s when his grandfather, Malik Abdullah Jan Kasi, owned businesses in the city and his family lived here. The family later moved to Quetta, but they still own properties in Karachi and come here often.
"Every year, when winter arrives and the mercury falls in Quetta, members of our family move to Karachi, bringing the gusty cold winds from Quetta along for a change, perhaps a pleasant one," Farid chuckles. "We will return to Quetta after spending a few weeks. But the dry fruit coming all the way from Quetta and its adjacent districts, as well as from Afghanistan, will remain here."
There are aspects of the connection between Quetta and Karachi that go beyond the chilly winds of winter. Just as Karachi, the capital of Sindh, is home to diverse ethnic groups, Quetta is home to the Pashtuns, Baloch, Brahvis, Hazaras, and Punjabis. One can find many people who can speak both Pashto and Balochi or Brahvi.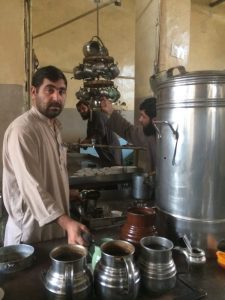 Karachi bears another historical connection to the Baloch people. Lyari — the oldest of Karachi settlements — and centuries' old fishing villages on the coastal belt of Sindh traditionally had a population comprising Sindhi and Baloch tribes. It was Lyari that gave many well known literary figures to the Balochi language, men of letters who published periodicals and books, and made a major contribution to the development of the Balochi script. Transport links between Karachi and different parts of Balochistan were run by the Baloch from Lyari, and adjacent areas. That is why traders and businessmen from Pashtun districts of Balochistan arrived there, and lived in the hotels and saraye (inns) around Lee Market and Khajoor Bazaar in the old city areas. As the city expanded, these small traders and businessmen spread across the city into different localities.
"The Quetta hotel has become a permanent fixture in Karachi bazaars. Go to any of the markets, and you will find the Pathan waiter in his typical avatar, balancing a tray of cups full of strong, sugary tea. He will bustle around, as the shopkeepers shout out for cups of tea to serve their customers," says Shakoor Memon, a cloth merchant in Cochinwala Market, Kharadar.
The tea-stall connection to Quetta is quite well known, and the name 'Quetta Hotel' is synonymous with a place where you could expect a particular blend of tea to be served up. Interestingly, in some cases, both the owner and tea-maker no longer have anything to do with Quetta, but the name hangs on, as it is sure to draw business.
Karachi works as the biggest dumping ground for scrap and used items, ranging from automobile parts, and electronic appliances to computers, toys, shoes and apparel. A visit to these markets and roadside stalls reveals that quite a number of the traders or owners are either Afghan settlers or belong to the Pashtun districts of Balochistan. In many cases, one cannot differentiate between them, as they speak the same dialect of Pashto or heavily-accented Urdu.
In the markets dominated by Pashtun traders, green tea or qehwa is more popular than black or milky tea, and the demand for it is met by young Pashtun migrants hailing from Balochistan. Doing away with the need for a stall, they walk around with a kettle filled with green tea in one hand, cups and sugar in the other. They will fill a cup with qehwa, hand out sugar or a sweetener, and move on to the next call.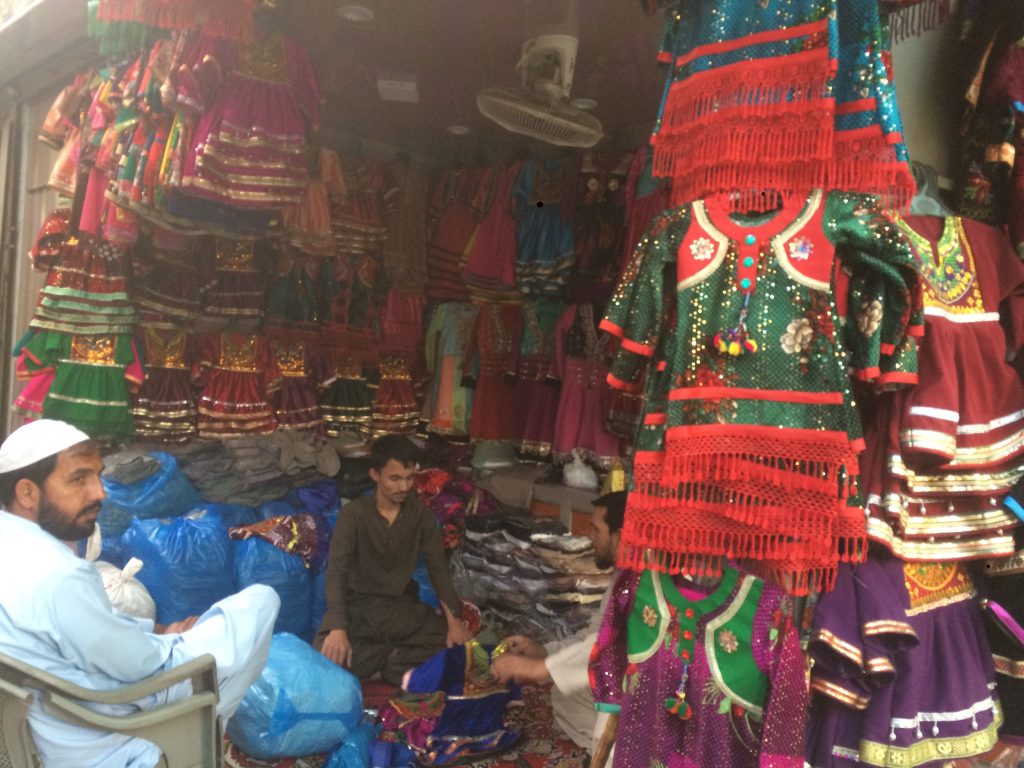 Hashim Khan Mandokhail, a contractor working on a project in the Sindh Industrial and Trading Estate (SITE), shares an interesting fact. "Karachi has particular areas of trade and business that are dominated by people coming from Baloch and Pashtun clans. Take for example, the construction business. Many contractors working on government infrastructure projects, or with builders, belong to the Mandokhail clan from Zhob district. A Mandokhail, whether he is illiterate or highly educated, will always prefer to work as a contractor. Similarly, in the granite supply business, most traders, if Pashtun, are from the Kakar tribe."
There are businessmen who are linked to the trade through Karachi port, or supply raw materials to industries in Karachi. Many industries such as the granite and marble industries in Manghopir and scrap yards in Shershah depend on raw materials coming in from Balochistan.
The Pakistan Afghanistan Transit Trade Agreement (PATTA) provides transit trade facilities to Afghanistan, and the Karachi to Quetta route serves as the most frequently used facility. In recent years, though, for political and security reasons, traffic on this route has declined. There are reports that the facility was used for smuggling transit goods back to Pakistan, including black tea, electronic goods, and automobile parts. Also, informal trade practices are quite common at the Pak-Afghan border, and the Pak-Iran border. Most of the smuggled items are brought to Karachi or other parts of Sindh by traders from the border districts, or from Quetta.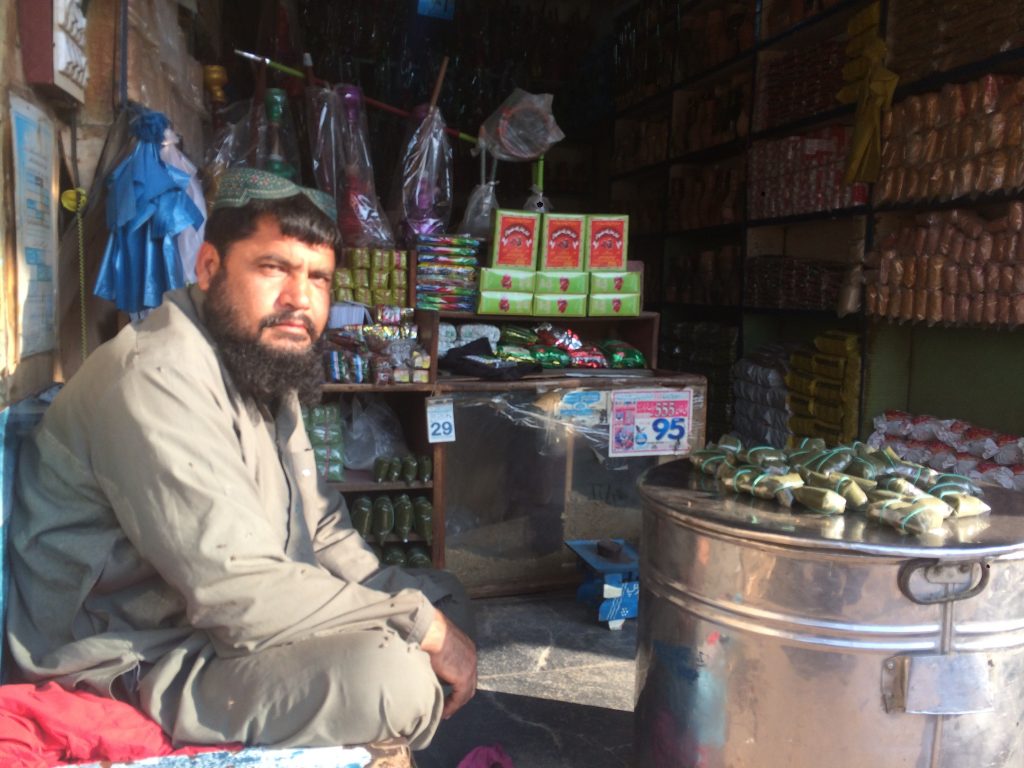 In contrast to Tagore's character, Kabuliwala, in his short story of the same name, or Mushtaq Ahmed Yusufi's character sketch of the same title in a chapter from his book Aab-e-Gumm, the term has a different connotation in Karachi's automobile parts markets. When the trader wants to assure a customer that the engine or gearbox he is selling is genuine and has been brought in through the Pak-Afghan border, he calls it 'Kabuliwala.'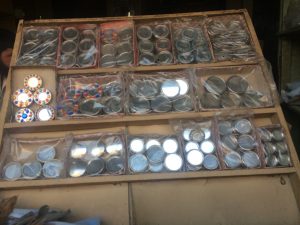 Haseeb Shahzad, an electronics dealer, says, "Search in the market of automobile parts near Shershah scrap market, and you can find parts of any vehicle model or manufacturer. I changed the whole front part of my 1992 Daewoo Racer after purchasing it from Shershah. Before this, a friend of mine purchased a sealed engine for his Toyota car."
Visitors from Quetta and other districts of Balochistan frequent public and private health facilities in Karachi. Owing to this practice, some private firms provide ambulance services between Karachi and Quetta.
"My father suffers from issues related to the spinal cord, so I had to bring him to Karachi to consult a doctor at the Aga Khan Hospital. There is not a single laboratory in Quetta whose results are accepted by medical professionals in Karachi, so we had to go through the tests again here. The ambulance fare between Quetta and Karachi is also painfully high," complains Humayoun Kaasi, a journalist working with Internews Agency.
There are others who come to Karachi for leisure. Habeel Khan, a technician at Pakistan Television working in the Zhob district, says, "There are winter vacations in Quetta, so I brought my family, wife and children to visit relatives in North Nazimabad. Some of our relatives own houses here in Karachi; they rent them out, as they need to stay in the city for just the two months of severe weather in our home town."
They may come for assorted reasons, but the visitors from Balochistan make their presence felt at picnic points and eateries at the seaside, when they flock to Do Darya or to the cafes near Bilawal Chowrangi. They stand out in the crowd due to their traditional dress, and loud Pashto music, accompanied by the ecstatic Pashtun traditional dance, Attan, joined in by young and old alike, providing a glimpse of the rich culture of their native place – which is seldom portrayed in the mainstream media – to the spectators.
Ali Arqam main domain is Karachi: Its politics, security and law and order
Next