"No one is saying our last term, or any term, was perfect." Bilawal Bhutto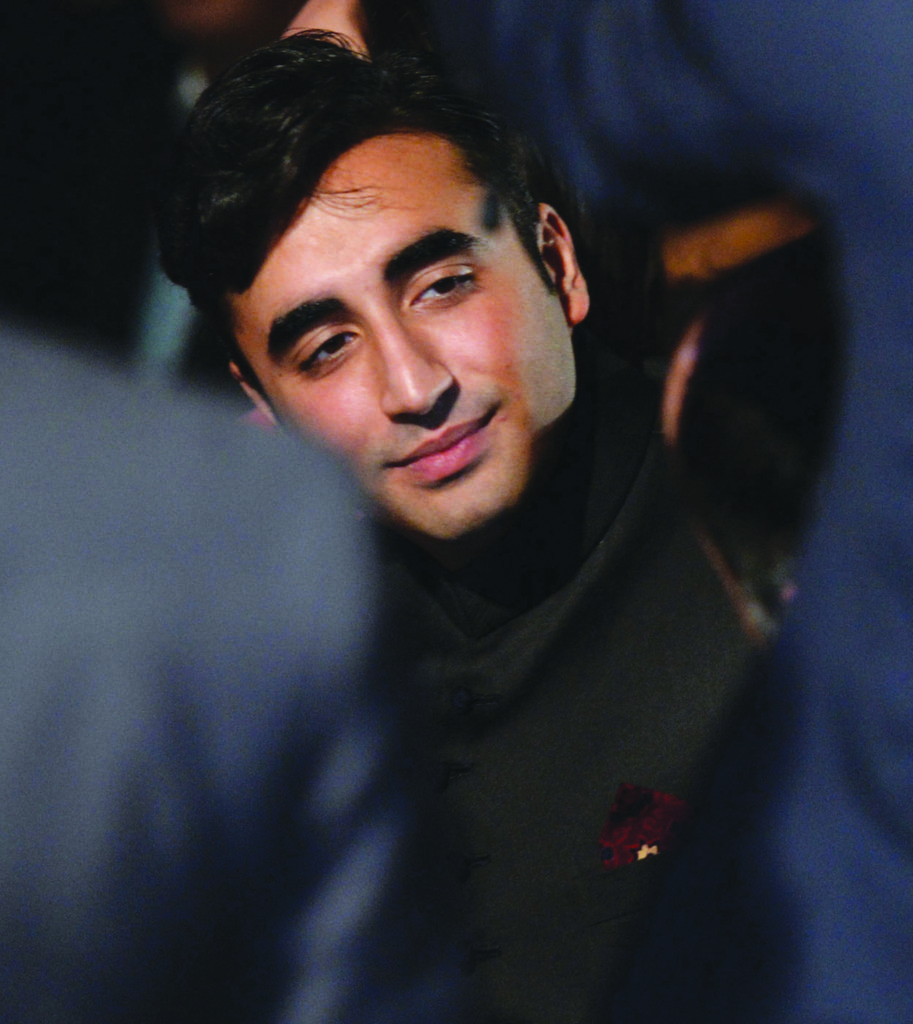 It's been 50 years since the Pakistan People's Party was founded by your grandfather, Zulfikar Ali Bhutto. In your opinion, what led to the rise of the PPP and what are the reasons for its decline and present showing in the assemblies?
There were multiple factors that led to the rise of the PPP, the most important of them being our ability to articulate the core challenge of extreme economic injustice. The entire country's wealth was concentrated in the hands of 22 families. The PPP spoke to this injustice, and brought redistribution and hope for a more egalitarian society. Hope is a very important intangible, and it is important to conquer fear and fragility which becomes the lot of the deprived and the voiceless. We give voice to that hope, but we embed that in credible, transformational politics.
It's another thing that we don't spend billions in public money advertising it.
We obviously don't enjoy the same parliamentary presence today as we did, but the biggest reason for this is that we have had both of our iconic, charismatic leaders assassinated. The loss of Shaheed Zulfikar Ali Bhutto and Shaheed Mohtarma Benazir Bhutto both left a catastrophic vacuum in the body politic of Pakistan. We may have suffered electorally as a result, but we are just as committed as we were, fighting for a future we believe in.
The PPP was seen as a Centre-Left party when it was founded, but the Left often accuses Z. A. Bhutto of coopting the old Left and then giving in to the Right and appeasing the mullahs. Do you think the Left is right in their critique of Z. A. Bhutto? How do you view its present ethos?
Politics is the art of the possible. We must retain the power to dream, to plough ahead for better futures, but we must not lose sight of achievable goals. While some of our more idealistic friends on the Left may have been disappointed, it is also important to put things in a historical context. When Shaheed Zulfikar Ali Bhutto came to power, we had just lost half the country. In the three decades of our existence we had been unable to agree on a constitution. Not only did he save our country to pass a unanimously accepted constitution, he also brought to the table the most radically left-wing agenda this county has ever seen. His policy of land reforms, nationalisation and central planning, for example. So while it is fair for the Left to criticise what some call concessions, they should also give credit where credit is due. He had to govern a traumatised Pakistan after the loss of half the country, and to this day he is remembered for giving the country its first modern rights agenda, its constitution and its pride — its soldiers — back.
To me his ideology and thought was central to remaking Pakistan. He brought politics out of the back rooms of the elite and into the sunshine of modern electoral politics.
My battle to remove the fear from people's hearts when they ask for entitlements continues, but you must remember, it was he who lit the flame in Pakistan's heart. The elites may rubbish this agenda, but until it is fulfilled, Pakistan will not be complete.
It is true that in the late '60s and early '70s the Left criticised Shaheed Zulfikar Ali Bhutto, but it is a fact that the Left later realised that it was wrong for it to criticise him. My grandfather stands vindicated as far as the early criticism of the Left is concerned.
The PPP is said to have given a voice to the poor people of Pakistan — the peasants, the labourers, the working class — but over the years, analysts say that your party's slogan of 'roti, kapra aur makan' has been rendered meaningless as it has become another party of the feudals, the elite and the rich. Do you agree?
Right from the start, some feudal elites, as well the rich, were with my grandfather when he delivered on roti, kapra aur makan. They rebelled against their own class and forged a new social contract.
As for the criticism that we have become another party of the feudals, let us not forget that when land reforms were reversed through a court decision my mother refused to get back the land from the haris (peasants), even though a number of landlords took back their lands from them. This is a measure of our commitment.
Each period the PPP has governed the country, it has struggled and succeeded in creating programmes that deliver services to the poor, and protect the vulnerable. From the Lady Health Workers Programme that Benazir Shaheed instituted, which, to this day, remains the backbone of our public health framework, to the family and beneficiaries of the Benazir Income Support Programme (BISP), the country's first, and only social safety net, the PPP has delivered such programmes. The world now recognises these as the gold standard in their areas of delivery. Our slogan is not just rhetoric. It has changed lives.
Your mother, Benazir Bhutto, changed the composition of the party from the days of her late father. Do you think her policy of changing/sidelining the old guard (uncles, as they were known) was in the party's best interests?
I do not think it is true to say Shaheed Mohtarma Benazir Bhutto sidelined her uncles. However, the party was betrayed and abandoned by certain so-called "uncles" in the most testing of times. Almost the entire Central Executive Committee (CEC) ran away, so of course my mother rewarded those who stood steadfast with the party. I think all would agree that is only fair.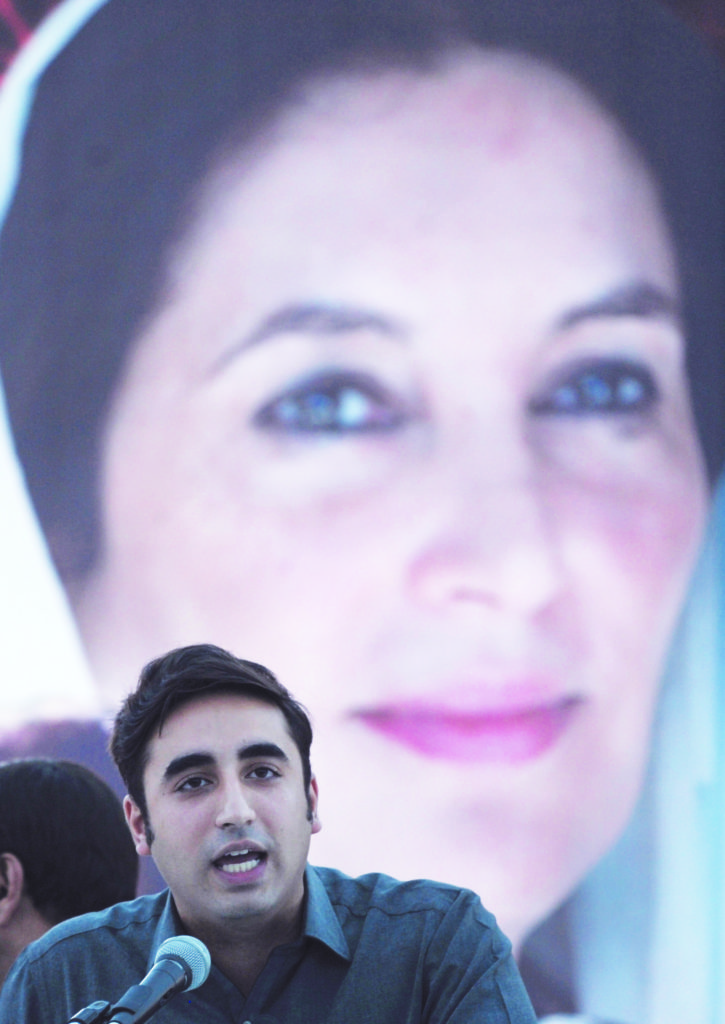 Benazir Bhutto said the military establishment never trusted the PPP. Do you agree with her assessment? Do you think her observation still holds true?
I certainly think it is fair to say that we have had a trust deficit in the past. My mother believed that there were certain individuals who conspired against the PPP and democracy. The Asghar Khan case and other examples have proven much of this. However, the statement of the chief conspirator, Hamid Gul, where he not only admitted what he did was wrong, but [acknowledged that] Shaheed Mohtarma Benazir Bhutto was the most patriotic leader, shows that perceptions can be changed.
Pakistan is now at a point where everyone needs to work together in the best interests of the country.
Please look around you and define the big enemies: they are terrorism, extremism, hatred and deprivation. We must not let those fires consume the country. We must fight these battles as part of a long, multi-pronged effort to save Pakistan from this menace that metastasises like a cancer, across borders and mindsets. The battle is not just one where force is applied, it is one that must address the incendiary power of ideas.
An idea must be defeated by an idea, and for that, Pakistan's leadership must not be distracted or open up too many fronts.
The PPP was always seen as the anti-establishment party in Pakistan. Now, it seems — rightly or wrongly — that this mantle has been taken up by Mian Nawaz Sharif and his party, the PML-N. Is this perception right?
The PPP has always believed, and will always believe, that all power belongs to the people. Nawaz Sharif has always been an opportunist, who is currently playing a very dangerous game. He is deliberately trying to paint his Panama problem in this light. He wants to take the whole system down with him. This must not be allowed.
In an interview back in 2000, Ms Bhutto said: "Either the democratic forces win or the establishment wins. If the establishment wins, the past will be repeated and that is what has happened for 50 years." People say that the PPP has recently given in to the establishment in a bid to appease the powers-that-be. Isn't that the truth?
I believe my mother was referring to Musharraf's dictatorship. Musharraf's dictatorship was defeated, democracy won — albeit at a very high price. Having said that, democracy is a process that must continue to be strengthened if Pakistan is to progress. There are no shortcuts to the process, and we must invest in it for the long haul, even if progress does not always seem linear or perfect.
There is a time and place for everything, for binaries or not. The reality is that paths to power don't come littered with velvet and protocol. They come with sacrificing self-interest for the larger good. Has anyone in this PML-N government defined Pakistan's largest issues? Or crafted a consensus to move forward? Is Pakistan ready for any more upheaval or crisis? I don't think so.
But we in the PPP are not fragile when it comes to making existential choices. I hope and pray that Pakistan is not taken to that brink by the N League and their selfish choices and chaotic messaging.
Civil-military relations have always been uneasy. Is there a way to break this impasse for all times to come?
Democracy, democracy and more democracy. My grandfather once said, all power must pass to the people or everything will perish. If democracy and parliament are strengthened, we will break this impasse, otherwise we are doomed to repeat the mistakes of the past.
Democrats must also take the lead in addressing Pakistan's problems and challenges when in office, not leave the wheels of government to just let the country limp along. We must make strategic choices, sometimes hard ones, but we must put in the work and the focus. I believe this government's record has been disastrous in meeting Pakistan's challenges in time, or with integrity of purpose. They have also been fairly schizophrenic when dealing with broader issues, refusing to rule responsibly, or with the goal of optimising gains for Pakistan. Recent events have exposed their level of thinking as very short-term, and in shocking self interest. It is hard to position them as models of probity or civilian virtue!
To break the impasse and continue on the path of democracy and "all power to the people" we need rule of law and equality of every individual and every institution before the law.
The PPP stood fifth in the recent by-election in NA-120 and even lost out to two new religio-political parties. Why has the PPP fared so badly in Punjab in the recent elections?
It's not so much about losing an election. Elections are won and lost. These things work in cycles, I believe. In the heart of what once was progressive Pakistan, the beautiful city of Lahore, for religious fascism to do so well… it should be a worry for all Pakistanis, not just the PPP.
The PPP, a national party, is now being called a regional party with a solid vote bank only in Sindh. Many analysts and PPP supporters blame former President Asif Ali Zardari for the PPP's downfall. Do you think your father may have made some mistakes after the 2008 elections?
In 1997 the PPP only won 17 seats in the National Assembly. Headlines screamed 'End of the Bhutto era,' but we came back with full force in 2002, with the highest numbers of votes.
No one is saying our last term, or any term, was perfect. However, we also achieved a lot from the restoration of democracy.
We were the first civilian government to complete its term, restored the 1973 Constitution, gave Pakistan a new social contract by making the devolution of power real, and provided the first and only social safety net in the form of BISP. Even after the 2013 election, we have won by-elections, in Punjab and KPK, and most recently, right in the heart of Karachi. Those who underestimate the PPP will be disappointed.
How and why did the PPP cede space to Imran Khan's PTI, especially in Punjab? Has there been any serious introspection within the party ranks regarding this?
I think there are a couple of factors. I believe we sacrificed popular policies between 2008-2013 to make historical structural changes that were part of our commitments to the country. Restoring democracy, passing the 18th amendment and amicably effecting the transition from one civilian government to another were only some of these, for which we paid a political price. A substantial factor was also our very real inability to campaign. A political judge trapped my father in the presidency and the Taliban called out the PPP. We went into elections more worried about effecting a peaceful constitutional transition to power than the hole in our central campaign. It really was a legacy issue for us, and I believe that is how we think, because to me focusing on strengthening the system was more important than our own gains. We saw many electoral discrepancies in the voting results, but accepted the outcome despite our reservations, because honestly, the first civilian elected government needed to make that leap of faith and take the imperfect, fragile democratic system ahead, warts and all.
Politics is a day to day affair, a long play, and I am optimistic we can regain lost ground.
Has the PPP given up on the politics of reconciliation and the Charter of Democracy (COD), by isolating the PML-N post-Panama, or is it because 2018 is the election year and the PPP feels it needs to play the role of the Opposition for its electorate?
I think that the N League abandoned reconciliation and the COD, and is now trying to conflate their personal Panama problems with an existential threat to democracy. They refused point blank to be accountable to parliament despite repeated entreaties. The PPP remains committed to strengthening the system, not individuals.
People say that the PPP's message does not resonate with the youth any longer. How do you intend to change that?
I do not think that is true at all. The PPP's message of economic opportunity and social justice should appeal to the youth. It is up to us to communicate and convince   people of this. We have a flood of young people joining the party, and our youth wing remains one of the most vibrant and robust cohorts in the country.
They are expected, however, to behave with courtesy and temperance, fulfilling norms of civilised, democratic behavior that we champion. It troubles me to see young people in some parties being encouraged to use hate and aggression in their speech and public behaviour.
You have always been quite vocal when it comes to calling out the Taliban, sectarian terrorists and other religious extremists. Do you sometimes fear for your life?
I do take security precautions. However, I believe one must always stand by one's principles. Religious fascism is a real and present danger and must be tackled head-on. If I don't speak out for unprotected, vulnerable people, who will? This is a legacy and value system I am not willing to surrender. If the darkness gathers, the only way to face it is together, and I must lead from the front.
The PPP has always been criticised for 'bad governance' — be it at the federal level or in Sindh — despite its excellent record when it comes to legislation. Karachi continues to present the spectacle of a garbage dump. How do you respond to this criticism?
I invite you to come to Karachi so I can show you the changes we have made. Much work has been done on infrastructure, the garbage issue is being addressed, new hospitals like the National Institute of Cardiovascular Diseases (NICVD) have been opened, law and order across the province has improved, and we are also working to address our governance issues. Obviously there are many, many challenges to overcome, and miles to go before we sleep. But I have confidence in the chief minister, who is working day and night to resolve our issues.
Also, how do you intend to address the critical issue of corruption in the PPP ranks — an allegation that has dogged the party?
I have a zero tolerance policy for corruption. My family and my political workers have sacrificed so much for this system. We cannot allow a few rotten eggs to spoil it for the rest. We must strengthen our accountability process and make it across the board, but unfortunately, everyone just plays politics with this issue, and very few are interested in real change.
My father Asif Ali Zardari spent 12 precious years of his life behind bars, on the basis of mere allegations and unproven cases.
The rule of law is so important, that even when it unfairly victimises us, we don't walk away from it, or trivialise it.
The PPP also suffers from a perception problem. We have faced down some of the most vicious propaganda spun out by our opponents, but in reality no one can accuse either of the PPP's CMs of corruption, while other party CMs remain controversial.
There was so much propaganda against the PPP for alleged corruption in power projects. Remember our opponents approached the Supreme Court for alleged corruption in the Karkay power project. The present government even rejected the offer of negotiations with the power company. Ultimately, the company went to the international court, which ruled in its favour, forcing Pakistan to pay hundreds of millions in damages.
Will you be contesting the 2018 elections on a federal or provincial seat?
A federal seat.
By when do you see yourself making it to the coveted PM's chair? What are your views on dynastic politics?
To me the purpose of politics is not power for the sake of power, not at all. Quite the contrary, in fact. My main goal is to put politics back in the public service track, to serve the people with humility and best intention, and to change lives. As far as dynastic politics goes — my mother always said, "I did not choose this life; it chose me." I think the same applies to me.
It came with its share of trauma and loss for both of us. We may not have chosen it, but both, my mother and myself, embraced it as a responsibility we could not walk away from.
Ms Bhutto's PPP was quite a departure from that of Z. A. Bhutto. Will your PPP be different from your late mother's or your father's? What is your vision for the PPP? Do you want to take it back to its old Centre-Left roots?
I do believe there is a lot of space in Pakistan politics for the Left. So that is certainly the direction I would like to take the party in the long term. Through all the eras, the core values of the PPP remain unchanged. There is a worrying gap among the very rich and very poor, their numbers have grown exponentially over the last few years. We must look to pulling them out of the poverty trap and empower people with opportunities for employment and entrepreneurship.
This is not slogan-talk for me, it's a very real and pressing reality that sits front and centre of my mind. I honestly believe Pakistan cannot move forward without using the resources of its biggest demographic, nor can we achieve a modicum of peace without empowering the socially unprotected and the economically disadvantaged.So yes, there is a huge, growing space for a politics that speaks to these forces. They are not a blur of people, or a 'mass' to us. They are real people with real needs. It is the responsibility of the empowered to take them into a better tomorrow.
As Co-Chairperson, how much weight does your opinion carry in the presence of party stalwarts? It is widely believed that what you say in your jalsas (public meetings) is essentially the voice of senior party leaders.
PPP is a democratic party and we make decisions with consensus and debate. At the end of the day, people say what they need to, and we respect that. Our party culture is well known for not being darbari, or sycophantic, and jiyalas and leaders speak their mind in party meetings, unlike other parties where dissent is seen as treachery.
However, when I craft a speech, I take responsibility for what I say. My speeches are mine and mine alone.
What qualities have you imbibed from your mother, your father and your grandfather that will stand you in good stead in the murky world of Pakistani politics?
This is really for others to decide, but I would like to learn from my father's patience, from my mother's commitment and courage, and from my grandfather, an undying love for party workers, all of which should stand me in good stead in politics.
I have no illusion about politics — I know it is about achieving goals, step by step, and I know that sometimes those steps don't look clear, but I am here for the long run, not short glory gains.
In your honest opinion, how has the PPP evolved in the last 50 years? And how do you view its future?
The PPP has grown with Pakistan, it has kept the federation together, and stood steadfast against authoritarianism and extremism, in the face of deadly odds.
The PPP has also fought every important political battle in this country from the frontlines: we have fought at every step for democracy, for human rights, for the rights of the poor and the dispossessed, for women and religious minorities and also against terrorism and extremism. I know that there are gaps in our delivery, and many times it may have looked like the path forward has not been linear, or free of complications, yet I am confident that the PPP, as it evolves into its third generation, will continue to play a positive and progressive role in fighting for an egalitarian Pakistan.
Don't forget, we have assets no one else has: clarity of vision, a party core that is both courageous and committed, and a history that compels us to stay the right course for the country.
Don't also forget that time is on my side.
Next